Women's Sports Fans, There's a Seat Saved For You at The Sports Bra
All dressed up and nowhere to go? This female-centric sports bar is ready to host all the summer sports you're itching to watch. 
Heading out the door? Read this article on the new Outside+ app available now on iOS devices for members! Download the app.
A glorious summer of women's sports is at play. The WNBA tipped off its regular season on May 19–with an expanded schedule after record-breaking viewership last season–and will conclude in September. In Australia and New Zealand the Women's World Cup kicks off July 20. Three days later the second Tour de France Femmes will begin.
Women's track and field will also have a full schedule this summer with the World Athletics Championships in Budapest starting August 19 and Diamond League, which kicked off in Doha in May and will conclude in the U.S. on September 17. All this to say, we want to watch them all.
Women on the Rise
While doing so might take a bit of channel surfing magic–certainly harder to find than a football game–broadcasts of women's sports are on the rise. That's because viewers are demanding more. A 2022 report published by National Research Group found that 30 percent of sports fans are watching more women's sports than they did five years ago–with Gen Z viewers leading the charge. The number one response for why viewers are tuning in for more women's sports, the response was that the opportunity to watch more was there.
But if you wanted to watch all the programming listed above or other women's sports this summer, what are the chances you can walk into your local sports bar and they'd be willing to turn off MLB for, say, the NCAA Softball World Series?
At The Sports Bra, you wouldn't even have to ask.
Jenny Nguyen had little doubt that women's sports would be a selling point for her Portland pub idea: a welcoming place where you could get a scratch-made meal, a beer, and there would always be women's sports on TV.
"Everyone I talked to was like, 'This is the best idea I've ever heard,'" she says of the Sports Bra, the women's-centric sports bar she opened in April 2022. "It felt like a really close community of people who were all about it."
More than a year into the venture, the bar is more of a success than even she imagined. "I think that whatever expectations or ideas I had–even my wildest fantasies–for the Sports Bra, all of those things were far surpassed by the first week that we were open." The growth over the course of the year, she says, has been organic.
RELATED: What to Read, Watch, and Listen To About Title IX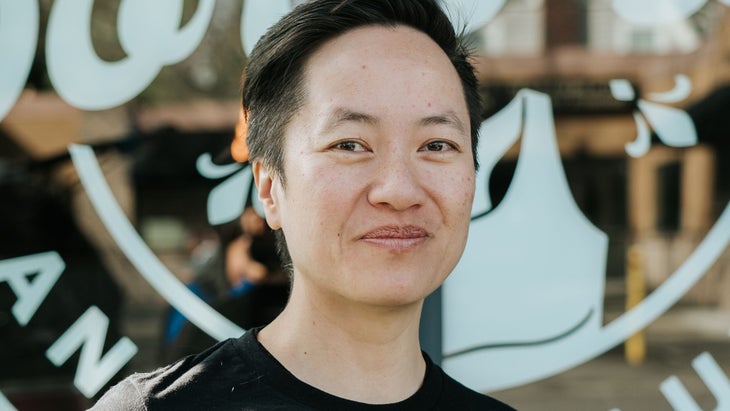 But hanging female athlete memorabilia on the walls and playing women's sports on TV isn't the only way the Sports Bra supports women. Nguyen tries to source the Bra's ingredients from women-owned businesses when possible. Everything on the tap list, for example, is either owned, operated, or brewed by a woman. As a chef, that was important to Nguyen.
"Kitchens are very much a male dominated industry, and so are the food and beverage industries. And so when I opened up the Bra, I had the opportunity to source everything from wherever I wanted. Our motto is 'we support women' and we don't mean just on TV or on the field or on the court."
That looks like cocktails made from Freeland Spirits–a woman-owned distillery. Or burgers made from 100% grass-fed beef from Carman Ranch–a woman-owned ranch. Diners can also add a side order of equity, which adds a $5 donation to the Voice in Sport Foundation to their ticket.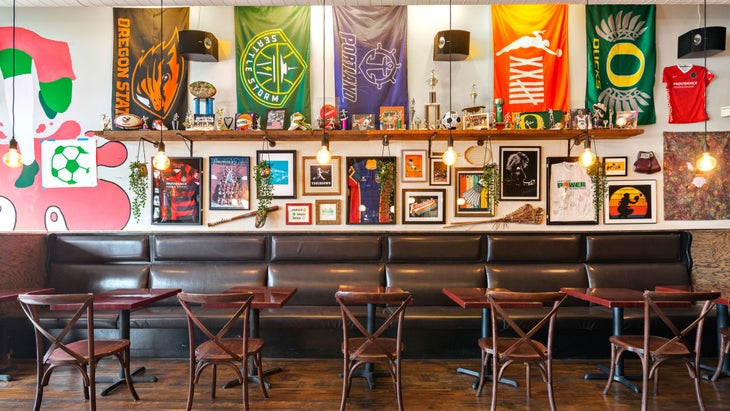 The Sports Bra has hosted sports films by female filmmakers, circulated a petition to get a WNBA team for Portland, and will be hosting a photography exhibition highlighting the work of Black female photographers later this month. But Nguyen doesn't want credit for any of that. She says the ideas to support women come to her.
"Having never had a space like the Sports Bra before, we've created this hole, and that hole is getting filled by everybody from everywhere," says Nguyen. "The Sports Bra has become its own table that people from all these different intersections come to sit at now. And that feels really, really special to me."
So, if you find yourself in Portland, take a seat at one of the tables in the Sports Bra, see what it feels like to offer that support back.
RELATED: U.S. Distance Running Continues to Lack an Alarming Lack of Coaching Diversity