One Runner Shares Her Experience Of Running Being Amazing
"Running made me a better problem solver."
Heading out the door? Read this article on the new Outside+ app available now on iOS devices for members! Download the app.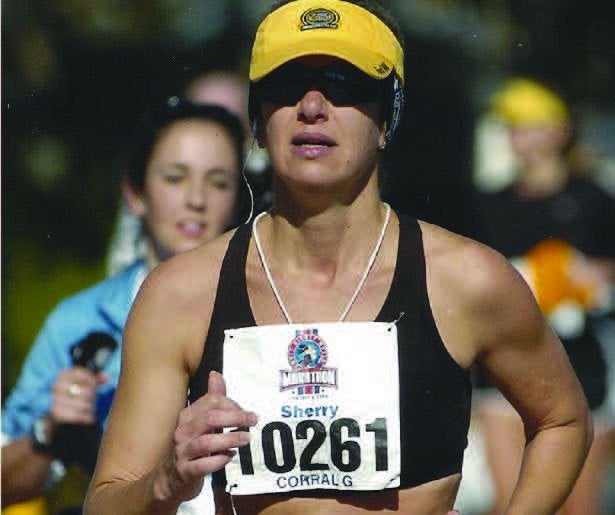 SHERRY SHAMP
AGE: 42
Sarasota, FL
Chiropractor
Initially, I started running when I was playing basketball in college. We used each 2-mile practice run strictly for conditioning. This helped our performance tremendously. Our endurance always outlasted other teams, and I noticed the health benefits too.
Around 1997, after I had my first son, I started running with my sister to shed some weight. We had a strict routine: We would hit the gym and push through our 2 miles (never longer).
One day, while taking care of my children and working at home, I felt the urge to blow off some steam. I jumped on the treadmill and ran 4 full miles—double my normal workout! I felt the runner's high and fell in love.
Things changed after that moment. I became more addicted to endurance running. In 2005, after running a few local 5Ks and beach races near my Florida home, I ran the Disney Half Marathon. At the final mile, there was a turn-off where the half-marathon runners went toward the finish and the marathoners continued on. Even though I'd trained for the 13.1-mile distance only, I felt I cheated myself by stopping short of a full marathon. I vowed to run the entire distance the following year.
I finished that marathon—but these days, I prefer halfs. Every year, I complete the Sarasota Half Marathon in my hometown. It's something I always look forward to, and it helps me keep up with my training.
I love how running releases stress while also providing clarity. I have been able to solve huge dilemmas, like where I would find the money to send my children to private school, during long runs. My body fatigues, my mind wears down and poof! the answer presents itself.
My Best Advice: PACK A RECORDER
I often get inspired mid-run and sometimes figure out the answers to difficult life questions. So I can make sure I remember what hit me while I was churning
out the miles, I carry a handheld recording device. You can download an app for your smartphone too!