Running Helped Her Succeed In Her Post-Graduate Career
Marquay Lee-Pearce says, "Running provided me with the opportunity to go to college." Learn how it helped her in her career, as well.
Heading out the door? Read this article on the new Outside+ app available now on iOS devices for members! Download the app.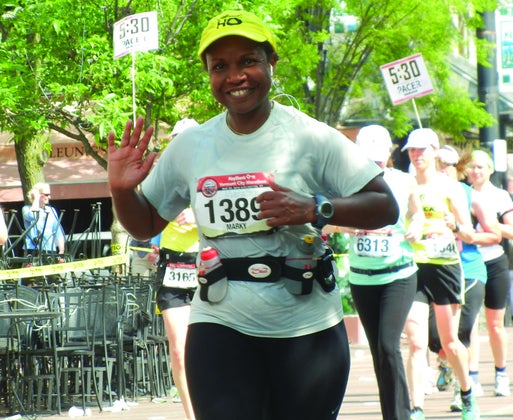 MARQUAY LEE-PEARCE
AGE: 46
Centerville, VA
Project Manager
I grew up one of four children raised by a single mother in Chicago. We were a low-income family, and it was often a struggle to make ends meet.
When I started running, I never thought it would change my life. But after joining the track team in high school, I tapped into a newfound talent. I was the first person in my family to graduate—and the first to consider going to college. The experience of getting scouted by recruiters opened up a whole new world.
I accepted a scholarship opportunity for Valdosta State University and moved to Georgia to attend school. When I first arrived, I felt completely out of my league. It was humbling and hard. The other girls were so fast, and the pace of multiple practices, weight training and classes was crazy. But I knew quitting was not an option. Running was the only way to for me to finish college. In four years, I learned a lot about mental toughness and time management skills.
These lessons made an incredible impact on my life: I went on to attend post-graduate programs and to work my way up as a specialist for IBM. I'm not sure I ever would have attained this success had it not been for running.
The drive I developed as a sprinter now allows me to train for longer races. I ran my first marathon after gaining nearly 80 pounds during a long period of bed rest when I was pregnant with my daughter. Through training, I was able to lose all the weight. I hope that my running continues to be a lesson for my child: You never have to settle for your current situation—if you push yourself, you can live the life you want.
MY BEST ADVICE: JUST GET THROUGH
Running, along with a lot of things in life, rests on staying tough. My personal mantra is, "Just get through." I used to say this to myself during difficult times in track and school, and it still helps me remember that tough times will pass.