Women Who Move: Kimberley Teshima
I ran 50K for my first ultramarathon, the toughest race of my life.
Heading out the door? Read this article on the new Outside+ app available now on iOS devices for members! Download the app.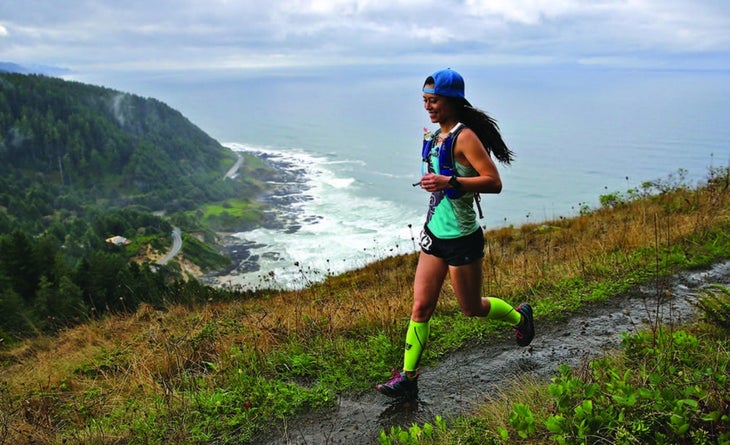 I ran 50K for my first ultramarathon!
KIMBERLEY TESHIMA
Age: 33
Vancouver, British Columbia, Canada
A few years ago, my town was hosting a marathon, so i decided to go out and cheer—having  no idea what to expect. As I watched the runners cross the finish line, I was overwhelmed with emotion. I left the race knowing that I wanted to feel the sense of accomplishment I witnessed those competitors experience. The next day, I bought my first pair of running shoes and began training with my sister-in-law.
At first, I didn't understand what it took to be a runner. When I couldn't live up to my unrealistic expectations, I wanted to give up. But I decided to sign up for a half marathon knowing that having a goal would help focus my effort. While training for that race, I learned to be patient. It was okay that I couldn't run 13 miles right away. Eventually my consistent training paid off and I finished that race ready to sign up for the next.
Then last October, I decided to push myself well beyond my comfort zone and registered to run the inaugural Oregon Coast 50K Ultra. I wanted to put myself in an uncomfortable position to see exactly what I could do and how I would survive. Little did I know, getting to the finish line would prove to be the toughest challenge of my life.
Related: I Qualified For The Boston Marathon For The First Time At 57
There was nothing easy about race day. If something could go wrong, it did. Between 35 mile-per-hour headwinds, rain, flubbing my nutrition plan and fighting on-and-off nausea, I doubted my ability to finish. Though my fiancé (a seasoned ultra runner) ran by my side, I struggled so severely with the conditions, at one point I broke down with panic, feeling too far away from help. In that moment, I reminded myself that even though I was struggling, I was lucky to be there and able to run. I focused on being grateful for the trails beneath my feet and the volunteers who were supporting my dream. By changing my mindset, I was able to push forward and continue my journey.
I'm pretty sure I cried the entire last two miles of the race. I crossed the finish line in shock, but thankful to my body for carrying me the distance. Knowing that I mentally adapted to the changing conditions and ultimately accomplished my goal was one of the most empowering feelings of my life.
Related: I Stopped Overeating And Started Running
I LEARNED to remind myself how much I love running. Recalling this passion helped keep me centered when doubt crept in. Dig deep when a new goal scares you and let your heart carry your legs when your mind's not sure. You'll be surprised just how far you can go!