Women Who Move: Paula Daniela Calsina Chirinos
I became the very first girl I knew in my home-town to finish a 10K race!
Heading out the door? Read this article on the new Outside+ app available now on iOS devices for members! Download the app.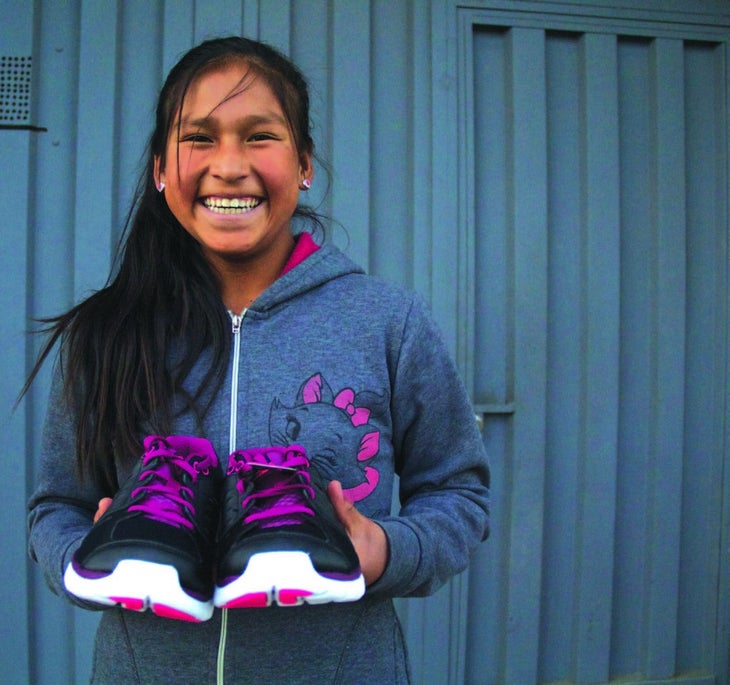 PAULA DANIELA CALSINA CHIRINOS
Age: 14
Cusco, Peru
Growing up in Cusco, Peru, I wasn't exposed to sports until I joined a program in my school called GirlSportWorks. Since sports teams are almost nonexistent and only for the privileged, none of the girls I knew had ever participated in athletics. By attending sports classes through the nonprofit organization, I discovered a love of running.
One of the teachers for GSW was training for her first marathon, and she asked me if I wanted to join her journey and run a 10K race. Hoping to show the girls in my small town that they can do anything they want by working hard, I said yes and began training.
Traveling to the race meant I had to fly for the first time ever. I'd only been out of my hometown once before, so the idea of being in an airplane was a little bit scary. The fast takeoff was intimidating, but we eventually settled into a consistent pace where I was able to see the beauty of the land all around me—just like running!
Related: Inspiration Awards- Kayla Montgomery
I arrived in Lima ready to run, and as I lined up at the start line of the race, I wanted to finish first. Getting caught up in the excitement, I started sprinting. I got so tired that by the halfway point, I felt like I might not finish.
But I couldn't give up. I started alternating walking and running until I spotted a runner in the distance. I started running again, and eventually passed him. I used the motivation of not letting him pass me back to continue.
As I ran toward the finish line, people were screaming for me and yelling words of encouragement. Hearing the cheers energized my legs, and I bolted past the finish line with a total time of 65 minutes. Though I was exhausted, I stood there watching more runners, feeling so proud that I accomplished my goal.
Running this 10K came with several firsts: my first race, my first pair of running shoes and my first plane ride. And while this may have been a lot for one running adventure, I'm excited that this won't be my last!
I've learned not to be shy about talking about my goals. Sharing your dreams with those around you will only help them support you.
GirlSportWorks is a nonprofit organization in Cusco, Peru, that works to provide opportunities to girls ages 5 to 17 through sports education. Paula was able to travel and participate in her first 10K race because of funds GSW supplied. For more information on GSW, visit girlsportworks.org.
Related: Women Who Move- Danielle Mestyanek