Why Great Jim Valvano's Daughter Is Running Another Half Marathon
The basketball legend shared one irrefutable bond with his daughter: cancer.
Heading out the door? Read this article on the new Outside+ app available now on iOS devices for members! Download the app.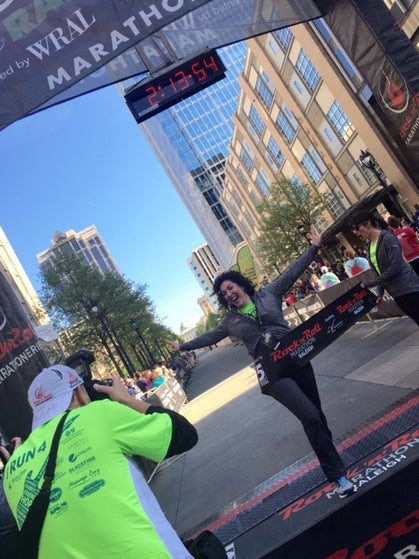 The first thing Jamie Valvano will tell you is that, in one way, she is not her father's daughter.
"I am not an athlete," says Jaime, a 43-year-old mother of two teenage boys who lives in Apex, N.C. "That is not what I do."
As for her famous father, Jim Valvano grew up in New York, played basketball at Rutgers, coached college basketball for 24 seasons, most famously running across the floor at The Pit in Albuquerque, N.M., looking for someone to hug after Valvano's North Carolina State Wolfpack shocked Hakeem Olajuwon, Clyde Drexler and the Phi Slamma Jamma Houston Cougars to win the 1983 NCAA Championship.
But father and daughter share one irrefutable bond: cancer.
Related: She Beat Cancer Then Spearheaded A Program For Young Girls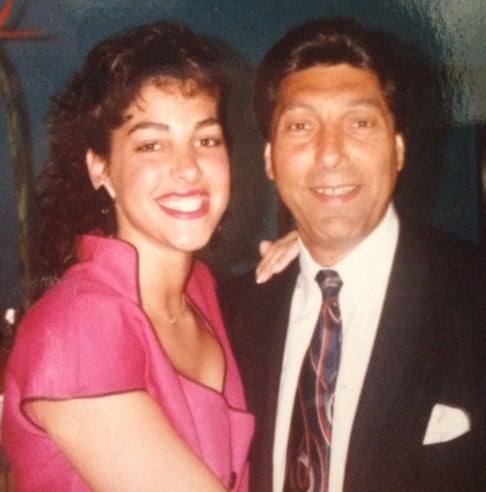 Jim died in 1993 of bone cancer. He was 47. At his famous ESPYs speech from New York's Madison Square Garden, 57 days before his death, Valvano announced the creation of The V Foundation for Cancer Research.
"We need your help. I need your help," Valvano said. "We need money for research. It may not save my life. It may save my children's lives. It may save someone you love."
Twelve years later, Jamie, then 33, was diagnosed with breast cancer. Jamie opted for an aggressive treatment, undergoing a double mastectomy.
The V Foundation is the featured charity of the Rock 'n' Roll Raleigh Marathon and 1/2 Marathon presented by WRAL. Come April 10, Jamie, the non-athlete, will be squeezed into one of the corrals, set to run 13.1 miles.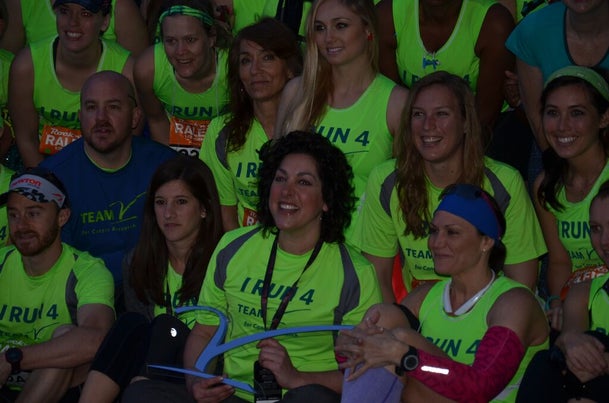 "It's the way I've chosen to celebrate being cancer free and being a survivor," says Jamie.
The half marathon will be Jamie's second. She stamped the five-year anniversary of her cancer fight by running the Rock 'n' Roll Virginia Beach Half Marathon in 2010.
Valvano lives in Apex, a long three-pointer outside of Raleigh, home of North Carolina State. Her father coached at NC State for 10 years, from the time Jamie was 8 to 18.
Jamie feels pride when she sees The V Foundation's banners hanging along downtown Raleigh. She was a starter at last year's race and loved hearing the stories about why runners run, some for fitness, others in memory of a loved one.
But it's one thing to attend the pasta dinner, VIP greetings and feel the race-day electricity. It's another to run in the fray, logging miles for months, knowing come race day, you'll set off on your own 13.1-mile journey. In a race that raises money and awareness for her father's chosen cause, Jamie wanted to jog side-by-side with the masses.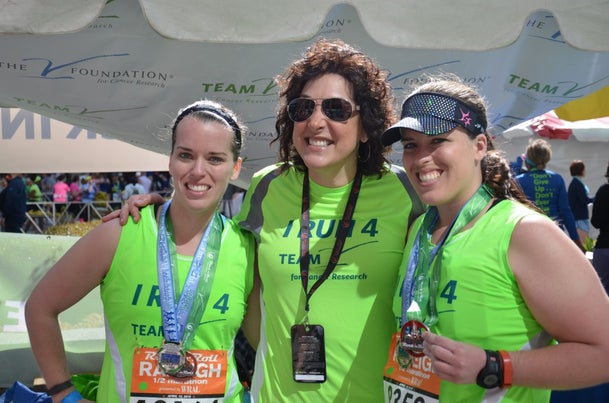 "It's just so symbolic of the journey I've taken," says Jamie. "It gets emotional with each passing mile. It becomes almost meditative, that whole journey I've taken."
In 2010 at Virginia Beach, Jamie covered the 13.1 miles in 3 hours, 5 minutes. She is training harder for the April race and hopes to lop 20 minutes off her Virginia Beach time. Still, she offers no apologies. She's not chasing the clock. She's about stepping outside her comfort zone, being there, being in the moment, living.
"It's about showing up and finishing the race, the journey," she says.
Jim Valvano earned a degree in English at Rutgers and was a voracious reader.
"He loved poetry," says Jaime. "He would often be quoting Shakespeare."
For Jamie's 17th birthday, he gave her of a book of poems. Jaime inherited a passion for reading and writing from her father. She was a middle school English teacher and, given the ages of her boys (13 and 16), has enjoyed juvenile literature the past seven years.
Writers weave stories, and Jamie tells humorous and emotional tales about her father.
"He was pretty much like what you saw on television," she says. "Loud, energetic, passionate, driven."
Related: Cancer Patient Completes In-Hospital Marathon
Her father was diagnosed with bone cancer in June 1992. At his famous ESPYs speech, Valvano said, "To me, there are three things we all should do every day. …Number one is laugh. …Number two is think. You should spend some time in thought. And number three is, you should have your emotions moved to tears, could be happiness or joy.
"But think about it. If you laugh, you think and you cry, that's a full day. That's a heck of a day."
Jamie, the middle of three sisters, says her father squeezed and wrung all he could out of his final 11 months. He continued TV broadcasting, Jamie often traveling with her father. The family took in Broadway plays.
"Every day he did silly things," she recalls.
He painted pictures. Reaction to drugs left his hands tingling and the pictures were hardly fit to be hung in a museum. But Valvano invited friends and family over, pretending to host gallery unveilings. He wore a tux, shined lights on the paintings, the art covered in pillows cases.
He often couldn't sleep at night and bought junk off TV shopping networks, including a device that attached to a vacuum and cut hair.
"A year filled with so much life, so much laughter," recalls Jamie.
Eight months into his cancer fight, on the Reynolds Coliseum floor to commemorate the 10-year anniversary of NC State's national championship, Valvano stressed the value of hope, love and persistence, dropping his famous quote, "Don't Give Up . . . Don't Ever Give Up!"
There have been times when Jamie has been running, hurting, wanting to stop and curse her father's legacy.
"A lot of people look to me to be my dad," says Jamie. "'She's on V team. She had cancer. She survived. She can rally the troops.' And sometimes I think, 'This stinks. I don't want to run today.' In a lot of ways, I'm not my father's daughter."
Then she snaps out of it, halting the pity party. She thinks of others who have battled cancer, like former ESPN anchor Stuart Scott, who died last year of cancer.
"I think, 'What would they do?'" says Jamie. "They would live and they would live fearless."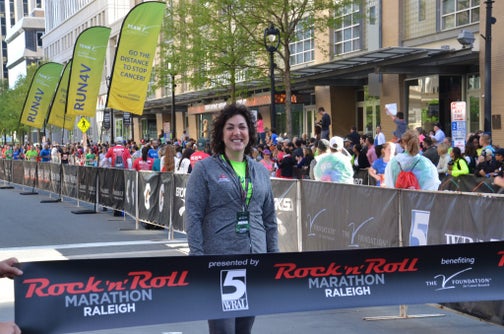 Then she walks or jogs onward, her father's refrain echoing in her head. … "Don't give up. Don't ever give up."