Run History: The Unforgettable 2016 U.S. Olympic Marathon Trials
It was hot. The contenders suffered. And the crowd went wild during a wild 2016 U.S. Olympic Marathon Trials.
Heading out the door? Read this article on the new Outside+ app available now on iOS devices for members! Download the app.
If you wanted to look up the highlights of the 2016 U.S. Olympic Marathon Trials women's race, there's basically a half marathon that separated Amy Cragg's win in 2:28:20 from the rest. For the better part of the first half, a solid group of women, fluctuating between 14-20 runners, traded off the top-4 spots. Soaring temperatures caused a series of DNFs throughout the day, but the blazing sun didn't seem to affect the leaders of the women's race during the second half (well, most of the second half): Shalane Flanagan and Amy Cragg, who wore matching Nike kits from head to toe.
The duo started to break away around mile 14, and for the miles leading up to the final 5K, the big question mark seemed to be that third-place spot. Desiree Linden, Kellyn Taylor, Kara Goucher, Sara Hall, and Janet Bawcom were all within spitting distance of the bronze at one point, picking off seconds between each other for what seemed like forever. Slowly that scattered chase pack dwindled down to two standouts chasing down that final spot on the 2016 Olympic marathon team: Linden and Goucher.
If you were watching at home, the crowds in Los Angeles also seemed to speak too soon about a 1-2 potential finish between Cragg and Flanagan. Both runners spent part of the final four miles talking to each other, and spectators buzzed with curiosity. What are they saying? Is Amy asking Shalane what to do? Is Shalane telling her to go for the win? It was clear someone was having the better day, and that someone was Cragg—the woman who missed the 2012 team by one place four years prior. Flanagan, the defending Olympic Trials champion, was falling apart.
"Our dream has been to get on the team together. Not just one of us, both of us on the team," said Cragg at the post-race press conference. "On the final loop, Shalane started going through a rough patch as well. [Cragg also mentioned her own rough patch during the third loop.] So I said, you know what? She did it for me, I'll do it for her. I'm going to get her through this and talk her through it."
"I kind of looked at her and asked, 'Hey, are you okay?' And she said, 'No I'm not.' And she looked like she was struggling a bit just to say that." Cragg continued to encourage her teammate—one mile at a time—even as Flanagan struggled in the heat and doubted her ability to finish. In a pre-race press conference ahead of Saturday's race, Flanagan had mentioned her unfamiliarity with running a marathon in this type of heat, something that was becoming more apparent.
As the miles counted down to the final two of 26.2, Cragg took off with a kick reminiscent of a strong 10,000 meters on the track. No one was touching her at this point, and the question dramatically shifted from Who gets third? to Who the heck is getting second?
"That was a position I didn't want to be in. That third, fourth position," Cragg said about the closing miles. "With about a mile to go, I saw Des coming up and knew I needed to make a move, so I went for it there."
At one point, Linden was running in third, right between Flanagan and Goucher, with a 40-second gap on either side. Within what seemed like the same amount of time, her trail behind Flanagan shrunk to 19 seconds. Linden steadily separated herself from a strong fourth-place Goucher, passing a slowing Linden in barely the final mile. The course, which covered a 6-mile loop four times for the greater part of the race, was lined with spectators. Linden's moves and Flanagan's efforts to hold on lit up LA's downtown area with ear-piercing screams.
"That was the toughest 26.2 ever, it felt so much longer," said Linden at the post-race press conference. "It was an absolute grind out there. It was a mental battle when those guys got away. You wonder if your tactics are right. I had to just let them go and trust in that [race strategy] today."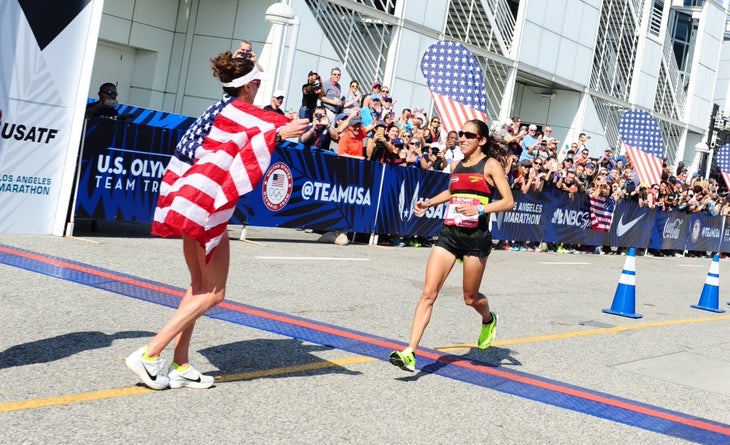 As Cragg ran to a first-place finish, she threw her visor off her head and broke a tape she's dreamed about for four years. Linden was 34 seconds behind, pumping her arms into the air as she came down the final 100 meters. The roaring, stomping crowd happily obliged with shrieks, "YEAH DESI!" Flanagan finished third, in 2:29:19, punching her fourth Olympic ticket and second in the marathon. After visibly struggling over the final 5K, Flanagan collapsed upon crossing, as Cragg hurried over to grab her teammate.
"She put everything out there today. She worked so incredibly hard, and she's helped me so much the past fourth months," said Cragg on Flanagan's all-out-there effort. "Today was one of the bravest, most courageous runs I've ever seen. I think she had to focus on every step she was taking to make it to the finish line, and she made it happen."
Flanagan was treated for heat issues after the event, citing the final six miles as "the hardest marathon I've run. "I'm getting an IV. I've never gotten one of those before. Clearly it took a toll on me."
Goucher finished fourth in 2:30:24, Janet Bawcom in fifth with 2:31:14, and Kellyn Taylor in sixth with 2:32:50. The 2016 U.S. Olympic Marathon Trials was fast—the top-3 times were the sixth, seventh, eighth fastest in Olympic Trials history—as well as hot and entertaining.