What Is It Like To Guide A Friend Through A Marathon?
Two women share the story of guiding their training partner through 26,2.
Heading out the door? Read this article on the new Outside+ app available now on iOS devices for members! Download the app.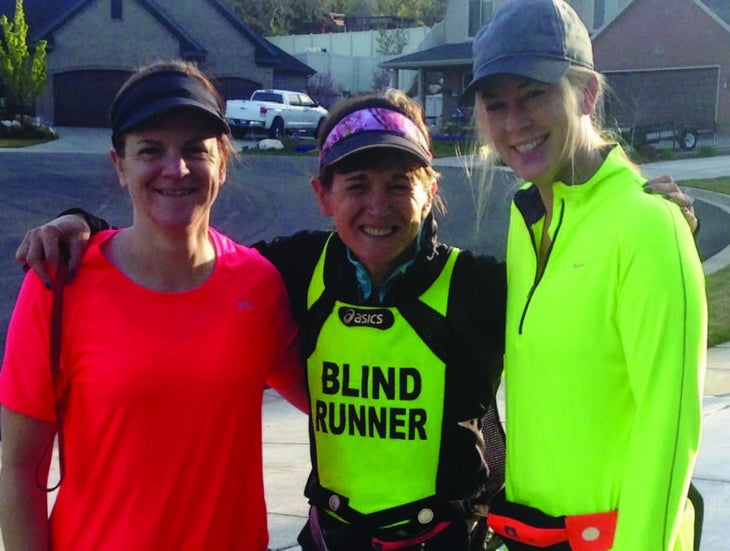 Being tied together bonded three women over 26.2 miles. Visually impaired runner Becky Andrews shared the story of her marathon experience. Now the friends who guided her share theirs.
Brenda Peterson
Age: 50
Bountiful, UT
Runner Guide
When the start gun went off, I knew I had to concentrate on safety as Becky's guide. Since Suzette and I shared guide responsibilities, we were able to trade off the tether Becky held every 5 miles.
We hit our milestones along the way, feeling strong and enjoying the race as a team. With the finish line in sight, I finally allowed myself to feel the excitement of the end. We crossed the line with the relief that we'd accomplished our goal of running together.
Nothing is impossible when you have a plan of attack. Don't let unexpected roadblocks derail your effort, because if you keep working and running, you'll reach your goal and discover a beauty you never imagined.
Suzette Cook Hirst
Age: 58
Bountiful, UT
Runner Guide
Though Brenda and I were there to help guide Becky, the race was more about running as a team. We all supported each other emotionally and physically.
Mile 20 brought the fatigue and pain that marathon runners are familiar with, but we fought to keep running and finished the marathon beaming with pride. Not only had I run 26.2 miles, but I'd also done it with my friends.
Some might think the journey was about getting Becky to the end, but the real truth is that she supported me as much as I did her. Knowing that she was by my side made running the distance possible.
I learned the value of being part of a team. Training and racing with Brenda and Becky taught me that supporting and being supported is one of the best ways to race. For better or for worse, I know my friends are with me to the end!