19 Excellent Vacation Ideas That Runners Will Love
Escape to one of these fit-cations spots.
Heading out the door? Read this article on the new Outside+ app available now on iOS devices for members! Download the app.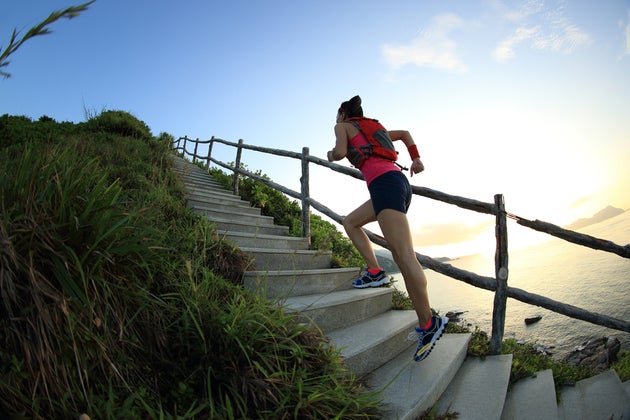 Looking for a vacation destination? From yoga retreats and biking adventures to hiking treks and water activities, escape to one of these fit-cations that will keep your blood going, muscles strong and mind relaxed.
Art Therapy Classes: A colonial hacienda set on a 30-acre coffee plantation, Costa Rica Marriott San Jose invites guests to network and decompress over art therapy coloring classes, while indulging in local coffee and authentic treats.
Island Glo-Ga: Located off the coast of Vieques Island, W Retreat & Spa – Vieques Island features weekly complimentary Glow in the Dark Yoga classes. Guests can "flow and glow" in the dark with instructor Rob Crowley for an electrifying Strala yoga class, complete with body paint, fluorescent black lights and glow bands.
Aromatherapy Blending Bar: Guests at Well & Being at the Fairmont Scottsdale Princess can work with a professional alchemist to create a "zen blend" of essential oils that will be turned into a sugar scrub, body lotion or oil used in spa treatments or packaged for a unique, take-home gift.
Relax with the Ukulele: Hilton Waikoloa Village provides Zen immersion into the Hawaiian culture through authentic experiences including ukulele lessons led by the property's resident instructor.
Interactive Group Painting: The Westin Cape Coral Resort at Marina Village is partnered with eclectic local artist Leoma Lovegrove, who offers on-site group painting classes on the lawn for guests to channel their inner creativity.
Adult Naps: At Well & Being at the Fairmont Scottsdale Princess, guests can enjoy a rejuvenating 30 or 60-min. cocooned "nap" in a zero-gravity So Sound® Lounger, reducing chronic stress, fatigue and pain.
Silent Retreats: Springwater Center in the Finger Lakes region offers monthly silent retreats where guests disconnect through timed sittings, private meetings with experienced teachers, daily work periods and participation in outdoor activities along the center's 200 acres of open land.
Peace on Oahu: Sitting on Waikiki's widest stretch of beach, Hilton Hawaiian Village offers cultural activities including relaxing lei-making lessons that give guests insight into the custom of lei giving, an important part of the island's history and tradition.
Aloe Therapy: This June, the Hilton Aruba Caribbean Resort & Casino will introduce a host of unique spa treatments in honor of the island's "Aloe Wellness Month." To help guests decompress, the resort will offer an Aloe Vera, Rum, and Hot Stone Massage using 100 percent natural ingredients and an Aruba Aloe Lemon Splash mocktail, featuring Aloe vera pulp scooped right out of the leaf.
Relaxing Beachside Bike Rides: This summer, W South Beach is celebrating the launch of its FUEL by W South Beach wellness program, offering a number of ways for guests to de-stress, including leisurely beachside bike rides on the hotel's complimentary Martone bicycles.
Beer Yoga in Fort Worth, TX: The Collective Brewing Project pairs the active traveler's desire to taste local flavors yet stay in shape. Guests bring their own yoga mat for air-conditioned yoga in the taproom, followed by some Collective beer. $20 gets travelers an hour of yoga and three beverages (beer, Kombucha or cold brew coffee).
Soothing Sky High Yoga: Conrad Miami offers new sunset yoga sessions on the hotel's rooftop, which offers panoramic views of Biscayne Bay.  After yoga, guests can cool down with a meditation session, swim in the rooftop pool or tap into tennis professionals for a private rooftop lesson with unobstructed views.
Lawn Games: At the newly opened Hilton West Palm Beach, guests can relax after a long day by playing glow-in-the-dark outdoor lawn games from bocce ball to ladder golf and bean bag toss, while sipping Prohibition-themed cocktails to point out constellations.
Serenity Garden: The Westin La Paloma Resort & Spa places travelers amidst Tucson's panoramic landscape where tranquility enthusiasts can discover the on-site Serenity Garden and experience the healthful benefits of the therapeutic mineral pool which contains salt from the dead sea.
Adult-Only Spa Getaway: When staying at the Fort Lauderdale Marriott Harbor Beach Resort, wake up each morning on South Florida's largest private beach and unwind within the $8 million dollar spa facility boasting zen components from Eucalyptus steam rooms to a private, adult-only pool with a soothing underwater sound system.
Hike Spain:  Travelers can relax on Country Walkers' guided walk, exploring cobblestone streets and ancient Roman roads during this tour which highlights the historic Camino Frances route, including sharing a quiet moment with pilgrims during a visit to the acclaimed Santiago de Compostela Cathedral.
Yoga for Wolf Pups: At Great Wolf Lodge resorts, kids are now invited to kick-start the day with the new "Yoga Tails" morning program, designed to stimulate imagination, self-expression, and self-control. During the class, young "wolf pups" will flutter like butterflies and roll around like happy bears as they learn beginner's yoga movements and important breathing techniques to help channel their inner yogi, Great Wolf style.
Paddleboard Yoga + Meditation: Experience the ultimate in relaxation at Oil Nut Bay, a secluded island resort located in the British Virgin Islands. Guests practice 'Lotus pose' during paddle board yoga and meditation for a balanced physical, mental and spiritual well-being.
Bike La Route Des Vins: VBT travelers can enjoy a bike ride along the Route des Vins d'Alsace, a landscape of river-laced vineyards and quaint wine villages. Finish by sampling award-winning wines during an included tour and tasting at a local vineyard.
Read More:
How To Fit Training Into Your Next Family Vacation
Plan Your Next Vacation At One Of These Adult Running Camps