Usain Bolt Ate 100 Of These Before Winning Three Gold Medals
Can you guess what fueled Bolt to her World Records?
Heading out the door? Read this article on the new Outside+ app available now on iOS devices for members! Download the app.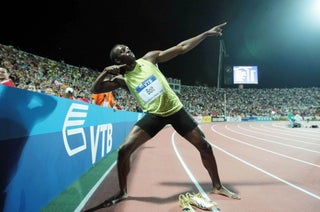 While this is definitely not recommended, it does beg the question—is it "fast" food for a reason?
How's this for Wacky Wednesday? The world's fastest man definitely doesn't get the award for the world's greatest diet—or does he? According a Time.com article, Jamaica's Usain Bolt scarfed down 100 chicken McNuggets every day during his time at the 2008 Olympics in Beijing, totaling 1,000 nuggets in 10 days! In case this makes anyone else's stomach twist with disgusting curiosity, that's about 47,000 calories just from the nuggets alone—sans condiments and French fries—in a week and a half. Whether it was McPower that fueled his race to three Olympic golds or perhaps his super calculated training regimen, Bolt's fast food consumption could perhaps challenge any naysayers that would object to pre-run fueling via McAnything. Albeit terribly unhealthy for you, potential digestive woes were apparently lost on Bolt's insides—or at least didn't visibly hinder his performance in any way.
Related: 12 Cool Photos Of The Kingston City Run (Where Usain Bolt Owns A Bar!)
The quirky tidbit about the sprinting phenomenon from the Caribbean is included in his autobiography, "Faster Than Lightning" (June 2014), where he also shared that he only picked up the fast habit because of a dislike of Chinese food. The Olympian, who shot to international stardom after winning gold and setting world records in the 100m, 200m, and 4x100m relay in Beijing, reminded the world of his insane speed again at the 2012 London Olympics, where he defended all three victories. However, it is unknown whether he stayed with the same fueling regimen or moved on to the fish and chips. In case you're looking for more healthy options, here's some things that will fuel your running probably better than McDonald's.
The real question: Will a McMuffin get me to my half-marathon PR?