This United States Congresswoman Is Also A Runner
"Running gave me the confidence to go from homeless to Congress." Learn more about Congresswoman and runner Krysten Sinema.
Heading out the door? Read this article on the new Outside+ app available now on iOS devices for members! Download the app.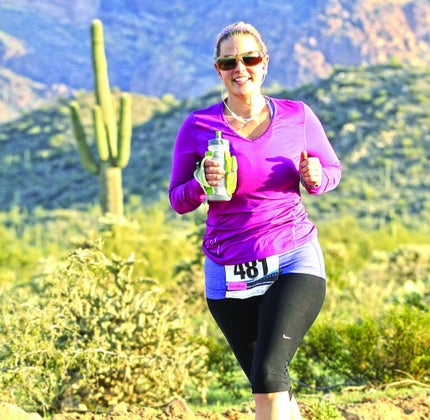 KRYSTEN SINEMA
AGE: 37
PHOENIX, AZ
UNITED STATES CONGRESSWOMAN
At a very early age, my parents taught me to never give up. Though my family spent a few years living homeless and hungry, I learned through their example that hard work and determination opens doors you thought were bolted shut. It would have been easy to give up and succumb to a life destined for poverty, but I refused to settle for defeat.
As a teenager in high school, I wanted to be engaged in sports, but with limited means, I also had to be conscious of the equipment and competition costs. Since I only needed a pair of shoes to run, I joined the track team and ran the long-distance events. I wasn't fast by any means, but I fell in love with the feeling of confidence running provided.
After graduating as valedictorian at the age of 16 and earning my bachelor's degree at 18, I went on to complete law school and earn my doctorate degree before entering a career in politics. In 2012, I announced my run for Congress just two and a half weeks before finishing my favorite race: the Rock 'n' Roll Arizona Marathon.
Running was a big part of my election campaign from the start—in one of my first fundraising emails, I asked for donations in the amount of $26.20. I've continued to make the Rock 'n' Roll event an annual tradition, as the course runs right through my district and allows me to see a ton of friends and supporters on both the course and sidelines. Even better, I scored a new personal record during 2014's race with a finish time of 4:29:07!
I'm still not the fastest runner, but I keep chasing the high that inevitably floods my body during every race. Around mile 18, when most people start to feel tired, I focus on my gratitude for life. I have an amazing job serving my community, and I'm living my American dream.
MY BEST ADVICE: TRAIN YOUR BRAIN.
Pay attention to the mental aspect of running. Running long distances tests your will to continue moving when your legs feel tired. Learn to quiet that little voice in your head that begs you to stop, and your feet will follow.