Trail Race Aid Station Tips From Two Top Ultramarathoners
When it comes to trail racing, here are the top tips to navigate aid stations.
Heading out the door? Read this article on the new Outside+ app available now on iOS devices for members! Download the app.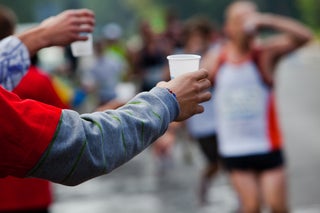 Trail runners and nutrition savants Magdalena Boulet and Stephanie Howe are not strangers to training with a range of foods and drinks. More than anything else, the two speedsters stress the importance of training with the foods you might eat on race day. These trail-racing heavyweights share their knowledge and tips for aid station success.
What's Your Dream Aid-Station Fuel?
"Popsicles would be great, but I understand they'd be a logistical nightmare," says Howe, who also appreciates a finish line with a hot meal. Ideally pizza or make-your-own burritos!
Eat to Effort
The harder you're running, the more difficult it is to process food, because your blood is pumping to your muscles instead of your digestive tract. "The lower the intensity, the more creative you can get," Boulet says.
Decisions, Decisions
"You don't want to take everything at once," cautions Boulet. "There is a limit to what your gut can handle." That threshold is about 200 to 350 calories per hour. Test this in training and, Howe suggests, carry the fuel you need and supplement with aid-station fare that you've used in practice.
What's the weirdest food you've seen in a race?
Boulet: Five or six different types of cheeses during an ultra in France—it smelled so good but it also smelled like trouble! (She did not partake.)
Howe: While I was pacing my husband at Bighorn, peanut butter and jelly sandwiches with bacon sounded good— and we both had one!
Read More About Race Day Nutrition:
What Foods Can You Expect At Trail Race Aid Stations?
Check Out This Insane Ultra Aid Station