This Runner Won Her Second Marathon
"I finished first and scored a 30-minute personal record in my second marathon!"
Heading out the door? Read this article on the new Outside+ app available now on iOS devices for members! Download the app.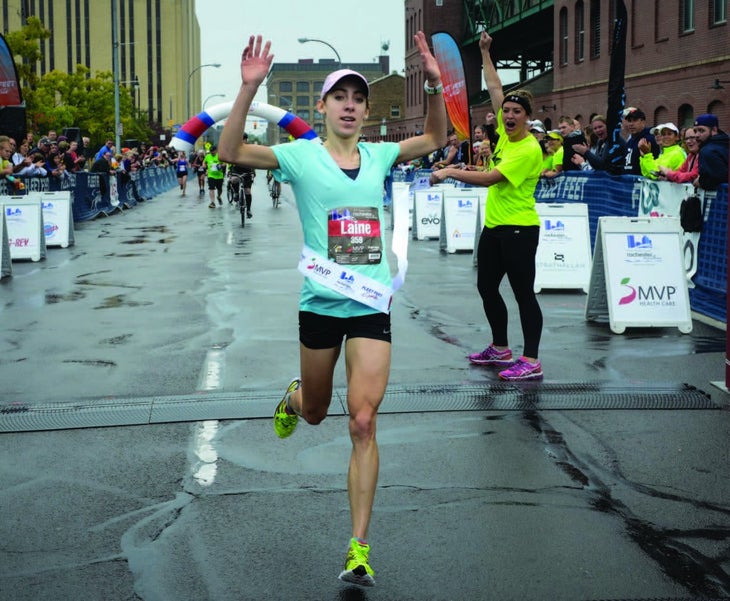 LAINE SEFICK
Age: 26
Rochester, NY
My fourth-grade gym teacher was the first person to see me as a runner. When I consistently beat all of the boys in the timed mile race, he hooked me up with a local run coach who encouraged me to run a charity race in my town. I soon got my first pair of real running sneakers and began my adventure as a runner.
I raced through high school and college—but one of the best running days of my life was my second marathon. I ran my first marathon in 2010. I finished in 3:31:26. It was a great experience, but I thought I had potential to run a bit faster and was eager to try again.
I signed up for the Rochester Marathon but didn't have quite enough time to train properly. Two weeks prior to race day, I felt extremely burned out. I doubted my ability to meet my goal of a 3:10. I had no plans to run competitively—all I wanted to do was finish.
Related: I Ran A 50K For My First Ultramarathon
But when race morning came, my legs felt incredible. I started the marathon with a relatively conservative 7:10 minute-per-mile pace. When I reached mile 7, a spectator yelled, "You're in sixth place!" It hadn't occurred to me before that point that I could place at all, but since I was feeling great I decided to push my pace and see what my legs could give. I started picking off other female runners and passing them one at a time, until I finally passed the lead woman at mile 18.
I ran into first place—if I could hold that position I would win! With my legs still feeling strong, I continued testing myself. Each mile I was able to run faster than the one before. When I got to mile 25, I knew there was a possibility I could finish in under 3 hours, so I told myself to give everything I had. I ran my final mile in only 6 minutes and crossed the finish line as the female winner, with a time of 2:59:36—a 30-minute personal record!
I LEARNED that believing in my ability and knowing that there's always something left to give is rewarding. Sticking with a training plan, resting properly and following a taper are key—but you can't be afraid to see what you're made of during the race. Give the run everything you have and you'll leave with no regrets!