Read This Story About A Huge Two-Person PR!
Kelli & Ari Tanghe share how they prepare to run their personal bests.
Heading out the door? Read this article on the new Outside+ app available now on iOS devices for members! Download the app.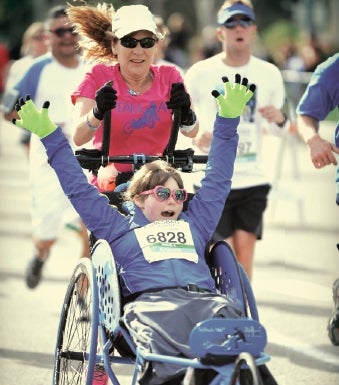 Kelli & Ari Tanghe
Ages: 52 & 15
Modesto, CA
After running 35 races together, my daughter and I made our way to the start of the Carlsbad Half Marathon ready to execute our well-tested race plan: I'd push Ari in her racing chair, while she cheered and encouraged me to turn on the cheetah power. What I wasn't prepared for was the emotion that overcame me at this particular race.
I signed up for this event with Ari, planning to run alongside our friends Dick and Rick Hoyt. Together this father-son duo is known as Team Hoyt, the founders of pushcart racing. It was an honor to be able to join them. As we waited for the race to begin, I turned to Dick and shared my apprehension over the hilly course. He smiled, assuring me that we would conquer this run.
During those first few miles, I couldn't help but think back to two and a half years ago when Ari and my journey into pushchair running began. Born with cerebral palsy and visual impairment, Ari spent years in physical therapy from the time she was born.
As I watched her fight to take her first unassisted step, I made a vow to myself that when she took that step, I would start running. It was my way of honoring her determination and showing gratitude for my own physical abilities. Soon after I began training, Ari started asking if she could come with me. I took the leap and pushed her in her wheelchair. From that day, there was no turning back: I have a daughter who loves to run.
I pushed Ari through each mile of the half marathon, listening to her come up with names for the hills as we tackled each one. When we reached the final incline, she named it "Ari." I knew getting to the top was a symbol of the infallible drive that fuels our racing.
We pushed up the hill and crossed the finish line, scoring a 10-minute PR. I couldn't wait to share the victory with the Hoyts and thank them for being our good luck charm. After collecting our medals, we celebrated over cheeseburgers, while planning our next race adventure!
"Running makes me grateful for every day. Being able to share running with Ari gives me a greater appreciation for my health and ability. Seeing the joy that running brings to her makes every step that much better!" —Kelli
"Running makes my disability disappear. When my mom pushes me, I feel free and full of adventure. Being able to run with my mom is one of the best feelings in the entire world!"  —Ari
Want to follow Team Ari's latest running adventures? Follow them on Facebook at TeamAriRun2gether.