She Outran Her Multiple Sclerosis To Become A Marathoner
Despite her diagnosis of multiple sclerosis in 2006, Cheryl has run more than 30 marathons.
Heading out the door? Read this article on the new Outside+ app available now on iOS devices for members! Download the app.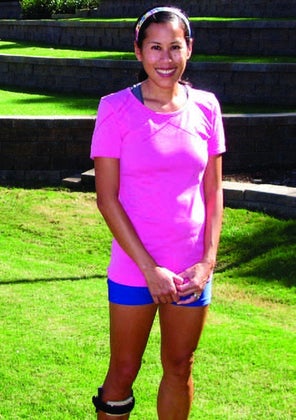 Cheryl is running the Flying Pig Marathon, her 49th marathon, and has plans to run 7 marathons on 7 continents—watch her interview!
When word of our Cover Runner Contest went out over social media, we were inundated with more than 5,000 entries and nominations. Thank you to everyone for sharing your love of running and inspiring us in countless ways. It was not easy selecting eight finalists, but we think you'll agree they prove there is no shortage of incredible women in our sport. Read on to learn about one of our amazing finalists. Cheryl has run more than 30 marathons since her diagnosis of multiple sclerosis (MS) in 2006 and wants to encourage others to never give up.
CHERYL HILE
University fund manager
San Diego, CA
"Do what I can and never give up!"
How has running changed your life? Shortly after being diagnosed with MS, I started tripping and falling while running. I learned it was drop foot, a common condition of MS. My doctor told me to "lower my expectations," which did not sit well with me. I found an orthotist to build a carbon ankle-foot orthotic so I could continue running. I have set a new goal to be the first person with MS to run seven marathons on seven continents in 12 months, and raise money for the National Multiple Sclerosis Society.
Your ultimate run? Forty-five degrees and cloudy, because heat heightens my MS symptoms, like nerve pain. I recently ran a marathon in 80-degree weather. My right butt cheek kept buzzing. I thought I was having an MS exacerbation. I later realized it was just my phone texting me with my 5K splits!
Favorite running gear? My ankle-foot orthotic (AFO). I cannot run without it. The AFO holds my foot up at a 6-degree angle, so I no longer trip. My first run was maybe 0.2 miles. That was as far as I could go. It was that hard. Running made me a very determined person, which makes me better at coping with MS setbacks.
Find out more about our winner and finalists
Kiley Lyall— Winner
Charlotte Young Bowens— Finalist
Amelia Gapin—Finalist
Melissa Farruggia—Finalist