The Secret To Choosing The Right Running Partner
In the market for a run bud? Here's some ways you might be standing next to your new best running friend.
Heading out the door? Read this article on the new Outside+ app available now on iOS devices for members! Download the app.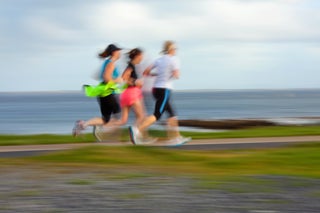 While many of us love the peace and quiet of running solo, there's nothing like having a buddy along for the ride. If you're thinking about adding a plus one to your next run, here's a cheat sheet to help you pick the perfect partner.
Try running with your significant other…if you want to strengthen your bond. Besides giving you the chance for some couple time, sweating together has been shown to have a positive emotional impact on your relationship. The shared commitment to working out and mutual encouragement will have you running off into the sunset together in more ways than one, if you catch my drift.
Related: Tips For Couples Who Run Together
Try running with your girlfriends…if you want to get a sweat session in along with your gossip session. Running with one or more of your pals is a great way to get your heart rate up while catching up on each other's lives. And you know that you can count on your most supportive friends to cheer you on when you feel like slowing down. Consider scheduling your next group get-together in the park; agree to run a few miles before refueling at brunch.
Try running with your colleague…if you want to boost work relationships and network. Though it may seem awkward at first, pounding the pavement with a coworker can make it easier to connect. If you haven't been clicking with someone on a professional level, having a sport like running in common can help break the ice and make it easier to find other things you have in common at the office. You can also use your runs as informal meetings; the exercise will help you clear your head and be more vocal while you discuss ideas and exchange advice.
Try running with your racing mate…if you want to up your game. If you race on the regular, you probably see some of the same people every weekend. Look for someone who seems to go at your pace and chat her up at your next event. Training with someone with similar fitness abilities and goals will keep you on track, and she will know how you feel during tough runs and how to push you through. You can take turns planning your runs and challenging each other; it may even spur a little healthy competition, encouraging you to work even harder and set some new PRs.
Related: How To Handle Speedy Canine Training Partners
Try running with your dog…if you want a partner who is always 100% enthusiastic and energetic. If your pup is in good health (check with your vet before starting a new routine), try taking him with you on your next jog. You won't get better motivation than a dog who's excited to go the extra mile, and your furry friend will benefit mentally and physically from regular runs.