The Latest Running Blog You Need To Read
We love following Kris Lawrence's journey to a Olympic Trials qualifier...and you will too.
Heading out the door? Read this article on the new Outside+ app available now on iOS devices for members! Download the app.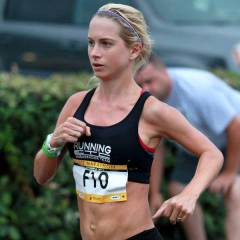 Kris Lawrence's Blog
By Kristen Lawrence
Virginia Beach, VA
A determined runner with a personal best of 2:47:09, Kris Lawrence shares her quest to qualify for the 2016 U.S. Olympic Marathon Trials on her blog. Even more impressive is that she's a mom of three. Find out why you should follow along as she chases her goals.
How Kristen started running:
"In high school, I began running only because a friend talked me into joining the cross-country team. I was absolutely terrible at all other sports and quickly fell in love with the new friends and competition. After graduation, I ran casually—but it took a back seat to work, marriage and family. Years later, after I had three children within the span of 17 months, I needed a way to find some quiet time. I remembered how much I loved running in high school. I started up again and I haven't stopped since."
Kristen's favorite place to run:
"Trail runs are a favorite of mine. I'm grateful to live in an area with miles and miles of gorgeous trails by the ocean. No matter what kind of day you are having or what life is throwing at you, miles spent running alone through the beautiful trees will always help you feel peaceful."
Currently training for:
"I am training for the Crawling Crab Half this October and the Philadelphia Marathon in November."
Best advice ever given:
"Always prepare and don't skimp on sleep. Have shoes and running gear in the car, pack snacks early in the week, and make sure you are well rested to keep up with the fun chaos of training with little ones."
What Kristen loves most about running:
"The thing I love most about running is racing. I love the excitement, the patience, the adrenaline, the crowds, and the feeling of crossing that finish line!"
Find more inspirational running blogs to follow!