The 10 Biggest Running Stories of 2021
It was a big year of big news: Olympic highlights, anti-doping lowlights, the return to in-person racing, and more.
Heading out the door? Read this article on the new Outside+ app available now on iOS devices for members! Download the app.
It's nearly impossible to recap a year that included a pandemic, the U.S. Olympic Track & Field Trials, the Tokyo Games, anti-doping suspensions, SafeSport bans, the return to mass-participation marathons, and all the moments in between. To be sure, 2021 kept us, well, busy—and also experiencing the full spectrum of emotions.
When we reminisce, what will we remember? This is by no means an all-inclusive rundown and it's in no particular order, but it represents some major performances, milestones, and turning points for the sport, all of which were crammed into a quick 365 days.
1. Athing Mu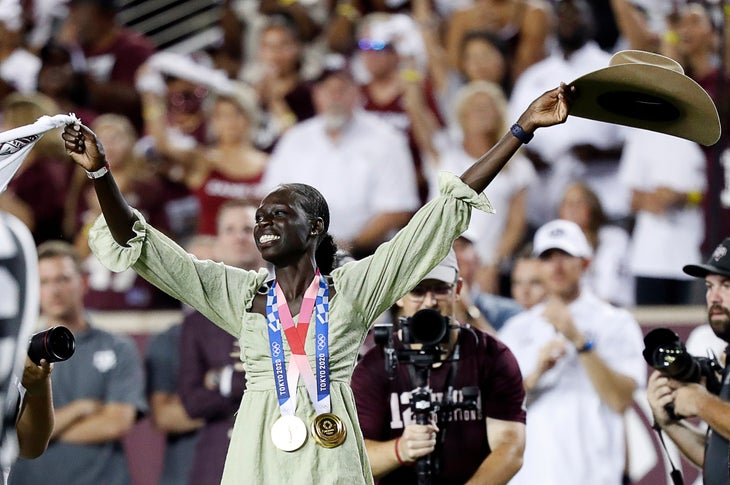 Nobody had a bigger year in track and field than Athing Mu. She started 2021 as a freshman at Texas A&M. She ended it as a 19-year-old Olympic gold medalist in the 800 meters and 4 x 400-meter relay, an 800-meter American record holder (1:55.04), and a professional athlete sponsored by Nike. Not only did Mu perform on the track, she dazzled fans off of it, bringing a fresh charisma to the sport and a new pug (Bentley) to love, too. Mu capped off her big breakout year by winning the prestigious Bowerman Award, given by the U.S. Track & Field and Cross Country Coaches Association to the nation's most outstanding NCAA athlete.
RELATED: At 19, 800-Meter Star Athing Mu Says She's "Made for This"
2. Allyson Felix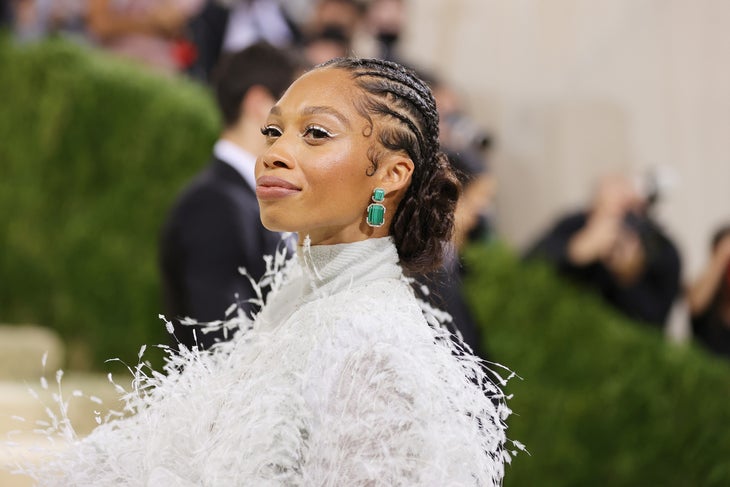 She became a five-time Olympian in 2021, winning bronze in the 400 meters and gold in the 4 x 400-meter relay, making her the most-decorated track & field athlete in U.S. history. She's won a total of 30 medals between world championships and the Olympics and plans to retire before 2024. But beyond her athletic achievements, Felix has also started her own shoe company, Saysh, championed the rights of pro athletes who give birth during their careers, and even crushed it at the Met Gala. Felix has also advocated nationally for maternal health for Black mothers, after experiencing complications in 2018 during the birth of her daughter, Camryn.
RELATED: Allyson Felix Wins Bronze, Becomes Most Decorated Female Olympian in Track and Field History
3. Molly Seidel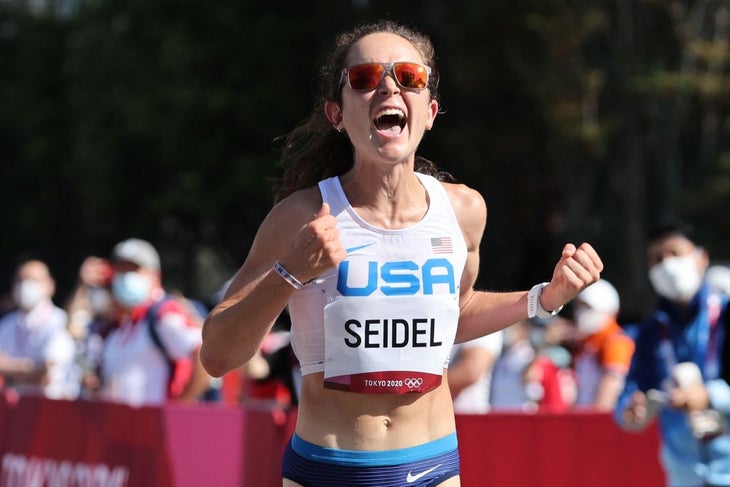 You're not a fan of women's distance running if you didn't find joy in Seidel's performance at the 2021 Olympic marathon, where she shocked the world by winning the bronze medal in just her third attempt at the distance. It was an atrociously hot day in Sapporo and she put on a workshop. She was calm and steady, didn't answer any surges she felt were out of her realm, and ended up earning a medal in the marathon for just the third time in American women's history (she stand alongside legends Joan Benoit Samuelson, who won gold in 1984, and Deena Kastor, who earned bronze in 2004). Seidel went on to race at the 2021 New York City Marathon, where she placed fourth in an American course record, 2:24:42. So 2021 seemingly lived up to her motto: It was a full send.
RELATED: Molly Seidel On What Comes Next: "I'm going to race as hard as I can anytime I go up to the line."
4. Courtney Frerichs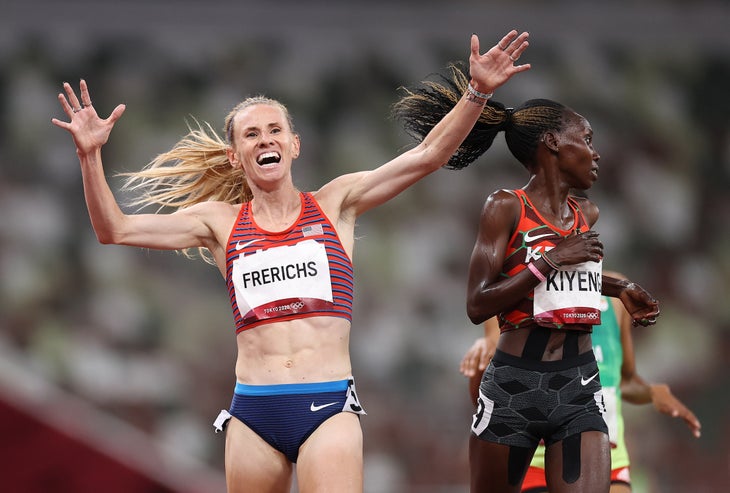 She demonstrated what bravery is all about when she busted the final of the 3,000-meter steeplechase wide open in Tokyo. It wasn't a typical move for Frerichs, but it paid off and she took silver, a career breakthrough. She followed it up at the Prefontaine Classic by becoming the first U.S. woman to ever break nine minutes in the steeple, finishing in a new American record, 8:57.77.
RELATED: Courtney Frerichs and the Season of Her Life
5. Sifan Hassan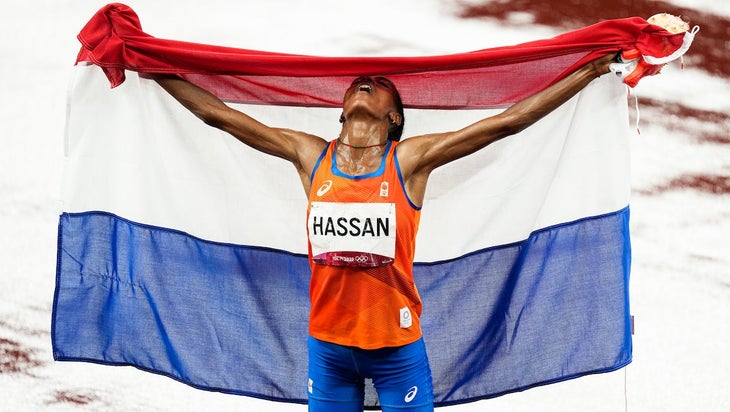 She spent more time on the track in Tokyo than, well, anybody else when she raced the 1500 meters, 5,000 meters, and the 10,000 meters. It was a legendary Olympic performance for Hassan, who represents the Netherlands: six days, nine races, 61.25 laps, and three medals (gold in the 5,000 and 10,000 meters and bronze in 1500 meters). An athletic feat for the history books, indeed.
RELATED: Sifan Hassan Wins Second Olympic Gold in the 10,000m Under Brutal Conditions
6. Anti-doping
Two U.S. athletes received two suspensions that rocked the track and field world. First, Shelby Houlihan tested positive for the banned substance nandrolone and announced it just days before the U.S. Olympic Trials were set to begin. She was a favorite to make the team and contend for a medal in the 1500 meters and is serving a four-year ban that she has said she continues to fight. After the Trials, Sha'Carri Richardson, who won the 100-meters, announced she tested positive for marijuana and accepted a one-month suspension that kept her out of competing at the Olympics. Her case ignited a fierce public debate about whether marijuana should be a banned substance and if it really enhances performance.
RELATED: Opinion: Sha'Carri Richardson and Brianna McNeal Shouldn't Need to Bare Trauma to Receive Grace
7. Agnes Tirop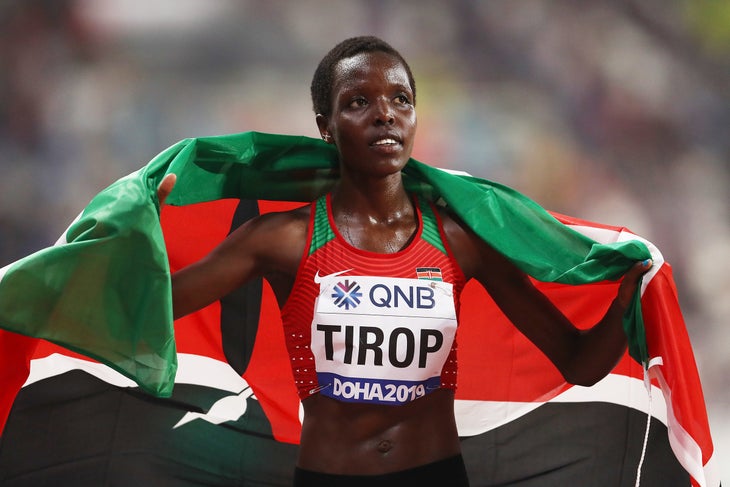 The 25-year-old Kenyan who won the 2019 world championships bronze in the 10,000 meters was found dead in her home in October. Authorities say she was stabbed by her husband, who remains in custody. Her death sparked other female Kenyan runners to raise awareness about gender-based violence and abuse in Kenya and beyond. Viola Cheptoo and Mary Ngugi, among others, are speaking out and creating resources to support victims and prevent such tragedies from happening in the future.
8. SafeSport
Alberto Salazar became the most renowned coach to receive a lifetime ban from the U.S. Center for SafeSport. After losing an appeal of his case, the former Nike Oregon Project coach became permanently ineligible to participate in the U.S. Olympic or Paralympic movement for sexual misconduct. Mary Cain, who trained with the Oregon Project from 2013 to 2015 as a teen, has also brought a $20 million lawsuit against Salazar and Nike—she has alleged emotional abuse at the hands of the former coach, which led to injuries, amenorrhea, depression, and suicidal thoughts.
RELATED: Mary Cain: "Creating a Super Healthy, Positive Dynamic is My Biggest Priority"
9. Shalane Flanagan's Eclipse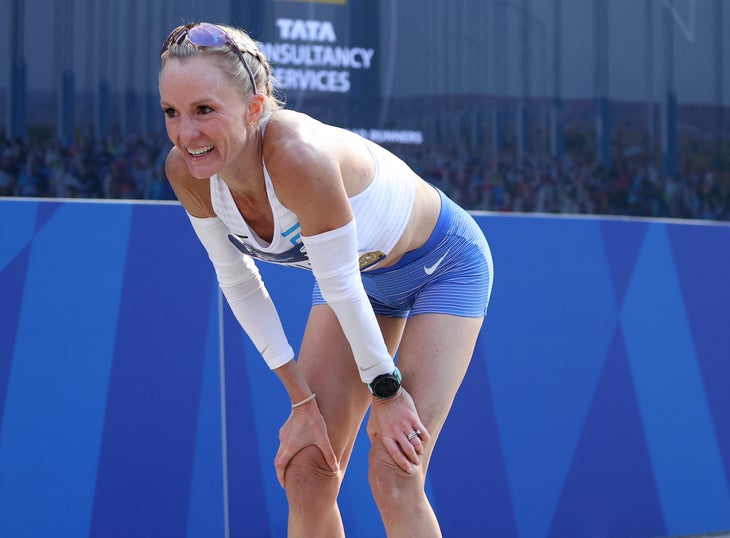 Flanagan retired in 2019, had double knee surgery, and became a mom and a coach at the Bowerman Track Club. So she surprised her fans when she announced that she was taking full advantage of (what we hope is) a once-in-a-lifetime opportunity to run all six World Marathon Major races in six weeks. She dubbed it her "Eclipse"—the marathons all fell within the fall racing season after pandemic-related rescheduling. Her attempt was not only fun to watch, but a way to celebrate everybody's return to the roads. Flanagan ran Berlin on September 26; London on October 3; Chicago on October 10; Boston on October 11; a virtual Tokyo on October 17; and New York on November 7. Her fastest? The grand finale in New York (2:33:32), the race she won in 2017.
RELATED: Mission Accomplished: Shalane Flanagan Finishes Six Marathons in 42 Days
10. Des Linden's 50K World Record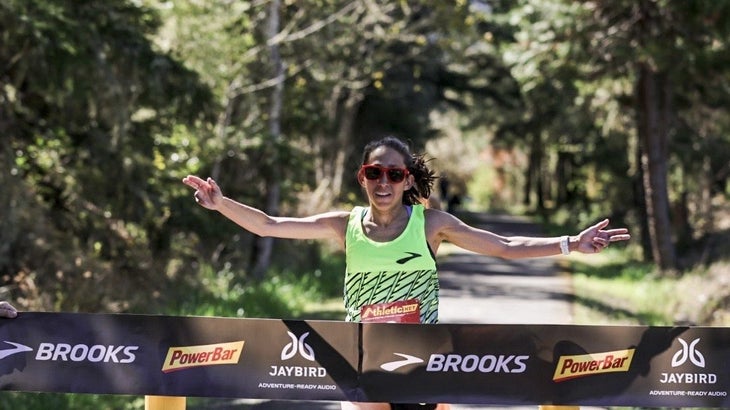 She's always giving us reasons to root for her, so it was no surprise that even though Linden ran the fastest women's 50K ever (2:59:54) on a closed, remote course somewhere near Eugene, Oregon, she still captured the attention of fans everywhere, tracking her progress from start to finish. It was Linden's answer to pandemic fatigue—canceled races and plans constantly in disarray. Even when the world shuts down, Linden was among the stars who showed us that running doesn't have to.
RELATED: Des Linden on Ultrarunning, Vulnerability, and Doing What Makes You Happy