Ten Reasons to Run to Club Med
Club Med is the perfect active getaway to warm up and cure the winter blues.
Heading out the door? Read this article on the new Outside+ app available now on iOS devices for members! Download the app.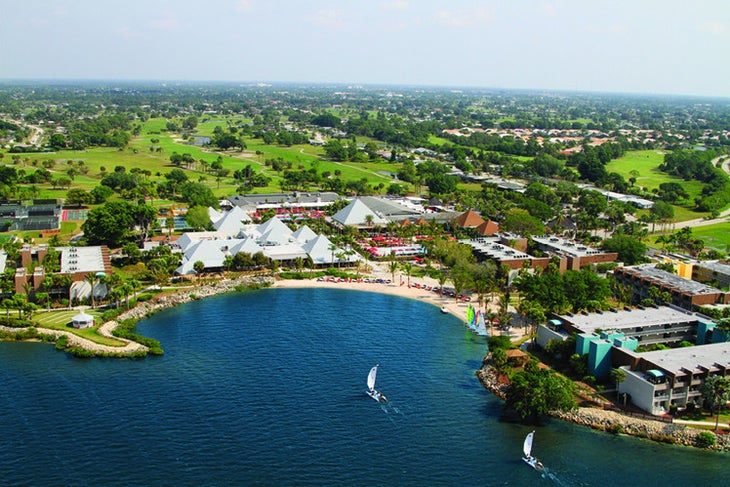 Last winter I was lucky enough to escape for a few days to warm and sunny southern Florida where the only U.S. Club Med is located. If you're on the hunt for a respite from frosty temps but still want to keep active, here are my top 10 reasons to consider this all-inclusive destination.
1. Be active.
Club Med used to have a reputation as partyville for singles, but it's been rebranded with a focus on families. The Port St. Lucie location also boasts a stepped-up active lifestyle with tennis, golf, volleyball and even running coaches to work with you and the rest of your family. The resort is home to an academy for student athletes—not just vacationers—so there's an extra-special sporty vibe with pros teaching all ages.
2. Eat well.
Think all-inclusive and massive buffet at the ready at all hours. You can get a little crazy with what's on hand, but you can also eat healthy. There's more traditional sit-down dining too.
3. Get a massage.
I'm no massage junkie, but my one-hour rubdown was the best massage I've had. The experience at The Club Med Spa by L'Occitane (the only L'Occitane spa in the U.S.) starts and ends in a tranquil garden for a little extra me-time.
4. Make friends.
The friendly vibe at this property means you could go to a class at the gym or a pick-up volleyball game and you'll be gaining some new Facebook friends.
5. Learn something new.
Frankly, there's such a range of activities, it would be tough to have tried everything before. Have you always dreamed of flying through the air on a trapeze? This is your chance. Has that little white ball denied the desires of you and your clubs for far too long? The golf pros teach a foolproof method.
6. Chocolate bread.
I may have already mentioned the buffet, but I would be remiss if I didn't specifically mention the chocolate bread, which comes in white and dark. Caution: Determining which is better could cause a family feud.
7. Family fun.
This resort definitely caters to all ages, both separately and together. By day the whole family can enjoy the pool or beach and their own individual activities, and at night everyone rallies at the shows by the multitalented staff. Is that guy juggling also the lifeguard at the pool?!
8. Get on the water.
My preference is for a spin in a sailboat, but a speedy jaunt on a jet ski is fun too. However you get on the bay, you'll be rewarded with beautiful views and assorted wildlife (take note, birders!).
9. Connect with your inner child.
Because there's an academy at the resort, there are professionals teaching everyone, so this is like your vacation meets summer camp. Remember how great summer camp was? That jovial, fun-loving vibe extends beyond those campfires in the woods of New Hampshire to this waterside enclave in Florida.
10. Connect with your inner athlete.
You can get pretty serious here with how much you want to delve into your sport. For runners, you can add onto the all-inclusive experience with an hour to have a pro analyze your gait and give you some drills to improve your overall efficiency. The coaches are most interested in responding to your individual needs, so you don't have to lose a step in your training, and you might even get a step up by going here.
To get some insight into my own run coaching session, check out this article on a proper warm-up. Club Med offers Active Wellness Boost Packages that include coaching and spa services for athletes for one, three or six days, with rates starting at $365 per person. For more information on Club Med Sandpiper Bay in Port St. Lucie, Fla., visit clubmed.us.