T-Rex Runner: Fun Run
A guide to having a great time while running 26.2 miles.
Heading out the door? Read this article on the new Outside+ app available now on iOS devices for members! Download the app.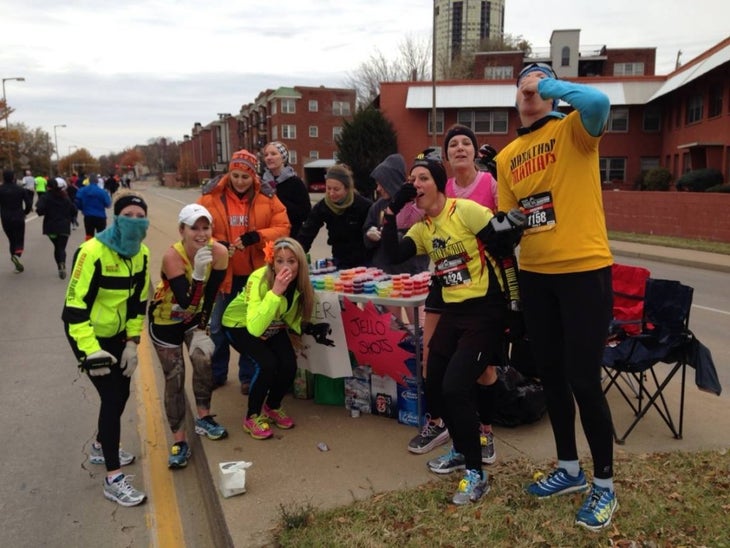 It often seems like most people run races to set a new PR or achieve another goal, and with good reason! Challenging yourself to get faster and improve during training is rewarded when you nail your goal race. Not everyone runs races with the intent of PRing though, or even running their fastest. Some people run (gasp!) to have fun. I'm one of those people.
I do have a few goal races a year. Don't get me wrong. I love getting a new PR, but races are the most fun to me when I'm running and talking with friends, meeting new people, soaking up the crowd, and enjoying my surroundings. Whether I actually set out to run a race for fun or I'm just not feeling great that day and know it won't be a PR effort, it's always possible to enjoy the experience. Here are my top tips for how to run your most fun marathon ever!
High five every kid you see:

Little kids are full of power. Giving them high fives is guaranteed to put you in a better mood and add a little pep in your step.

Drink the free beer (or jello shots):

It's easy to bypass a beer stop when you're racing, but when you're running for fun? Take advantage! The people who create them want you to have fun and take their free alcohol, or they wouldn't have taken the time to put everything together! Besides, you need the carbs.

Stop for pictures:

Funny spectator sign? Cool scenic view? Hilarious costume? Stop and take a picture! They'll inevitably turn out better than any the race photographer will take. (Am I the only one who gains 30 pounds in all race photographs?) You'll have a great – and free – souvenir!

Dance:

Inevitably, there will be a band, DJ, or someone with an iPod and some speakers along the course. Stop and dance for a minute! People running by will marvel at how you have the energy, and it's impossible not to have fun while grooving to Taylor Swift.

Thank the volunteers:

I verbally thank every police man, aid station volunteer, and medic I see along the way. It makes them feel appreciated and reminds me of how lucky I am to have such great support!

Cheer on the people ahead of you:

Lots of races have an out and back component or a loop where you'll eventually see other faster and slower runners going by. Cheer them on! The elites might act like they don't hear you, but they do. Everyone else will be appreciative. It gives you something to look at while you run! I like to try and read everyone's name off their bib for a little extra brain exercise.

Talk to a new person every mile:

One of my running friends introduced me to this idea, and it has made me lots of friends! Find a new person to talk to every mile. Even if you just have a short conversation, it will take up some time and make the mile go by faster. Who knows? You could meet a friend for life!