T-Rex Runner: Fighting FOMO in 2015
Danielle's 2015 resolution is to fight the Fear of Missing Out- and run what's best for her.
Heading out the door? Read this article on the new Outside+ app available now on iOS devices for members! Download the app.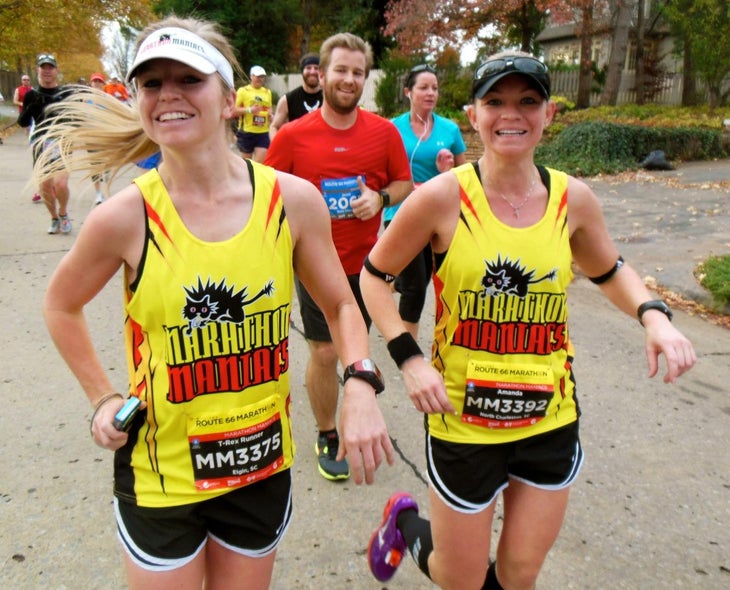 Most years, I make some type of fitness-related New Year's resolution. Whether it's setting a PR at every distance, running X number of miles, or working out a certain number of days per week, it's a common theme. This year, my resolution is still fitness-related, but a little different. In 2015, I'm dedicated to fighting FOMO – Fear of Missing Out.
Have you ever signed up for a race just because your friend did? Have you trained for a distance you weren't all that interested in running, participated in a cross training activity you didn't care for, or gone on a trip that didn't appeal to you, just because you didn't want to miss out? I definitely have. In fact, for the past few years, many of my running and fitness pursuits have been guided by what the people around me are doing.
This isn't always a bad thing. I've had some amazing trips, races, and memories with my friends. However in between, there have been plenty of races I was "meh" about, more than a few training plans that made me more stressed out than fit, and a Zumba class or two that made me question my sanity.
When I started running, it was an activity solely motivated by my need for stress relief, and I did it alone. I ran however many miles I felt like at whatever pace I felt like. I picked the races I wanted to do. Somewhere along the way, I started making a lot of friends who ran, too, and I hated the idea of being left out of the things they were doing. I loved hanging out with them so much that I started caring more about that than about whether I was actually enjoying whatever activity it was that I was doing.
This year, I only have one resolution – only do the things I really want to do. I'm determined not to sign up for races, start training plans, or do anything else just because my friends are doing it. In order to fight FOMO, I'm going to ask myself one simple question: Would I do this race/training plan/cross training activity/etc alone? If the answer is no, I probably don't really want to do it. I think this one simple question will save me plenty of stress, frustration, and money in the New Year, but only time will tell!
Tweet @womensrunning and @thetrexrunner and tell us your New Year's resolutions!