They Were Each Other's Support Through Marathons And Transplants
Talk about a power duo—one ran 26.2 miles, the other completed his own medical marathon.
Heading out the door? Read this article on the new Outside+ app available now on iOS devices for members! Download the app.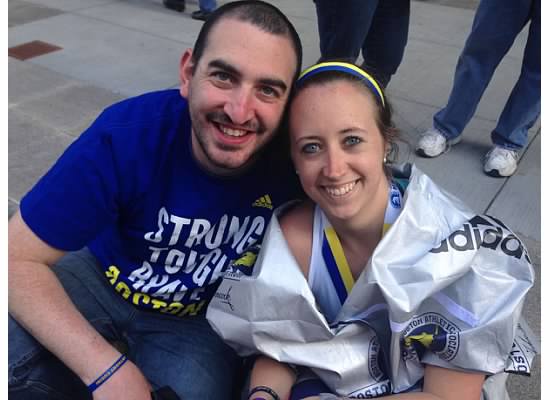 Ryan and I started dating just around the same time I was training for my first half marathon. I was falling in love with running the same time I was falling in love with him. I committed to running my first marathon just five months after our first date, and he was the first person to encourage me to run. I was nervous! A marathon? THE Boston Marathon?! But Ryan believed in me more than I believed in myself. He came to every race, prepared my ice baths, reminded me to fuel and hydrate and even supported my running buddies. He quickly became named the "Elite Cheer-mister." He did all of these despite going through his own "marathon," preparing for a clinical trial and a kidney transplant.
Related: Cancer Patient Completes In-Hospital Marathon
Whether it was a 10K, a half marathon, the Derry 16-Miler Boston Prep, Stu's 30K, Eastern States 20-miler or a marathon—Ryan was there. Not just at the finish, but multiple spots along the course. Cheering hard for me and my friends, providing us with fuel, etc. In some ways, my running and races is very much a metaphor for Ryan's transplant journey.
A couple years into our relationship I would need to be me his cheerleader, as he went through dialysis and eventually a kidney transplant in 2011. Just as he was there for me at multiple spots along the course, I did the same for him. He even ran a 5K with me in March 2011, just a few months before receiving a kidney from his mom. I was HIS biggest fan and so very happy to be able to repay the favor and be there for him, cheering him on at each "mile marker." Ryan successfully received his new kidney from his mom on August 23, 2011—marathon line crossed, with flying colors!
Related: 5 Ways To Return The Favor For Your Supporters
I'm approaching my fifth marathon, running the Boston Marathon for Massachusetts Fallen Heroes. And now people ask Ryan for advice on spectating more than they ask me for running advice! One of these days Ryan will write a book about being an "Elite Cheer-Mister."
For me, I like running for a purpose. Even though I was unable to get a number from a charity where fundraising efforts would go directly to organ donation or kidney transplant research, I was able to take the passion and still apply it to training and running. Every time training or running a race would be hard, I would think of Ryan and what he was going through with dialysis, preparing and recovering from the kidney transplant. Dialysis was really hard for Ryan, as it took a lot out of him. He didn't have a ton of energy and often needed extra rest. I used running as an outlet. For Ryan, he loved being able to go to races and to cheer me on. He has always been my number one supporter.