Brooks Named Sole Girls Founder Inspiring Coach Of The Year
Meet Ashley Wiles, founder of Sole Girls, a program she created for young girls that teaches life skills through running.
Heading out the door? Read this article on the new Outside+ app available now on iOS devices for members! Download the app.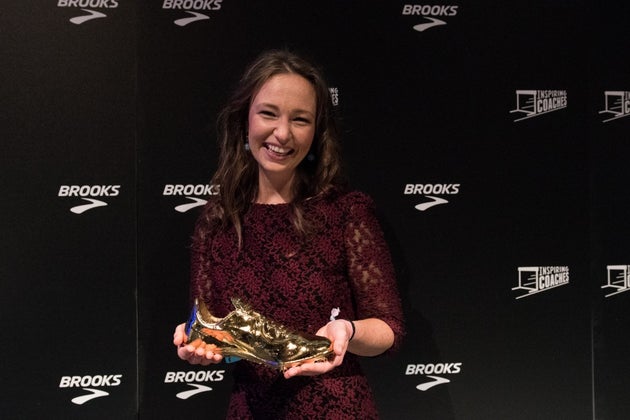 Ashley Wiles found the tools she needed to navigate the oft-awkward and occasionally difficult pre-teen years by lacing up shoes and logging miles. Recognizing the power running had in her life during that time, she now pays it forward through Sole Girls, a program she created for young girls that teaches life skills through running. Brooks Running recently honored Wiles and her work to inspire youth to choose healthy, fit lives by crowning her the Brooks 2016 Inspiring Coach of the Year.
"Running gave me so much when I was younger, and Sole Girls has been my way to help pass on those benefits to young women experiencing some of the same self-doubt and confidence issues I encountered at their age," said Wiles. "Winning the Inspiring Coach of the Year Award means 'sole' much, and I can't wait to bring it back home and share it with the group!"
Sole Girls hosts nine-week programs, which Wiles also coaches, that train groups to run a 5K while providing them with resources, guidance and community to help them navigate adolescence and adopt an active lifestyle. Her ambition to create Sole Girls, contagious belief in the power of the run and her ceaseless energy in encouraging new runners made her stand out in a pool of 13 noteworthy finalists for the 2016 Inspiring Coach of the Year Award. The award pays tribute to a coach who goes above and beyond to inspire runners to push themselves to new heights and who creates a lasting difference in his or her community.
"Running isn't just a sport, it's a lifestyle. It's an experience we believe is hugely powerful as a path to strength, confidence, health, clarity of mind, good decisions and happiness," said Brooks Running CEO Jim Weber. "Ashley is a lighthouse for young girls, using running to guide them through years that can be both difficult and incredibly formative for the path they'll choose in life. We're thrilled to name her the Brooks 2016 Inspiring Coach of the Year."
Wiles and Sole Girls will receive $10,000 in Brooks performance running gear and $2,500 cash to use for team expenses. Wiles will also become a member of the Brooks Inspire Daily program comprised of coaches and elite runners, and she'll take home the coveted golden spike trophy.
Earlier this year, Brooks opened the award eligibility to all running coaches in the U.S. and Canada—not just high school track and cross country coaches as in years past—acknowledging leadership and community impact also happen outside of the school system in youth clubs, community running groups and more. Wiles is the first Canadian and the first non-high school coach to win the award.
A committee of Brooks employees selected Wiles from a group of 13 finalists from throughout the U.S. and Canada. Each of the 12 runners up will receive $5,000 in Brooks performance running gear for his or her team and $500 cash for team expenses, as well as membership into Brooks' Inspire Daily program.
2016 is the sixth year Brooks has honored remarkable coaches who inspire so many to run. Brooks complements Inspiring Coaches with another give-back program, the Brooks Booster Club, which provides gear and cash grants to under-resourced high school running teams in the U.S. and Canada. This year alone, Brooks will provide more than $430,000 in gear and cash to deserving running teams through these two programs.