Should Runners Have Beer Sponsors?
One triathlete let her favorite post-run bevvie become a sponsor.
Heading out the door? Read this article on the new Outside+ app available now on iOS devices for members! Download the app.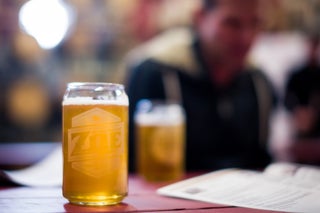 When Meb won the Boston Marathon in 2014, his sponsor also took front page in the news. Skechers Performance has been everywhere since becoming Meb's shoe sponsor in 2011 when Nike cut him from their roster. Women's apparel company Oiselle made waves in 2012 when they signed Lauren Fleshman, and again in 2014 when they signed Kara Goucher, who is also sponsored by Skechers. Athletes and sponsors have been entering mutually beneficial relationships for decades—from shoes, to apparel, to sports drinks, to equipment and more.
Today, there is a new type of unlikely sponsorship that's started: beer. In Austin, you'll find Hops & Grain craft brewery, founded by Josh Hare. Hare is an athlete himself—his specialty is triathlon—so when he was in a position to give back to an athlete he admires, he jumped at the chance.
Related: The First Sub-5-Minute Beer Mile
"As an athlete training in Boulder, I was able to see firsthand the difficulties that comes with being a professional triathlete," says Hare. "While it may seem glamorous on the outside, it is in no way an easy job." When Hare started Hops & Grain, he discussed a possible sponsorship with Austin triathlete Kelly Williamson, though at that time they weren't in the place to financially pull the trigger. However, this past year, the brewery was able to take the leap and became Williamson's official beer sponsor.
Williamson recently took fourth in the Ironman Texas 70.3, with the fastest run of the day in 01:19:08. She is a three-peat winner of the 3M Half Marathon in Austin, in addition to her many accomplishments and top spots. So what would a dedicated athlete do with a beer sponsor? Kelly explains: "I want to have authentic and close relationships with my sponsors, where I know them and their products intimately. Being a huge advocate of balance in sport and in life, I have never been one to exclude enjoying a good beer from my life because of what I do."
Though a brewery, Hops & Grain is on a mission to be a lifestyle brand, and with events featuring Williamson, such as pre-Ironman Q&A's and 'Meet the Athlete' happy hours, they have really opened themselves up to the active lifestyle community in Austin.
Related: Mother Runner Crushes Beer Mile World Record
"At Hops & Grain Brewing our mission is to enhance the human experience," says Hare. "We believe strongly in this mission and try to align our dollars with our values to help bring sustainability to our community, our environment and our culture."
The bigger question: Will beer sponsors became a new trend? Hare doesn't think so. "I don't necessarily see this as becoming a trend in our industry, but I would love to be proven wrong!"
For Williamson, her sponsorship and love of Hops & Grain has only enriched her life. "Being happy in life is what makes you most successful," says Williamson. Her husband is her coach, so they find that having a beer at the end of the day while cooking dinner is a great way to relax and transition from work to play. She continues, "It is exciting to be able to have a relationship with a company I know well, that also allows me to celebrate a passion of mine outside of the sport."
Ashley Lauretta is a health and fitness journalist living in Austin, TX. Assistant editor at LAVA Magazine, Ashley also regularly contributes to Women's Running, Active.com, LIVESTRONG.com and more. Find her on Twitter at @ashley_lauretta.