Running Helped Me Cope With My Divorce…And Find Love Again
One runner started running to get over heartbreak...and found love again.
Heading out the door? Read this article on the new Outside+ app available now on iOS devices for members! Download the app.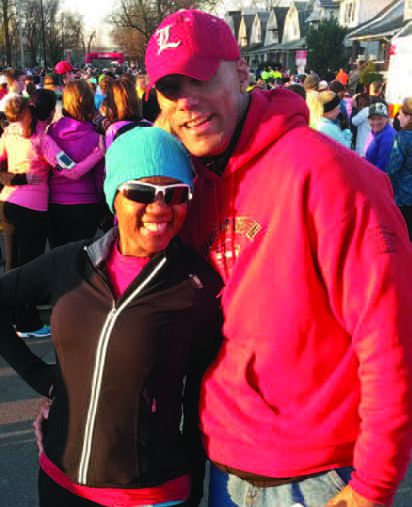 The power of running…After ending a 14-year-long marriage, James-Etta Goodloe from Shelbyville, Ky., felt painfully lost.
A mother of two, Goodloe, 43, filed for divorce in the summer of 2012. Every day, for months, she dropped off her then 7- and 9-year-old children at a day camp and took a walk in a park. She would use this time alone to cry and plead with God for a sense of direction.
Then one day after Goodloe had said goodbye to her kids, she felt compelled to run instead of walk. She made it to the park's blue trash can. The next day she ran even farther to the light post. She did this every morning, until one day she had run a full mile without stopping.
"Running transformed my pain into power," says Goodloe, who completed her first 5K, a turkey trot, in 36 minutes the following November. "The more I ran, the better I felt. I felt better about myself and the bright future ahead."
But she soon found solace in a kindred spirit. A month later, Goodloe met Craig Reed at a housewarming party she'd thrown to celebrate her new home and chapter in life. They bonded over their recent divorces and formed a friendship that would support one another throughout the difficult process.
As a result, Reed, 48, also became Goodloe's biggest running supporter. At every race, he's ready with a supply of bananas, peanut butter and sports drinks at the start and finish lines—and afterward he treats Goodloe to a pedicure.
In July, Goodloe graduated from Walden University with a doctorate in education, and her next goal is to run a marathon before she turns 45. She will be counting on Reed to be waiting at the end of 26.2.