Running Helped Her Heal After A Sexual Assault
She took back her life after a vicious attack and never looked back.
Heading out the door? Read this article on the new Outside+ app available now on iOS devices for members! Download the app.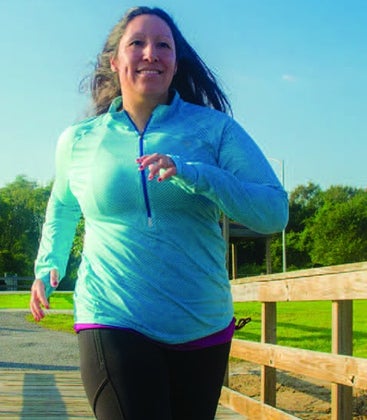 Check out how one company is partnering with Missy to offer a discount on jewelry for a great cause!
When word of our Cover Runner Contest went out over social media, we were inundated with more than 5,000 entries and nominations. Thank you to everyone for sharing your love of running and inspiring us in countless ways. It was not easy selecting eight finalists, but we think you'll agree they prove there is no shortage of incredible women in our sport. Read on to learn about one of our amazing finalists.Missy is a rape survivor who is overcoming her trauma, with the help of running, and sharing her story with other survivors.
MELISSA FARRUGGIA
Stay-at-home mom with two daughters
Houston, TX
"When I run, I feel ALIVE!"
How has running changed your life? I was raped several years ago, leaving me with a dislocated hip and walking with a cane. I became depressed, gained weight and was in constant pain. I decided that my attacker was not going to take any more from me. I put my running shoes back on! With every mile I ran, I took back my strength, my confidence and my happiness. I lost 110 pounds and ran my first half marathon in November. I am strong. I am a survivor. I am a runner!
What was it like to be a finalist? One woman I met told me how she was assaulted when she was a little girl; she said she had never told anyone before because she didn't think anyone would believe her. I told her that I believe her, and we held each other and cried. She is now training for her first 5K!
How has running affected your family? I love running with my husband, and in 2014 our two beautiful daughters started running with us. Our 7-year-old is deaf and has run four 5Ks and our 5-year-old has run two. They are my heroes! I can't imagine my life without them, so I recently gave birth as a surrogate and helped make a beautiful family—their little girl just turned 1 and loves her running shoes.
Find out more about our winner and finalists
Kiley Lyall— Winner
Charlotte Young Bowens— Finalist