People Are Calling This Runner A Cheater For What She Did
She did what so many runners do when she couldn't run the 2015 Boston Marathon, but then took it a step further.
Heading out the door? Read this article on the new Outside+ app available now on iOS devices for members! Download the app.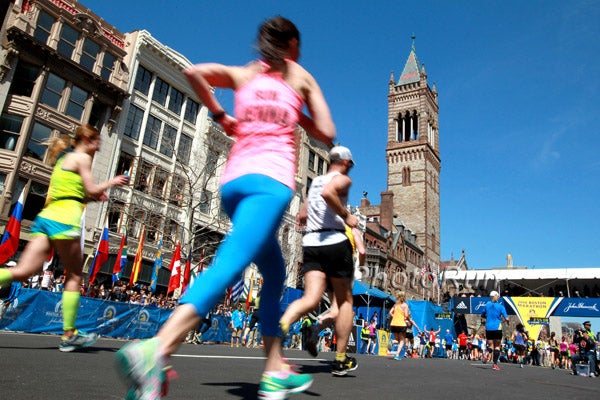 For many runners, the Boston Marathon is the ultimate goal, both because of the history and the fact that it requires a qualifying time to be considered for entry. Some train for years to make it, others qualify but don't make it past the sliding registration process, while others might never hit their age-group mark. Obtaining a bib is a special affair, so it makes sense that some people may criticize those who did not go about it in the conventional way that most do: by qualifying.
But what about when something conflicts with your run, and you choose to hand your bib off to a friend to enjoy the experience that you now have to skip? Happens all the time, right? While it's frowned upon with most every race, it's deemed unacceptable with races like Boston. However, one blogger found herself in such predicament when she was unable to make it to the starting line of last year's Boston Marathon due to pregnancy. She had rightfully earned her spot into that year's race but chose to hand off her bib to a friend who arguably did not meet the qualifying standard. Her friend ran under the blogger's bib number, finishing in a time that would qualify the blogger for the 2016 race.
According to blog Marathon Investigation, the blogger and original owner of the 2015 bib proceeded to register for the 2016 race, offering her friend's time from 2015 as her qualifying time. Through an anonymous tip, the BAA (governing body of the Boston Marathon) found out that the time entered was not actually run by the person registering, and she was banned from all future BAA events due to cheating.
People fell on both sides of the fence, expressing their condolences in response to a post claiming she was NOT cheating—"I did what so many of us do, we transfer bibs that are non-transferable"—while others labeled her choices as cheating her way into the race. The blogger later posted an apology, admitting that, yes, she did use her friend's time to register for the 2016 race.
"I made a mistake, I made a bad decision and I have been punished.  I feel very sorry."
What are your thoughts on this? Tweet @WomensRunning!