Meet The Runner Behind Popular Blog "The Runner Beans"!
Get to know the newest member of Team WR, who you'll find online at The Runner Beans.
Heading out the door? Read this article on the new Outside+ app available now on iOS devices for members! Download the app.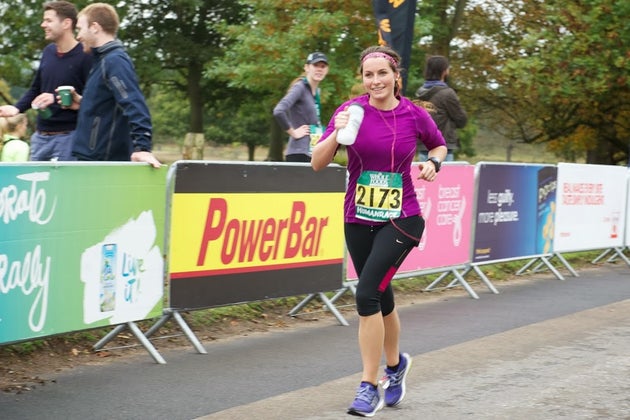 Allow me to introduce myself—I'm Charlie of The Runner Beans. I'm so excited to be writing for Women's Running, joining Team WR and the likes of NYC Running Mama and Mile Posts, two of my favorite bloggers!
I started running 5 years ago after signing up to run the London Marathon. I had no idea how far a marathon was or if I could even run a mile. My first 'training run' involved me running to the end of my street and pretending to stretch against a streetlight to catch my breath. Gradually I built up, mile by mile, until I completed the 2012 Virgin Money London Marathon.
I've since run five marathons and am training for number six: the New York City Marathon. It'll be my second time running the race and I'm hoping to run a PR (my current is 3:49:00 from the Berlin Marathon in 2014). I'm trying to run all of the Marathon Majors before I'm 30 and just have Tokyo and Boston to go!
Currently I'm loving:
RUNNING!
I am so excited to start training for the New York City Marathon soon, having spent the last 8 months since the Chicago Marathon coming back from a knee injury. I feel like I'm starting at the beginning again! I love writing down a training plan, building up my speed and mileage and ticking off those runs.
Wearing sneakers (trainers, if you're British like me) with everything.
Finally my extensive collection is being put to good use with every type of outfit—not just my activewear. I have recently learned from my chiropodist that we need to be more aware of what shoes we're wearing when we are recovering after a run. Birkenstocks are perfect for the summer to help feet heal after pounding the streets. I'm also living in my New Balance Plimsolls and Nike Air Max.
Zara Activewear
I recently discovered that Zara makes really affordable activewear. I have worn their grey tank (only $16!) non-stop since purchasing it a few weeks ago. Although the leggings don't pass the 'bend over in the fitting room' test, they are so comfortable that I'm willing to forgive them.
Running naked.
I'm leaving my Timex at home during my easy, fun runs to stop obsessing over the pace and instead focusing on enjoying the freedom.
Smoothie Bowls
After a long winter eating oatmeal for every breakfast, I'm excited for post-run smoothie bowls again. I'm embarrassed as a trainee Dietitian to admit that mine are definitely more fruit than vegetable smoothies, but they're delicious. Topped with almond butter, a sprinkle of granola and some cacao nibs, it's more like dessert than post-run fuel (but I don't care)! I'll add some vegan protein (I'm not vegan, I just don't love whey) if I've done a really hard run or know I won't be eating again for a while.