Run Club Profile: 261 Fearless
261 Fearless provides a welcoming environment for women runners around the world.
Heading out the door? Read this article on the new Outside+ app available now on iOS devices for members! Download the app.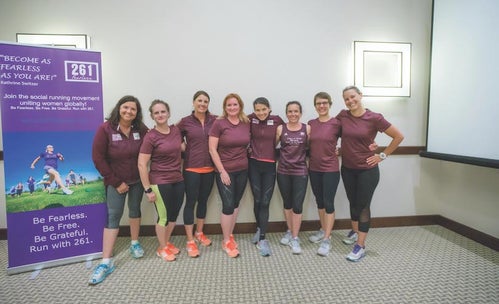 Meet The Women Behind 261 Fearless
For 50 years, Kathrine Switzer has been inspiring women to pummel their fears. After all, she began leading the charge back in 1967 as the first woman to run the Boston Marathon as a numbered entry—a courageous effort, considering she was nearly knocked off the course by the race director, Jock Semple. Switzer, then 20, pressed on all the way to the finish line—and into history.
Switzer's determination forever changed the landscape of sports, especially among women runners. Case in point: Some 58 percent of all runners in the U.S. are now women. But Switzer's work isn't done. She is now turning her focus to cultivating a global community of women through her nonprofit, 261 Fearless.
Named in part for the bib number Switzer wore in the 1967 Boston Marathon, 261 Fearless was born from casual chatter between Switzer and her friend Edith Zuschmann. It eventually blossomed into a nonprofit—and an opportunity for all women to, in Switzer's words, "find their fearless."
"Women all over the world have written to me with stories about how my story and those numbers inspired them, sharing pictures of themselves wearing 261 and even tattoos [they've done]," Switzer says of the club's impetus. "I knew that if I could channel their energy and create an organization, together we could find ways to promote a healthy lifestyle and a positive sense of self."
Along with Zuschmann, who lives in Austria, Switzer began organizing pockets of running groups in both the U.S. and Europe. 261 Fearless soon expanded into Canada, South America and New Zealand, making up a total of some 45 groups.
"Our goal is to unite women through running," says Zuschmann, who serves as the president and CEO. "Running is a global language and brings us together, allowing us to become fearless in many different aspects of life."
For members like Boston-area club leader Karen Dinger, fearless means completing her first-ever marathon at age 48. For Tracey Weatherley, a club director in Kansas City, Mo., it's silencing that voice telling her she's not strong or fast enough.
"We want to reach women who live in closed societies, who may be oppressed," Zuschmann says, explaining that 261 Fearless now has a presence in Albania thanks to an American Peace Corps volunteer living in the country. "All it takes is one fearless person to start a movement."
A 261 Fearless membership offers access to a communication platform open strictly to members, plus coaching and leadership training (each member pays yearly dues, ranging from $30–60 depending on the location). There are also fundraising opportunities to earn charity bibs for major races including the New York City Marathon and Boston.
"The simple act of putting one foot in front of the other can give us the strength to believe in ourselves and to overcome incredible adversity," Switzer says. "But you have to have the opportunity to try. And that is what 261 Fearless is about."
261 Fearless In 2017 And 2018
March 2017
Tirana, Albania: Five new Albania-based coaches are certified through 261 Fearless' "Train the Trainers" leadership program, sparking a movement to promote running and healthy living among women in the country.
April 2017
Boston, Mass.: On the 50th anniversary of her historic Boston Marathon debut, Switzer runs again, backed by a team of about 100 members of 261 Fearless.
May 2017
Devon, England: Inspired by Switzer's story, some 300 women race the inaugural Women Can Marathon, the first UK partner event for 261 Fearless.
September 2017
Berlin, Germany: After a motivational speech by Switzer, a 261 Fearless cheer squad roots on runners at the BMW Berlin Marathon.
November 2017
New York City, New York: At age 70, Switzer continues to inspire by crossing another finish line, this time at the TCS New York City Marathon. While doing so, she's joined by 13 women running to represent 261 Fearless.
February 2018
New Zealand: The Kiwi arm of 261 Fearless launches in four different locations throughout New Zealand, where Switzer and her husband, author Roger Robinson, spend each winter.
Related:
Run Club Profile: November Project
Charity Fundraising Became My Strongest Motivation For Running