5 Reasons To Celebrate Moving Up To The Next Age Group
Aging up doesn't need to mean slower race times.
Heading out the door? Read this article on the new Outside+ app available now on iOS devices for members! Download the app.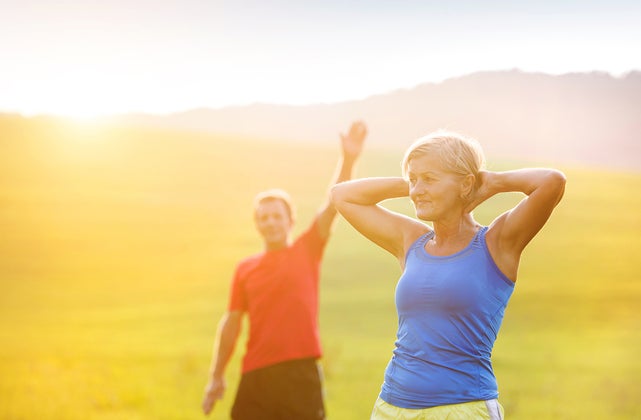 Most runners equate another birthday with slower race times. But important, positive changes can happen when you move up in your age group!
Reasons To Celebrate Moving Up An Age Group
You have been around the block.
You can benefit from the experiences you have amassed as you race your way through age groups. You know who the faster runners are and, perhaps you are leaving some of them behind as you age up! Plus being on the young end of the age group has its benefits. Better to be 40 racing against the 49 year olds than 39 and racing the 30 year olds! Embrace it.
Older is the new faster.
It used to be an anomaly when a runner over 35 ran a fast time or won a big race. Now? Not so much. Here's proof:
In 2014, two weeks before turning 39, Meb Keflezighi won the Boston Marathon in 2:08:37.
At 41 years old, Deena Kastor set 5 world Masters records in one race during the Philadelphia Rock 'n' Roll Half Marathon, finishing the race in 1:09:39. Her marathon Masters record, set at the 2015 Chicago Marathon, is 2:27:47
At the 2014 Twin Cities Marathon, 59-year-old Christine Kennedy of Los Gatos, Calif., ran an age-defying 2:59:39.
100 year-old New Yorker Ida Keeling boasted a time of 1:17:33 in a 100-meter race against others who were over 80 years old.
You use your head more than your legs.
As you get older and run more and more races, you become acutely aware of what your body needs, as well as the importance of strength training. You're not making the same mistakes you did when you started; you're taking your easy days easy, listening to your body and knowing that more is not usually better. Your knowledge is the power that will push you to more finish lines, injury free.
You inspire others.
The longer you run, the more of a running community you are likely to build. Remember that younger runners may be looking to you to see how it's done and following your lead so they can run as long as you have!
The competition thins with each decade.
In running and racing, the 30-39 year old age group is arguably the largest and most competitive. It's thrilling to be a part of that amazing group yet, you have to stay fierce and focused if you're looking for bling at the finish. As you move your way to the 40, 50 and even 60+ age groups, there are fewer athletes who will be able to do what you do.
Keep up the good work and know that every year is another opportunity to be older, wiser and stronger!