Power Hour Playlist: 60 Minutes Of Hits To Start Your Summer Right
Start your summer running off on the right foot with this 15-track power hour playlist.
Heading out the door? Read this article on the new Outside+ app available now on iOS devices for members! Download the app.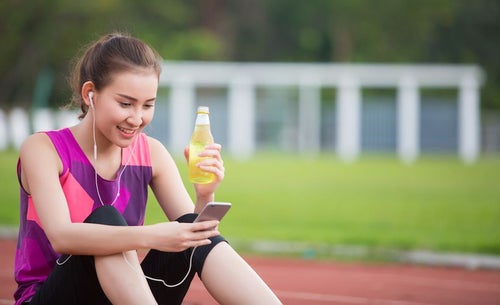 A Power Hour Playlist To Launch Your Summer Runs
With spring in full bloom, it's time to get back outdoors. To score your return to the world at large, we've compiled an hour of recent hits. On a practical basis, a longer playlist gives you more options. Moreover, there are plenty of winter smashes that sound even better out in the fresh air.
The list kicks off with a slow-burning number from Shawn Mendes and closes out with a collaboration that was featured in the box office smash Black Panther. In between, you'll find rock from Walk the Moon and Jack White alongside rap from Macklemore and Jay-Z. Pop tunes from Hailee Steinfeld and Dua Lipa are also included alongside remixes featuring Maroon 5 and Bruno Mars.
While the genres change throughout, familiarity remains relatively constant as the tracks move from hit to hit. To that end, the aim here isn't to turn you on to something new; instead, the list provides a simple way to put a few months' worth of lively, recognizable tunes to work in the service of your summer runs. So, pick a few or download them wholesale, and get out the door.
Shawn Mendes – In My Blood – 70 BPM
Walk the Moon – One Foot – 100 BPM
Hailee Steinfeld & BloodPop – Capital Letters – 100 BPM
ZAYN & Sia – Dusk Till Dawn (Brooks Remix) – 122 BPM
Kylie Minogue – Dancing – 110 BPM
Jack White – Over and Over and Over – 124 BPM
Dua Lipa – New Rules – 117 BPM
Macklemore & Kesha – Good Old Days – 123 BPM
DJ Khaled, Jay-Z, Future & Beyonce – Top Off – 130 BPM
Selena Gomez & Marshmello – Wolves (Owen Norton Remix) – 128 BPM
Maroon 5 & SZA – What Lovers Do (A-Trak Remix) – 110 BPM
Meghan Trainor – No Excuses – 116 BPM
Janelle Monae – Make Me Feel – 115 BPM
Bruno Mars & Cardi B – Finesse (Remix) – 105 BPM
Kendrick Lamar & SZA – All the Stars – 96 BPM
To find more workout songs, folks can check out the free database at Run Hundred. Visitors can browse song selections there by genre, tempo and era to find the music that best fits their particular workout routines.
Related:
The Top 10 Running Songs For May 2018
The Ultimate Marathon Playlist
This Is The Best Playlist To Accompany Your Marathon Training