The Power Of The "Flat Me" For Race-Day Success
Many runners have likely participated in the "flat me" trend without even realizing it.
Heading out the door? Read this article on the new Outside+ app available now on iOS devices for members! Download the app.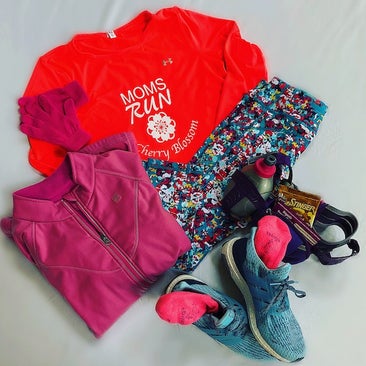 What Exactly Is A "Flat Me"?
A "flat me," "flat runner" or "flat mama," as I like call them, have become quite popular in the women's running world.
So what are they exactly?
Put simply, a "flat me" is a photo of your race-day outfit and gear all laid out "flat" without you in it.
So why do we create the "flat me"?
To start, rushing around on race morning trying to find everything you need is never really a good idea. Creating a "flat me" the day before ensures that all of your clothing and gear is ready to go. Including all necessary items (sports bras, socks, underwear, etcetera) helps to make sure you are prepped and ready. I like to include my shoes, hats, gloves and fuel belt, too. No one wants to look for that sports bra at o-dark-thirty.
Second, posting a photo of your "flat me" on our Facebook or Instagram pages gives you an automatic cheering squad. Friends can help quell any race-day nerves you might have and allow you to connect with other runners who may be doing the same race. A few times, people have recognized me at races because they saw my "flat me" photo and knew it was me when I ran by.  There is nothing like hearing someone yell out your name and some encouraging words just when you need that little extra push mid-race.
And finally, it's just fun! Creating the "flat me" definitely gets me psyched up for a race—especially a holiday-themed run, when I coordinate a cute outfit to wear. When doing a relay race or triathlon, I've found that creating a "flat me" is also an essential part of my race-day plan.
Have you ever created a "flat me" before a race? Show us your #FlatMe pictures by tagging #TeamWR on Instagram!
Happy racing!
Related:
Prepare For Your Next Race By Researching These 3 Variables
5 Ways to Mentally Prepare For Your Next Race
How To Execute The Perfect Dress Rehearsal Before Your Goal Marathon