The Start Of My Post-Collegiate Running Journey
One month after her last race as a collegiate athlete, Hannah Hartzell is curious to see where her passion for running will take her next.
Heading out the door? Read this article on the new Outside+ app available now on iOS devices for members! Download the app.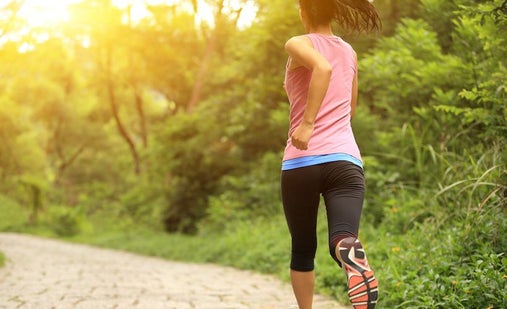 I've saved the race bibs from every collegiate race I've ever run. They're hanging above my window, inscribed on the back with the date, time and lessons learned. It's not a grand collection, a testament to the injuries and illness I've endured. But maybe that's why I value it so highly. Each one of those bibs represents my determination and dedication. Each one is jam-packed with memories.
The most recent race bib, dated February 23 of this year, still sits on my desk. It's too fresh to earn a spot on the wall; it's too important to file away. So it sits there, my last race bib as a Butler University athlete. The end of an era.
Don't mistake my nostalgia for despair. I'm quite enjoying my newly-minted status as a competitive but unaffiliated runner. Yes, I was quite concerned about the transition at first. For the past 10 years, I've had a coach to guide and encourage my running. Stepping out of that was scary.
I needed to figure out what I wanted to do next. That's why, after my last collegiate race, I decided to take a week to just be me. I would run however long and however fast I wanted, nothing more and nothing less. My coach—which by default, is now me—wholeheartedly agreed with the plan. So I spent a week recharging and thinking about the future.
Six days and 50 miles later, I had a clear head and a game plan. First, I realized that my passion for running is stronger right now than it's ever been. While I'm not exactly sure what training will look like, I know that I want to continue developing my talent in a healthy and fun way. With that realization, post-collegiate running doesn't seem so scary.
I run before the sunrise most days, fastening a blinking light to my shirt and making a beeline for the roads with streetlights. Most mornings, I only get a half-mile in before I have to suck in my breathe and exhale a prayer of gratitude. Running is just so darn fun! I won't lie: there is a lot of pressure associated with collegiate running. I had an incredible experience, but I would be dishonest if I said there's no pressure. Now, as I run along under the stars, I feel a sense of relief. I know that if I hit a recovery run too hard or I eat something weird the night before a long run, it's totally fine. I can adapt. If I go venturing into a new neighborhood and get lost, it's fine. I can adapt. I don't have a team anymore, and in some ways that is daunting. But in other ways, it's liberating.
I am excited to see how this new stage of my running career both challenges and strengthens me. The next goal on the horizon is a half marathon in May. After that, who knows! But I'm listening to my new coach, and I'm sure she'll have it figured out by then.
Related:
This High School Senior Ran A Marathon For A School Project
Tips From A Head Recruiting Coach For Aspiring College Athletes