Emma Coburn, Courtney Wayment, and Courtney Frerichs are Chasing a World Title
In the steeplechase, these dominant athletes plan to give it their all at the World Champs.
Heading out the door? Read this article on the new Outside+ app available now on iOS devices for members! Download the app.
The 3,000 meter steeplechase is a fan favorite event, and for good reason—it is thrilling. At the World Athletics Championships, being held in Eugene, Oregon at Hayward Field, you'll have two opportunities to watch the women compete in the event: The preliminary heats are on Saturday, July 16; the finals are on Wednesday, July 20.
Representing Team USA, selected at the national championships late in June, are Emma Coburn, Courtney Wayment, and Courtney Frerichs. Read on to learn more about these women, who are Olympians, past world champs, and collegiate champs.

Emma Coburn, 31, has been a force on the scene for well over a decade and pretty much has her legacy in track and field stamped. But she's still at it. At the U.S. Track and Field Outdoor Championships in June, Coburn won her 10th national title in the steeplechase.
"It feels like a lifetime achievement award. It feels special and complete," Coburn said after the win, adding that she'd also be happy with an 11th.
2021 was a tough race year for Coburn with a less than ideal showing at the Tokyo Olympics. The 2016 Olympic bronze medalist and 2017 world champion had been a gold-medal hope, but was ultimately disqualified in the final after falling in the final lap.
"This year, our focus and philosophy changed quite a lot following Tokyo," her coach and husband, Joe Bosshard told Women's Running. Since then, Coburn's training has focused on consistency. Ultimately, the name of the game has been long, "boring" training sessions, on repeat.
Coburn has also mentioned that this 2022 national title could be her favorite. "Last year was hard," she said in a post-race interview. "I believed in myself and Joe believed in me, my family, my friends, sponsors," adding that her support didn't go away after her performance in Tokyo.
"This just feels really sweet," she said. Will her sweet summer streak continue?
Age: 31
Steeplechase PR: 9:02:35
—Malissa Rodenburg
RELATED: The Truth of Emma Coburn's Training: Strong and Steady
---
Courtney Wayment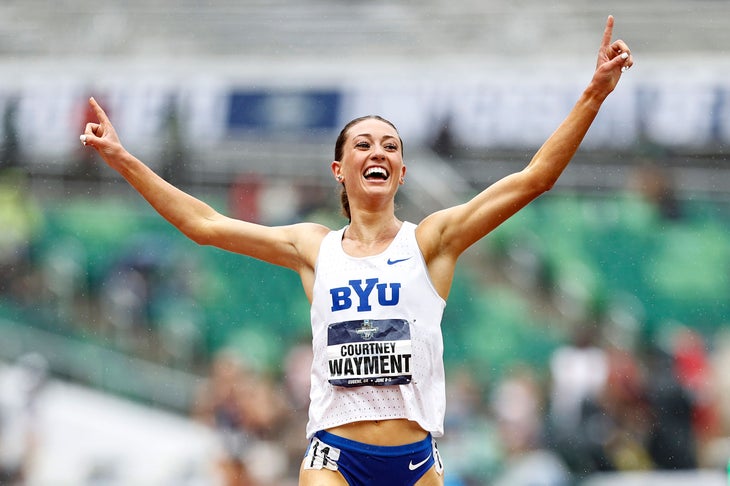 Courtney Wayment knew she was going to be a steeplechaser well before she ever cleared a hurdle on the track.
Her dad, Mark Wayment, was an All-American steeplechaser for Weber State in the 1980s, and her mom, Becky (neé Bjornn) was a top runner for the Wildcats in between giving birth to the couple's first two children. Running (and the steeplechase in particular) were always a conversation point in Wayment's family, even when she started her athletic career as a club soccer player growing up in Utah. 
When Wayment joined Diljeet Taylor's talented Cougars cross-country squad at BYU, she informed her new coach that she was going to be a steepler—despite the fact that she had yet to race one.
"That's just what people tell me, so that's what I'm gonna do," Wayment remembers telling Taylor (or "Coach T") her freshman year.
When four years of ill-timed injuries and the COVID-19 pandemic derailed the All-American's steeple career, it was her husband who reminded her to keep dreaming big.
"'You need to see where your talent and your hard work will take you,'" she remembers him telling her in May of 2020. "'You need to give professional running a shot.'"
A year later in 2021, Wayment won her first individual NCAA title in the indoor 3K, placed fourth in the NCAA steeplechase final and, incredibly, fourth in the Olympic trials—one spot away from making the Tokyo Olympics. She made the most of her extra year of COVID eligibility, winning the 2022 NCAA indoor 5K, crushing the collegiate record in the steeplechase en route to her first outdoor NCAA title in 9:16, and breaking her own record again in 9:12.10 by taking runner-up honors at the USATF outdoor championships to book her ticket to the World Championships.
"Getting to the Olympic trials, I felt like I had a shot," she says. "That third spot, you just don't know what's going to happen, and so last year that was my motivation—go into trials thinking anything could happen if you give yourself the chance. But this year, I just feel like I'm in a different place and I've had another year of consistency where I didn't want to just snag the third spot. I wanted to belong and race like, 'OK, I'm here.'"
Now sponsored professionally by On Running, Wayment will continue to live in Provo, Utah, and train under Taylor along with her former BYU teammates Whittni Orton Morgan and Anna Camp Bennett. 
"We're really big on staying in the here and now," she says of her goals for worlds. "So right now, it's just, let's make the final and let's just take it one race at a time."
Age: 23
Steeplechase PR: 9:12.10
Best part of training: "I love the small and simple things. That's my favorite part about training, seeing it start to pay off because of the small and simple things of consistency that you're doing. Sleeping a lot every night and those kinds of things that people don't see but you're doing in your own time."
Worst part of training: "The winters, when it's freezing cold and you gotta run outside. There's snow and there's ice and it's just not fun; that's probably the worst part."
Best advice received: "Something Coach Taylor has really preached at our time at BYU is being grateful and helping take people with you. When you're having success, build others up."
Pre-race superstition: "If it's a later race, I always make Kodiak cake waffles. I have a little mini waffle maker. You do a little bit of peanut butter on top, some granola if you're feeling it and some fruit. I'm a big raspberries, blueberries, and strawberries person. They're delicious. The cinnamon oat ones are good, the plain ones are good, the dark chocolate ones are good. I just bring it with me, I got my little traveling waffle maker. It's a cute little red one from Target, $10."
Favorite summer jam: "Anything Mac Miller. I love him."
—Johanna Gretschel 
---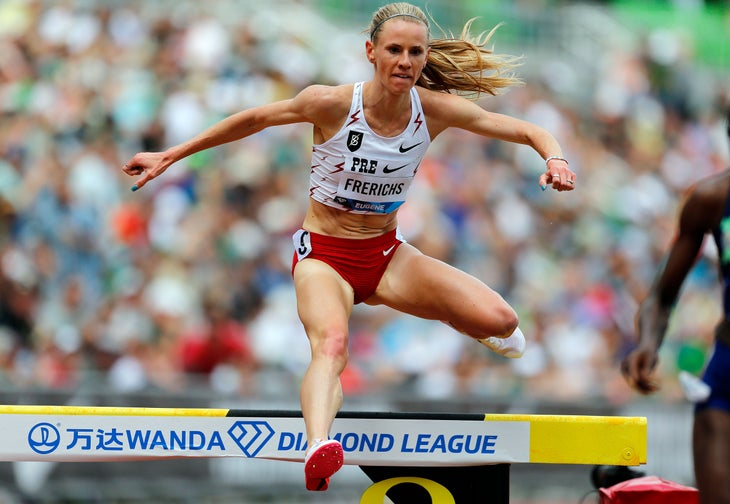 In 2021, Courtney Frerichs worked hard to improve her mental game and it showed without a doubt on the track, especially after she won silver in the steeplechase at the Tokyo Olympic Games. Specifically, she tried to focus on not comparing herself to her competitors or training partners.
Coming off of the Olympics, Frerichs beat her own American record at the 2021 Prefontaine Classic in 8:57.77.
But this year, Frerichs has yet to tap into her full potential as her season hasn't fully ramped up yet. At the 2022 Prefontaine Classic, in comparison, she took 9th place in 9:20.96. In a post-race interview she pointed to issues with low iron and a recent diagnosis of Celiac disease.
She was excited to make the team, placing third at nationals with a season best 9:16.18 after what she admits was "a rocky start to the outdoor season."
Frerichs trains with the Bowerman Track Club and is coached by Jerry Schumacher. The World Championships in Eugene, Oregon, is true home advantage. "Training has been going really well and I am happy with the progress I have been making," she told Women's Running. "I love coming out of altitude training to race so I am really excited that the timing of altitude camp has worked out really well leading into worlds this year."
Age: 29
Steeplechase PR: 8:57.77
Best part of training: "The best part of training for me is always altitude training. I love the opportunity to go to such inspiring places and get to train with my teammates who are also some of my closest friends."
Worst part of training: "The weather this spring was definitely the worst part of training this year. We had so much rain in Portland this spring and I definitely tend to struggle a bit more in the cold rain."
Best advice received: "The advice that has been really helpful for this season has been to view each workout and race as independent events. You can carry confidence from a workout or race going well or learn a lesson from a workout or race not going how you hoped, but each time you toe the line it's a new opportunity. This has been important because I have definitely struggled in past years [believing] that I have to continue to prove myself after successes, which can lead to racing defensively rather than viewing it as a new opportunity to challenge myself."
Pre-race superstitions: "I used to have a laundry list of pre-race superstitions in college, from the socks and sports bra I would wear, to feeling extra lucky if I had an 8 on my bib or hip numbers (this one does still get me excited!). One of my favorites was eating Fruit Loops the morning of every race, which I continued to do until recently when I found out I have Celiac (if anyone has a gluten-free option, let me know!)."
Go-to summer jam: "I have been really into the Big Bootie mixes this summer. They are a fun mix of songs that are perfect for the drive to workouts!"
—M.R.