Women Run the World: Aoife Cooke Would Love for Her Sexuality to be Irrelevant
The marathoner from Ireland has been out for most of her career.
Heading out the door? Read this article on the new Outside+ app available now on iOS devices for members! Download the app.
Olympic marathoner Aoife Cooke considers her sexuality to be an incidental detail—one that, in an ideal world, wouldn't be worth a mention in profiles such as this. But the 35-year-old Irishwoman knows there's also value in telling this side of her story, given so many young women are going through now what she went through back then.
Cooke was 18 years old, a freshman student at Arkansas Tech University, when she decided to come out as gay. Her first semester at college brought her into contact with several members of the LGBTQ+ community, which helped her reach the realization and accept who she was.
"It was difficult to tell other people," she says. "I wasn't sure how they might react."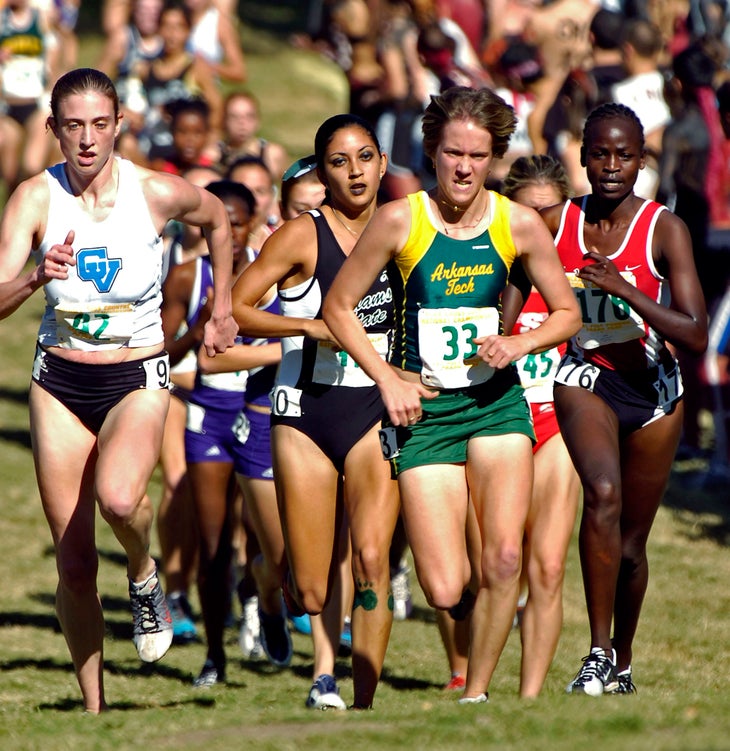 At the end of that first semester, she returned home to Cork, Ireland. She told her family and friends, who were "all very supportive, not surprisingly."
The trickiest part, however, was telling those she didn't know so well.
"It's the smaller situations," Cooke says. "Meeting people in your local coffee shop or at work and you have to tell them. It's little mini coming-outs constantly, which can be a bit draining. Sometimes you don't feel like it, but you have to as the conversation has gone that way. But over the years it's got a lot easier."
For others going through a similar journey, Cooke is heartened by the increased support for LGBTQ+ members in recent years. "And if there's someone you're close to, a best friend or a sister, I'd recommend giving them the benefit of the doubt and talking to them," she says. "Most of the time, you'll be surprised at how supportive people are."
Cooke said there were "a few little digs from classmates" at college about her sexuality, "not people I would have called friends," but the positive reaction overall taught her any fears had been unfounded. That may come as a surprise to those familiar with Ireland's historical politics.
But Ireland has changed rapidly over the past few decades. It was once a deeply conservative nation, its laws heavily influenced by the Catholic church. Homosexuality was only decriminalized in 1993, with same-sex marriage legalized in 2015 after a referendum in which 62 percent of citizens voted in favor.
RELATED: A Look Back at LGBTQ Athletes' Fight for Protections Under Title IX
Last summer, Cooke proudly donned her nation's colors at the Tokyo Olympics. Reaching that level completed a journey that was, in some ways, a little miraculous.
Most of her 20s, Cooke hadn't even been a competitive runner. She was a decent but unexceptional teenage athlete, and going to the United States on a college scholarship had never been in her plans. But when she received an offer from Arkansas Tech University, she figured it would be her best chance of becoming a high-level athlete.
Four thousand miles from home, she found life in Russellville, Arkansas, difficult at the start; Cooke did little of note athletically in her first year. But in her second year, she won conference and regional cross-country titles, then finished ninth at the Division II nationals. But a pelvic stress fracture the following year sparked a nightmare run of injuries, and when more stress fractures followed, Cooke discovered she had low bone density, which took years to correct.
"My nutrition at the time wasn't up to par, especially for the amount of running I was doing," she said. "For younger people, [my advice is] to be mindful that you're eating enough."
RELATED: What Women Runners Need to Know About Bone Health
As her running hit a roadblock, Cooke moved home toward the end of her third year, enrolling in 2008 at University College Cork. For the next seven years she only ran sporadically, finding that every time she upped the intensity, her bone density issues came back to haunt her.
By 2015, things had improved, and to motivate herself with a challenge, she signed up for the Cork City Marathon with the aim of breaking three hours.
"I ran 3:15," she said. "I hit the wall very hard."
At first, she told herself she'd never run another marathon. But after a couple of years spent running 10Ks and half marathons, she couldn't resist trying again. She signed up for the Amsterdam Marathon in 2017, ran 70 miles a week on the build-up, and clocked 2:46:37.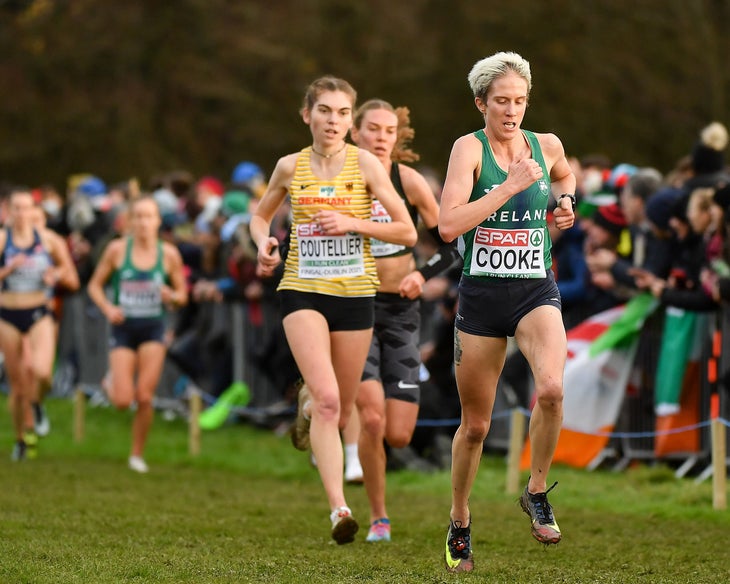 In 2018, Cooke took time out from her job with Apple to deal with mental health issues. In the end, she chose a new career path, becoming a personal trainer. That's now her full-time job, with Cooke fitting her running around appointments with clients.
At the 2019 Dublin Marathon, she took 14 minutes off her best to win the Irish title in 2:32:34; in 2021, Cooke clocked 2:28:36 at the Cheshire Elite Marathon in England to become the fifth fastest Irishwoman of all time—and qualify for the Olympics.
During a scorching summer in Japan, marathons at the Games were held in Sapporo, more than 500 miles north of Tokyo, where organizers hoped weather conditions would be less oppressive. But 15 of the 88 starters didn't make it to the finish in the women's race. Cooke was one of them, her body shutting down in the high heat and humidity. She stepped off the course just after 12 miles.
"I probably didn't adjust my pace enough, I didn't respect the conditions enough," she said. "I was obviously gutted. It took a while to get back to myself fully, but you have to take these and move on."
RELATED: Brigid Kosgei Runs Third-Fastest Women's Marathon in Tokyo
The physical damage didn't last long—the mental effects did. But Cooke eventually came to accept what occurred, and she already has the Paris Games in 2024 in her sights.
"It's closer to home and the pandemic will hopefully be well behind us," she said. "Hopefully it'll be a much better experience."
A bout of COVID-19 in April left her with lingering fatigue for over a month, but in recent weeks Cooke has felt back to herself. She's putting in 100-mile weeks in preparation for the European Championships in Munich, Germany, in August, where she'll race the marathon.
After that, she will target the Dublin Marathon in October, which is being staged for the first time since 2019. Cooke will hope for a personal best if all goes to plan on the build-up. But no matter how it goes, she'll continue to run proud, run strong, for many years to come—being who she really is.