Veteran Talent and Rising Stars Make Up the Women's U.S. 200M Team
Abby Steiner, Tamara Clark, and Jenna Prandini will represent the United States at the World Athletics Championships.
Heading out the door? Read this article on the new Outside+ app available now on iOS devices for members! Download the app.
Monday night–July 18–the women's 200m heats kick off at the World Athletics Championships in Eugene, Oregon. You won't want to miss the U.S.'s rising stars who are hoping to continue through to Tuesday's semi-finals all the way to Thursday night's final round where a world champion will be named.
On deck are Jenna Prandini, the 200-meter specialist who was a star sprinter for the Ducks, whose Hayward Field plays host to the World Championships; Tamara Clark, who is ready to 'break the clock' at the World Championships; and newly signed Puma athlete, Abby Steiner.
Jenna Prandini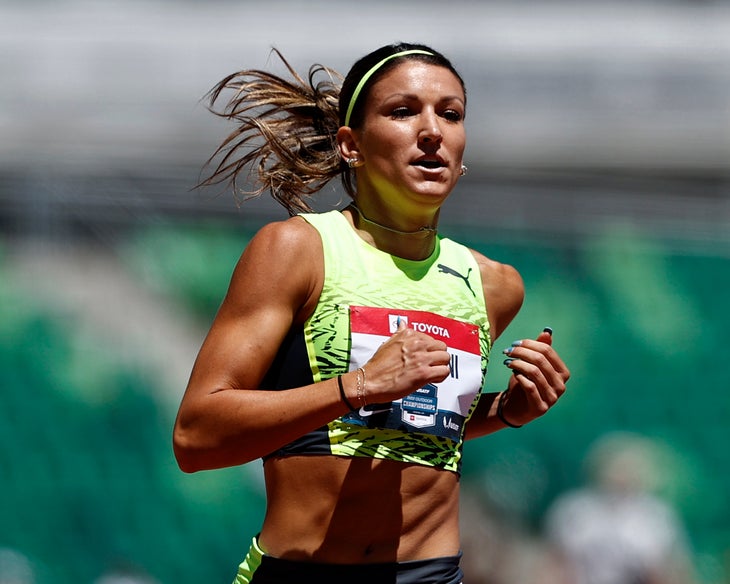 Jenna Prandini has quietly become a veteran sprinter for Team USA.
The 29-year-old, who will represent the United States in the 200 meters and the 4 x 100-meter relay at the World Championships, has made the past two Olympic teams and the world team in 2015.
It all started at Hayward Field, host of this year's World Championships, the first to be held in the United States. That's where Prandini's track career at the University of Oregon culminated in spectacular fashion in 2015 when she scored 26 points to lead the Ducks to their first women's outdoor team title in 30 years.
"Mentally, physically, I'm really excited to go to this meet," Prandini says of the World Championships. "It's cool that it's in America, but it's even more special that it's in Eugene, where I went to college."
Like any track athlete, Prandini has had her share of struggles, too. She missed the world teams in 2017 and 2019 with a broken foot, the same injury that kept her out of competition during her freshman year at Oregon. She's learned that the best method of injury prevention is to take things day by day with her foot and keep an open line of communication to her coach, Edrick Floreal ("Coach Flo").
"I'm a workhorse and I love challenge and to push my body to the ultimate extreme. The thing I've had to learn to do is to be open and communicate," she says. "If something feels off or if I'm not sure if I should practice or not, I just have to open my mouth and communicate with Flo… You have to listen to your body and communicate. If I don't, it can spiral quickly."
After getting knocked out in the semi-final round of the 200 meters at the Tokyo Olympics, Prandini has big aspirations for 2022: to not only make her first global championship final but to bring home a medal.
"My ultimate goal is to go out there and bring a gold medal home for the U.S. and do it on my home field at Hayward Stadium," she says. "I've been in these big races before and it's time for me to put it all together and get on the podium."
Prandini's no stranger to the podium in relay events. She ran the key third leg on the 4 x 100-meter relay team that took home the Olympic silver medal last summer in Tokyo, and she did the same for the 4 x 100m squad that clinched silver at the 2015 World Championships in Beijing. But this summer in Eugene, they're going for gold.
"The 4 x 1, we always want to win," Prandini says. "You step on the line, nobody's aiming to get second, nobody wants to do anything but win. That's definitely the goal."
Age: 29
200m PR: 21.89
Best part of training: "I like the challenge of it. I like to go out and push myself and see how good I can be. There's always something you can improve on. To be able to go out there and fine-tune little things here and there; the tenth of a second makes all the difference in a race. I like the challenge and the competitiveness of it. I like when we do fast reps, all-out stuff like a 150m."
Worst part of training: "The hardest training for me is tempo, longer stuff [like 500s or 400s]. Someone like [training partner] Keni [Harrison] is amazing at them; for me, it's the toughest part of training, trying to push through that and keep up with Keni."
Best advice received: "As long as I stick with it and keep pushing, it's all going to work out in the end. When adversity hits, like an injury or something, it's easy to feel sorry for yourself and back down, but just reset, refocus as fast as possible and know that it's going to get better. Keep fighting and don't give up."
Pre-race superstition: "Growing up, I was extremely superstitious, wanting to eat every single meal the same, my socks had to be the same, everything had to be the same. As I got older and didn't get to pick my meals—they were already provided for us [at some meets]—I had to let go of that. I do like to keep everything routine, whether it's everything I do in the morning, warm-ups, all that stuff I don't like to switch up on race day. I'll go get treatment, make sure everything's firing and aligned, warm-up takes an hour and ten minutes, get my strides in and then once I'm all warmed up, head over to Coach Flo, get my accelerations, get in the blocks and then it's time to go to the call room."
Favorite summer jam: "Break My Soul" by Beyoncé
Abby Steiner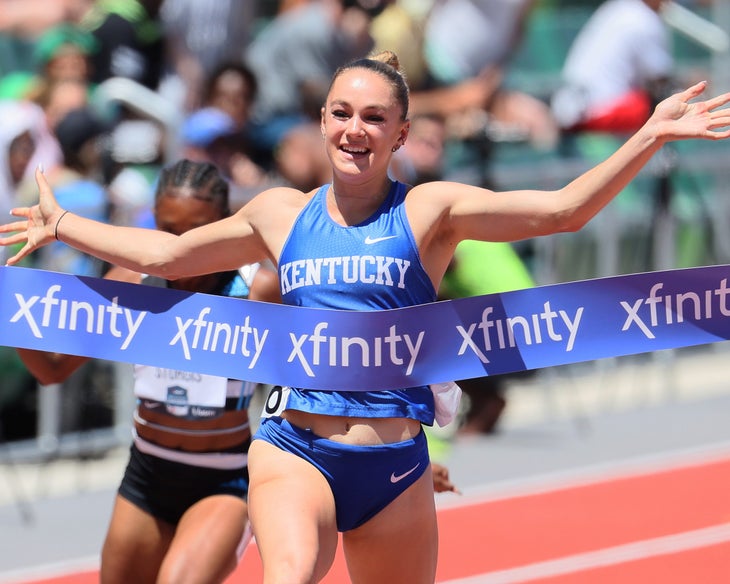 From her royal blue University of Kentucky kit to her aggressive arm swing and the late-stage top-end speed that's made for a dozen viral videos, Abby Steiner is distinctive every time she steps on the track. 
The 22-year-old's meteoric rise this year—from an American record in the indoor 200 meters (22.09) to three NCAA titles and her first US national title to qualify for the World Championships in the 200m—made her one of track and field's most anticipated professional signings, and her contract with Puma was officially announced yesterday on the same day as reigning double Olympic champion Elaine Thompson-Herah of Jamaica.
Not that the increased media attention has been easy for the Ohio native. News of her signing and speculation about how much her contract was worth leaked onto social media, fueling debate over whether or not she had "earned" it, and the online vitriol grew to the point that she was compelled to issue a personal statement to set the record straight.
"That was difficult to deal with just because the information wasn't accurate and that opened up a lot of opportunities for false narratives to come into play," she says. "It's just a moment that I was really looking forward to announcing on my own with Puma."
It's been a whirlwind few weeks for the young star, whose 21.77 winning time at USAs is the second-fastest time in the world this year.
"Balancing all of these final contract negotiations and competing at a really high level and traveling—it's a lot, but it's all things I've always dreamed about doing, so keeping that in perspective and enjoying the ride is what I've been focusing on," she says.
Just one year ago, Steiner was struggling with achilles tendonitis, an injury that cut short her outdoor track campaign and forced her to skip the U.S. Olympic Trials. It was a tough pill to swallow after losing the 2020 season to the COVID-19 pandemic, but last year's struggle makes this year's success even sweeter. She says breaking the American indoor record in the 200 meters at the SEC Championships was her biggest highlight—so far.
"After being out last outdoor season, that was really a confidence booster I needed to set up the rest of my season," she says. "I haven't surprised myself on the track like that in a long time. It gave me a lot of confidence in who I am as a runner."
Steiner's success is even more impressive considering she's only focused on track for a few years. She was recruited to Kentucky as a two-sport athlete in soccer and track, and she first started playing the former sport at the age of four. But she quickly realized that she was spread too thin during her freshman year in Lexington, and her heart was in track and field. Since focusing solely on track, she's quickly become one of the best sprinters in the world. This week in Eugene at the World Championships, she'll have a chance to prove it.
Making the 200 final is her ultimate goals for Worlds. "Once you get a lane, anything can happen," she says. 
Age: 22
200m PR: 21.77
Go-to summer jam: "Walking on a Dream" by Empire of the Sun
Tamara Clark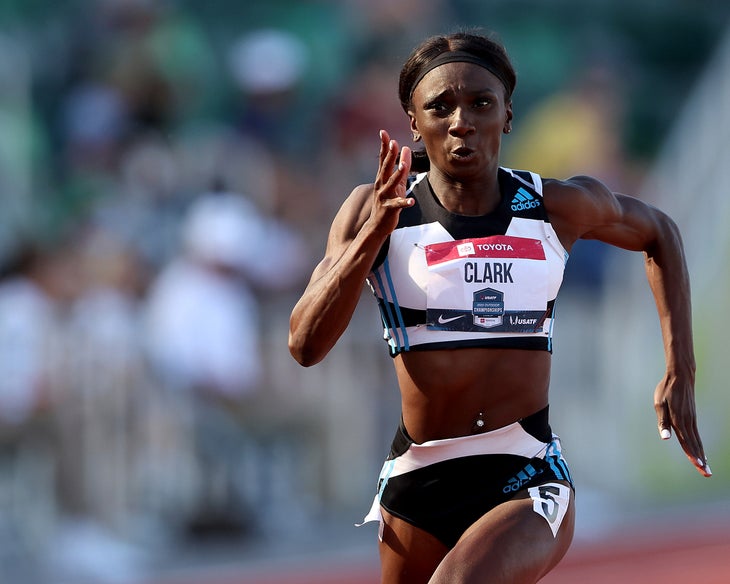 Tamara Clark cried when she crossed the line in second place in the 200-meter final at the USATF Championships. Not because she didn't win, but because she secured her spot at the World Athletics Championships one year after finishing fourth at the Olympic Trials—one spot away from qualifying for the Summer Games.
"I was relieved I finally made it," she says. "My first year being pro, that meant everything to me because I worked so hard this year. I had a rocky year. To put it all together and PR after PR after PR meant everything to me."
Thanks to her fifth-place finish in the 100 meters, Clark is in the pool for the 4 x 100-meter relay, too—an event in which the United States is always favored to medal. But she's not getting ahead of herself.
"My goal is to do my very best and show the world what I can do," she says. "I don't want to put too much pressure on myself, but I want to go out and do what I can do that day. Run hard, run fast and PR. I want to break the clock, you know?"
Clark had a breakthrough outdoor campaign last year in her final season competing for the University of Alabama, where she garnered five All-American nods and swept the 100 and 200 meters at the SEC Championships. On the recommendation of her college coach, Clark moved to Austin, Texas, to train under Tonja Buford-Bailey with a sprint crew that includes Gabby Thomas, who is the Olympic silver medalist in the 200 meters. But the transition to the professional ranks wasn't easy.
"It was really hard at first," she says. "[In college], everybody's counting on you so it's a team effort. But with just me, it feels like I'm just there. There's no team spirit, it's just you. That's what I struggled with the most in my first year as a pro. I had a lot of emotions and I was thinking too much."
An unexpected challenge for Buford-Bailey's training group came this spring when the three-time Olympian experienced a cancer scare. Clark says that Buford-Bailey has since recovered, but there was about a month when she was in and out of the hospital and unable to communicate directly with the team.
Buford-Bailey's return to health was a boon for her athletes just before the USATF Championships, as Clark says she always seems to know what to say to calm her nerves. Even with a less-than-ideal season, she never stopped believing in her.
"My coach put it in my head: 'When the time comes, you will run exactly what you want to run' and that's what I did," she says.
Age: 23
200m PR: 21.92
Best part of training: "The 1080 [Sprint machine, a portable resistance device for sprinters]. It pulls you so much so when you run the race, it transfers to that—your body won't be as shocked. On Tuesdays, we pull it and on Thursdays, it pulls you. It pulls us really, really fast so you have to catch it and go with it. You don't want to fall so you have to run super, super hard and then you pull it off. It's all-out; it's pulling you so fast, you cannot jog with it because then you trip."
Worst part of training: "Long days when we do 300s, because I'm a sprinter. I like sprints. [When we do] 350m, 250m, 150m, I hate it so much but I know it makes you better so I just suck it up and do it."
Best advice received: "Don't overthink. Don't give people too much credit. Sometimes I overthink and doubt myself. My track coach says not to give people too much credit because you're supposed to be here, too. That's the best advice I ever got because I do second-guess and doubt myself a lot. That's my biggest struggle with track, is just me believing in myself."
Go-to summer jam: "Dreams and Nightmares," Meek Mill