What's Sifan Hassan's Secret? Restlessness.
The most prolific athlete at this year's World Championships was also the most fun to watch
Photo: Courtesy Global Sports Communication
Heading out the door? Read this article on the new Outside+ app available now on iOS devices for members! Download the app.
"Most of the time, we say that when we have success, life gets easier, but I think it gets harder," says Sifan Hassan. If that's true, then life must have been very hard lately for the 30-year-old runner from the Netherlands. How's this for a recent racing resume? World champion in the 1,500 and 10,000-meters in 2019. Olympic champion in the 5,000 and 10,000 in 2021, with a bronze in the 1,500-meters to boot. London Marathon champ in 2023. Multiple world records and Diamond League titles along the way. With respect to Eliud Kipchoge, nobody has done more to expand the limits of what might be possible in elite distance running than Hassan.
"Hassan-athon"
In some ways, she is the anti-Kipchoge, at least when it comes to her voracious approach to racing. Her range is preposterous; she is the only professional runner capable of producing a world-class performance in every distance from the 800-meters to the marathon. While Kipchoge adheres to a strict diet of two marathons per year with no tune-up races or seasonal dalliances on the oval, Hassan sometimes seems bent on exhausting the possibilities of the pro circuit. Barely a month after winning her first ever marathon in London last April, Hassan won a 10,000 and 1,500 meter track race on consecutive days. At this year's World Championships in Budapest, which concluded on Sunday, Hassan ran the 1,500, 5,000, and 10,000-meters, replicating her feat in Tokyo. If you include the heats, this means running six races in eight days—an audacious undertaking that certain superfans have been dubbed the "Hassan-athon." What's more, Hassan was competing in the World Championships as part of her training cycle for this year's Chicago Marathon. (To the bafflement of eyewitnesses, she was even spotted doing a light track workout in Budapest to bolster her mileage.) The Chicago Marathon, for those keeping track, is in six weeks.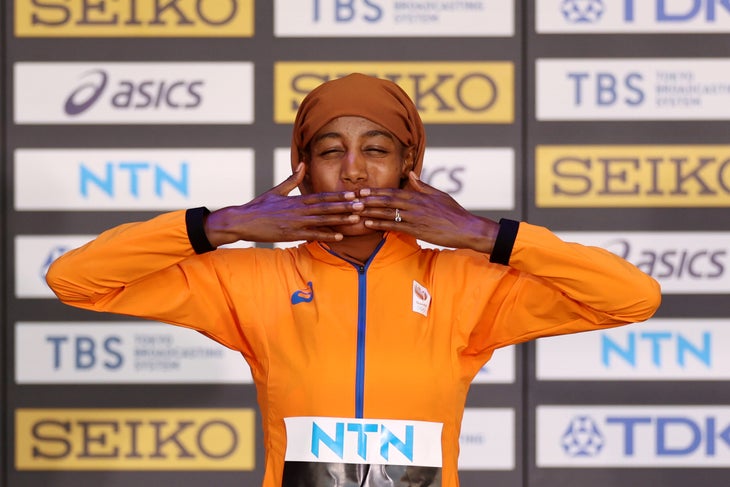 Hassan's Triple at the World Athletics Champsionships
In Budapest, Hassan wasn't quite able to reproduce the magic from Tokyo. This time she only came away with a bronze and silver medal and was overshadowed by the brilliance of Kenya's Faith Kipyegon, who won gold in the 1,500 and 5,000-meters to cement her dominance in two events where she'd already run world records earlier in the season.
But while Hassan wasn't the best distance runner at this year's World Champs, she was, for my money at least, the most fun to watch. A notoriously quick closer, Hassan likes to go right to the back of the pack in the early stages of championship-style races and stealthily move up as things progress. Her famous finishing kick always looks strangely unpolished. Rather than the loping, graceful stride of someone like the 800-meter runner Athing Mu, there's a frenzied quality to Hassan at max speed.
In one of the more dramatic finishes in Budapest, Hassan seemed well-positioned to win the women's 10,000-meters on the first official night of competition. After lurking towards the back of the pack for the first 24 laps of the 25-lap race, Hassan swung all the way out into lane three on the back stretch of the bell lap and surged to the front. By the time she came around the last bend and into the final 100 meters of the race, only Ethiopia's Gudaf Tsegay had managed to maintain contact. Tsegay seemed to be gaining on Hassan as the two women came down the home stretch, but Hassan was drifting out from lane one to make it difficult for Tsegay to pass. With steps to go it looked to be either woman's race, when Hassan suddenly appeared to overstride and crashed to the track, a literal misstep that took her from a guaranteed podium finish to eleventh in a matter of seconds. In an uncanny coincidence, in the very next race—the mixed gender 4×400-meters—Hassan's compatriot Femke Bol would also relinquish her lead by falling a few meters short of the finish line, prompting headlines proclaiming that there'd been a "Dutch Disaster" on the banks of the Danube. For her part, Hassan took it all with a grain of salt. Asked about her and Bol taking a spill at the same critical moment of their respective races, Hassan suggested that maybe it was "National Fall Down Day."
I have a weakness for any professional athlete who can respond to disappointment with humor. Granted, it's easier to be nonchalant about losing out on a world title because you tripped on your spikes when you've already had a glittering career. But Hassan's levity stood in stark contrast to Jakob Ingebrigtsen's rather sulky response to being outkicked by Josh Kerr in the 1,500-meters, an upset that the Norwegian superstar attributed to an untimely illness. Supreme confidence is part of Ingebrigtsen's persona—and it has admittedly worked pretty well for him so far—yet sometimes you wonder whether he would be even better if he could just lighten up. Ingebrigtsen came back to win the 5,000-meters on the last day of competition in Budapest.  Watching an interview with him after the race, he sounded relieved rather than happy. When Letsrun's Jonathan Gault asked him if he'd even celebrated winning the 5,000, Ingebrigtsen looked briefly puzzled before giving a sarcastic two thumbs up. Another gold medal: Whoop-de-doo.
The exchange reminded me of an interview last year in which Ingebrigtsen confessed to feeling unmotivated after achieving his lifelong goal of winning Olympic gold in the 1,500-meters in 2021. Not that he was alone in experiencing a certain listlessness after competing at the Olympics. Even the ever-ebullient Hassan, whose performance in Tokyo was arguably the most impressive we've ever seen from a long distance track athlete, says she felt similarly dispirited at the time. She spent most of 2022 just going through the motions; in an episode of the Bad Boy Running podcast, her coach Tim Rowberry intimated that last year Hassan was racing purely to fulfill her contractual quota. It was only when she committed to becoming a marathoner that Hassan felt motivated again—inspired, as she explained it to me, to test the limits of a new kind of pain.
"In Tokyo, I got my dream, and afterwards I didn't get any excitement from running," Hassan says. "I needed to come to another chapter to enjoy running again. Once I get what I want, I want to move on and try other things."