Ukrainian Valentyna Veretska Runs to Show Support to Her Country
Though she never stops thinking about the ongoing war, she shares her victories on the roads with the people fighting for Ukraine.
Heading out the door? Read this article on the new Outside+ app available now on iOS devices for members! Download the app.
Valentyna Veretska, 31, has been making the news ever since she won the Jerusalem Marathon in 2:45:54, only a month after fleeing her home in Ukraine. 
"I had a lot of stress. [I was] nervous about my family, my friends—so I'm not prepared," she told Women's Running over Zoom. She received the invitation to compete only 10 days prior.
But her husband, who is also her coach, convinced her to give it a shot. He told her to go and have fun and show their flag flying in the race. 
The Ukrainian flag has continued to be an anchor point in her racing as a show of support for her fellow Ukrainian's fighting the war that began when Russia invaded in February. When she ran the Effage Millau Viaduct race—a half marathon in southern France—in May, she ran the final 7K with her country's flag raised over her head. 
RELATED: Want Weekly Inspiration From Women's Running?
"It was really difficult, seven kilometers with flag with hands [up]. But it was online and people in Ukraine saw it," she says. 
She's continued to keep a busy race schedule, including winning the Baku Half Marathon in Azerbaijan on May 15.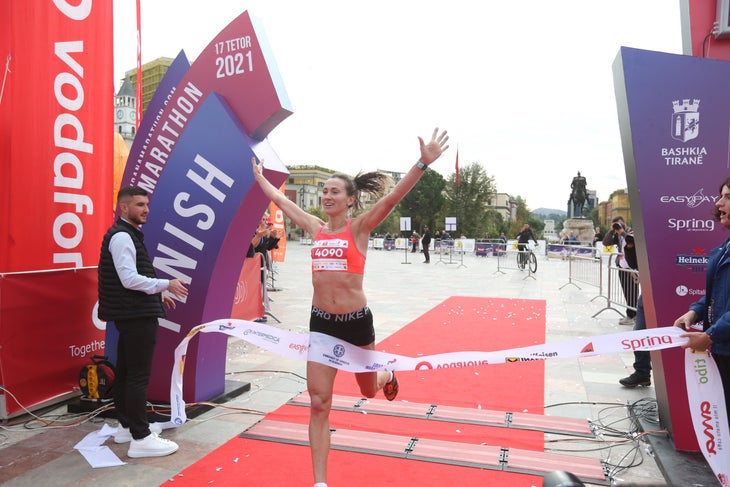 Two weeks later, she had the chance to hold up the Ukrainian flag once again, while running on U.S. soil at Colorado's BolderBoulder 10K. The race was held on Memorial Day, May 30, a day where Americans reflect and remember the fallen soldiers of our past wars. 
Veretska hesitated to make the long trip to the United States. She didn't want to leave her 11-year-old daughter for six days. The two have been living in Poland since fleeing Ukraine in February. Veretska's parents are still in Ukraine and so is her husband, who returned to fight in the war.
But her daughter urged her to go. She wanted to see her flag on TV once again.
Finishing 13th, it ultimately wasn't her best race. She admits the altitude (Boulder sits at an elevation of 5,318 feet) and lack of sleep from jet lag got the better of her. 
https://twitter.com/bolderboulder/status/1531334506912702465
But running into the University of Colorado's Folsom Field finish line holding up the flag once again was still just as sweet. She says racing in the United States was the experience of a lifetime for her. 
RELATED: On the Heels of Tragedy, Tirop's Angels Have Hit the Ground Running
She was touched by the support shown by the large crowd of people. She was not alone in showing off the blue and yellow of her home flag. "The time spent in Boulder, I will never forget," she says. "And I hope to return to Boulder with my husband and daughter when the war allows us to do it together."
Veretska was not the only Ukrainian running that day. The BolderBoulder team flew her out alongside teammate Valentyna Poltavska.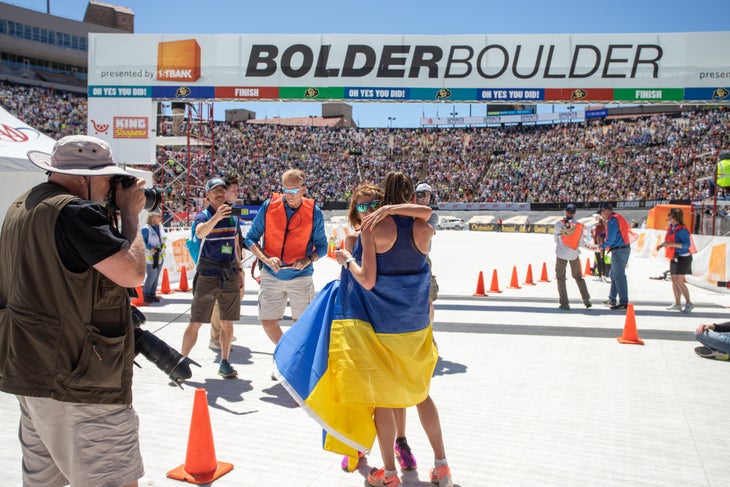 "We were very excited to invite Valentyna Veretska and Valentyna Poltavska to represent [Ukraine] at the BOLDERBoulder," says race director Cliff Bosley. "[Veretska's] arrival at the University of Colorado's Folsom Field on Monday was moving for the crowds, she was handed a [Ukrainian] Flag, which she unfurled and carried during her lap around the stadium to the finish line." This was the first time Ukraine has been represented in the international field of the race, Bosley told Women's Running over email.
Now back in Poland, Veretska has her eyes set on the next race, a half marathon in the Czech Republic. "I hope, in the autumn, I represent Ukraine in the world championship in half marathon," she says. The 2022 half marathon world championships are set to take place in China in November.
While she almost never stops thinking about the devastation of her home, she hopes that her continuing to race can give fellow Ukrainians hope—that she can be a connection to the wave of support they're getting from other countries.  
"I think it's helped people inside Ukraine because they can see they're not alone," she says.