U.S. 800 Meter Champion Nia Akins Excels in Her "Junior Year"
In an event that is teeming with talent, Akins is a rising star
Heading out the door? Read this article on the new Outside+ app available now on iOS devices for members! Download the app.
Nia Akins is undefeated so far in 2023.
She hasn't lost a race, indoors or outdoors, this year. It's an impressive record in the U.S. women's 800 meters, which, to put it bluntly, is completely stacked. Nonetheless, Akins, 25, who trains with the Brooks Beasts in Seattle, is a double national champion in the event, in February winning the indoor title in 2:00.16 in Albuquerque, New Mexico, and the outdoor race at Hayward Field in Eugene, Oregon, in 1:59.50.
That latter race also earned Akins a spot on her first U.S. team, competing at the 2023 World Athletics Championships in Budapest, beginning August 18. Three years into her career—what she's dubbed her "junior year"—Akins says she has finally found her groove.
"It just feels so surreal, but also mundane at the same time," says Akins, who grew up in San Diego. "The results are a little different this year, so it's been pretty magical."
Akins signed with the Beasts in 2020, as she wrapped up her NCAA career at the University of Pennsylvania, where her shot at an NCAA title was cut short by Covid cancellations. Since then, she's progressed somewhat under the radar. She made the final at the 2021 U.S. Olympic Trials in Eugene, but fell during the race. She broke the elusive two-minute barrier in 2022 (1:58.78), but didn't make the final at the U.S. championships.
It was after that race at USAs in 2022 that she and her coach Danny Mackey reevaluated how they were approaching Akins's training and race schedule. Akins felt she had the talent and the experience to advance to the final and wanted to explore the possible reasons why she didn't. They committed to better communication between each other, Mackey says, and to try racing less in favor of training more.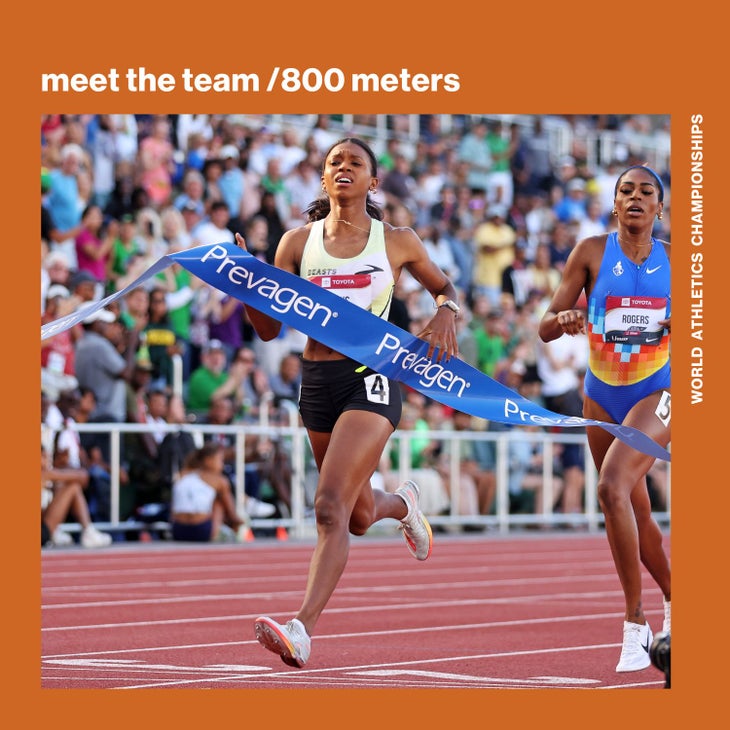 "Nia responds to altitude training. Sometimes that's hard on her. It's not fun—athletes don't want to just sit in the mountains and not race," Mackey says. "But we just looked at what was best for her from a physical standpoint."
That's what Akins labels the "mundane" part. She thrives on sticking to the plan, not changing much about the routine, and seeing the results at key points of the season. As she's developed in the program, she feels like she's taking more ownership of the process. Part of that was deciding to focus on harder workouts more often, without the fear of feeling tired on multiple starting lines during the season. She puts in about 40 miles per week, running five days per week with a long run that maxes out at 10 miles. She takes one day of complete rest from training.
"You have to be excited about your races and only you know in your heart what you're excited about and what you feel good about," Akins says. "I have been more of an adult this year."
She chose two meets before the U.S. championships with specific plans to to play with two strategies likely to play out in the rounds later in the season. The first, at the Portland Track Festival (1:59.37) was to practice her kick, to lurk behind the leader, who happened to be 2020 Olympic bronze medalist Raevyn Rogers, and unleash another gear in the final 50 meters of the race. The other, at the Stumptown High Performance meet (1:59.76) was to practice leading and controlling the race.
"Along the way, Nia was really intentional about what she was doing," Mackey says.
RELATED: How to Watch the 2023 World Athletics Championships, Plus Meet Team USA
Training Up High
The Beasts go to two altitude camps in Albuquerque, New Mexico, each year—in the winter and spring, for about six weeks each. They've added a bonus trip in preparation for Budapest, where Akins is preparing for her debut at a global championships. 
Joining her on Team USA in the 800 meters are Rogers; Kaela Edwards, who told the media after placing third at the U.S. championships that she has been struggling in recent years due to Graves disease; and potentially Athing Mu, who, as the reigning world champion gained automatic entry into the meet, but her coach, Bobby Kersee, told the Los Angeles Times that she may not race in Budapest (she is currently on the entry list).
It's no secret that those who succeed in the 800 meters in the U.S. always have a shot at a medal on the world stage, too. The favorites in Budapest, however, are clear. At age 21, Mu already has two Olympic gold medals—one in the 800 meters and one in the 4×400-meter relay—as well as the 2022 world championships 800-meter title. Keely Hodgkinson of Great Britain, who is also 21 years old, won silver in Tokyo and is ranked third in the world going into the world championships, with a personal best of 1:55.77. Mary Moraa, 23, of Kenya, is ranked No. 1 with a season best of 1:56.85.
Akins, however, has multiple goals for her first go at a world championship. First and foremost, she wants to make it through the preliminary and semifinal rounds to compete in the final, which is at 2:45 p.m. ET on August 27. It's no easy task to get through three rounds successfully and it will provide a perfect opportunity to gain experience for the 2024 Paris Olympics, should she also make that team.
"The semifinals put gray hair on my head every single time," Mackey says. "The finals are stressful as sh*t, but compared to the semifinals they are like a day at the beach because you know at that point, everybody is just going to run hard."
Even so, Mackey is confident that if Akins makes the final, she could put herself in contention for a top-three finish.
"It is her first time doing this level of competition," he says. "It's like the fighter mentality. Anything can happen. Just stay ready."
Akins says she's practiced surviving and advancing enough and now feels more confident in getting through. What she's more nervous about is all the new competition she's never faced before.
"I'm a fan of the sport as well," she says. "It's about keeping my composure and hopefully not getting lost in the lights. It's treating it the same way I've treated all my races so far. If you strip everything down, it's just track. I kind of bring it down to earth a little bit. I've been very fortunate to execute that so far, and now I'm leveling up to a whole new ballgame."
Grooving to Her Own Beat
During altitude stints, Akins has been keeping a journal, which serves several purposes. First, it's been an exciting year full of great experiences as she doesn't want to forget any of them, so it has become a record of her career highlights. She also releases any anxious thoughts or worries in her journal, writing them down and later realizing, when she's having any doubts again, that she's coped with those same emotions before and it has always worked out.
In 2020, she also decided to learn how to play the guitar and has pursued her music as a companion project outside of her running career. She's released several songs, most recently "Of This I'm Sure," which fans can stream on whatever platform they use. 
RELATED: This Song Written by Pro Runner Nia Akins is Worth Playing on Repeat
"I've surprised myself with songwriting. My senior year, one of the classes I took was this poetry class. I wrote a poem that people really liked and a lot of them said it sounded like a song," Akins says. "I always bring my guitar to altitude camp and now I'm learning how to play the autoharp."
She sees a lot of parallels between her growth in her musical pursuits and in her running career. Both endeavors take patience, practice, and courage. Although Akins has played some live gigs, she doesn't find them nearly as nerve-racking as racing two laps around the track as fast as she can.
"There's a lot less you can control when you're lining up for the eight," she says.
So far this year, however, all she's done is win.