These American Women Hope to Hurdle to Victory
The 400- and 100 meter-hurdles are must-watch events at the World Athletics Championships taking place at Hayward Field in Oregon.
Heading out the door? Read this article on the new Outside+ app available now on iOS devices for members! Download the app.
Running fast over hurdles is akin to threading a needle while skydiving: It's a very delicate athletic mix that takes equal parts speed, precision, dexterity, and mental acuity. There's no room for error or even tiny mishaps. In the two hurdling events at the World Championships, the 100-meter and 400-meter hurdles, Team USA is sending seven women who have proven themselves to be some of the best of the best. 
100 Meter Hurdlers
The first heats of the 100 meter hurdle will take place on July 23, with the final wrapping up on the last day of world champs, July 24. Alaysha Johnson, Kendra (Keni) Harrison, and Alia Armstrong make up the women representing the United States.
Keni Harrison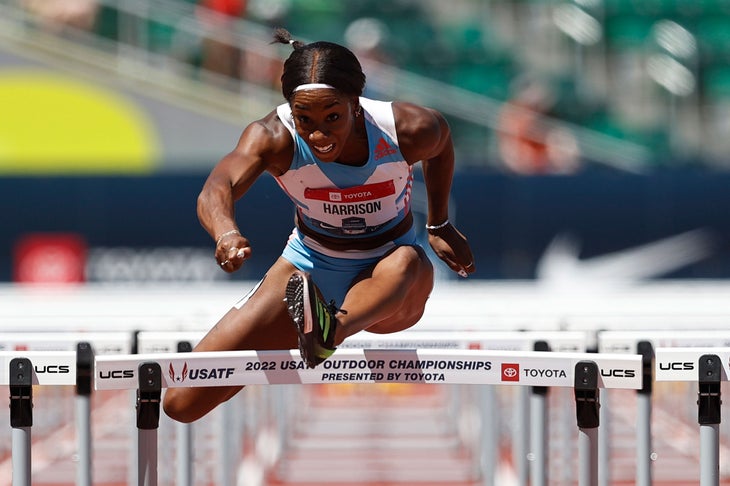 Keni Harrison set the world record way back in 2016, but her only global championship gold medal came in the 60-meter hurdles at the 2017 World Indoor Championships. After bringing home the silver in the 100 hurdles from the 2019 World Championships in Doha and at last summer's Tokyo Olympics, she has her sights set on gold on July 24 in Eugene, Oregon.
She enters the meet with a world-leading time of 12.34 seconds. But her rise to the top of her event hasn't come without trials and tribulations.
She might have been a favorite to medal (or even win) the 100-meter hurdles in the Rio Olympics, but she had a bad race at the U.S. Olympic Trials and wound up a disappointing sixth and didn't make the U.S. team. The year before, she made the U.S. team that competed in the World Championships in Beijing, but was DQ'd after false-starting in the semifinals.
After setting the world record in late July of 2016, she came back to win the event at the U.S. championships the next summer and entered the 2017 World Championships in London with a world-leading time of 12.28. She had the fastest time in the preliminary heats (12.60), but then had the slowest qualifying time in the semifinals (12.86) and came up just short of a medal with a fourth-place (12.74) showing in the final.
The 29-year-old Adidas pro hasn't let those failures and narrow misses define her career, instead continued to work hard to perfect that delicate balance of speed, precision, dexterity and mental acuity.
"I think missing the team in 2016 was heartbreaking," Harrison says. "And, of course, what fueled me the past couple years was that disappointment. That's just was something that kept me to train hard, and not to give up."
Harrison's long-time coach Edrick Floreal took a bit of a different path with her training this spring, focusing mostly on speed and forcing Harrison's already strong technique to catch up. Her speed was as good as it's ever been—as evidenced by one of the fastest 200-meter races of her career (22.19) in March—but the rejuvenated quickness also resulted in her nicking a few hurdles ever so slightly and smacking a few others square-on earlier in the season.
But she kept working, specifically on the ability to execute her strong hurdle form after a faster start out of the blocks without protective foam pads that are often used in practice, and it's resulted in some of the best races of her career. She ran under 12.50 six times while winning seven of her nine races leading into the World Championships, including her U.S. championships win on June 25 in Eugene in a world-leading 12.34 clocking. That's her fastest time since 2017 and one of the best races of her career.
"Going into USAs, I knew I was in good shape and I finally put it all together when it mattered. Now we're in a good spot going into worlds," she says. "I just feel like everything is going in the right direction, so I'm looking forward to everything getting things started."
Harrison won't get started until a week into the competition. The 100-meter hurdles prelims will be held July 23, while the semifinals and finals are the following day that closes out the event. That means she'll be in Eugene for 10 days before her first race, something that can be a bit nerve-wracking.
Knowing what little margin of error there is in the hurdles, Harrison has also worked on her mental game. She regularly meets with a sports psychologist who has helped her create a more calming perspective about competition and reminded her to recite positive affirmations prior to her races.
She'll face fierce competition from U.S. teammate Alaysha Johnson (12.35), Puerto Rico's Jasmine Camacho Quinn (12.37), last year's Olympic gold medalist, Nigeria's Tobi Amusan (12.41) and a host of Jamaican athletes, led by Olympic silver medalist Megan Tapper (12.60).
But, Harrison says, things are different this year, both from her physical abilities and her mental outlook.
"The goal is always to win," she says. "Every time I go to the world stage, I'm getting better and better. That's all I can ask for. After getting two silvers on the world stage, I finally feel like I'm going into this championship in great shape. For this go-around, everything is where it needs to be and I'm just going to go out there and do my best. I'm just going to keep giving myself positive affirmations and get ready for the moment."
Age: 29
100m hurdle PR: 12.20
---
Alaysha Johnson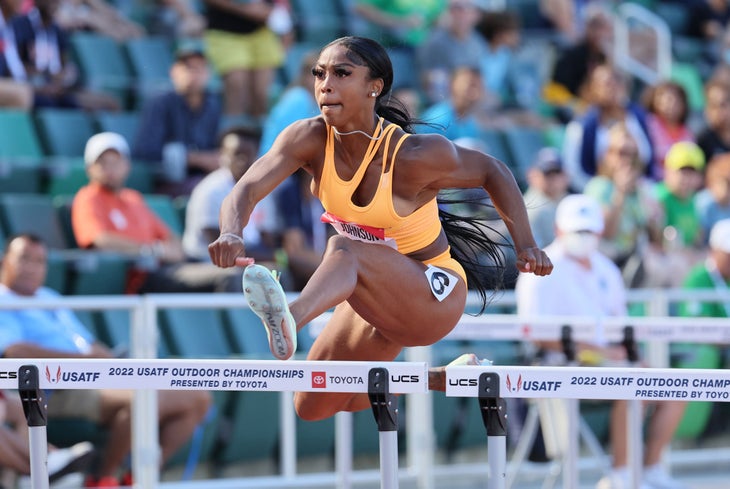 Alaysha Johnson just keeps betting on herself, even if a sponsor has yet to step up to back her. 
The hard-working 25-year-old enters the world championships ranked No. 2 in the world in the 100-meter hurdles. That says a lot about her perseverance and commitment to track, given that it's been three years since she finished a solid collegiate career.
After not running much the past two seasons because of COVID-19 and an ongoing battle with hypothyroidism, Johnson turned in a career-best effort on June 25 at the U.S. championships. In what was the deepest U.S. 100-meter hurdles race ever, Johnson leaned at the line for a 12.35 clocking—just an eyelash behind Keni Harrison's world-leading 12.34 effort.
That makes her the seventh-fastest American of all-time and suddenly a serious world championship medal contender if she can make it through two prelims and earn a spot in the finals on July 24.
"I have a huge chip on my shoulder. I am racing to prove myself to everybody," she says. "And the one thing I want to leave on the track is that people remember me for my resilience because there have been a lot of times where I could have given up and it would have been easier to do that, but I didn't."
Johnson started off her career at the University of Oregon, earning seven All-American accolades, setting the Ducks' school record (12.69) and placing fourth and seventh, respectively, in the NCAA championships at the end of her junior and senior seasons. She also ran key legs of sprint relays for the Ducks, which included their runner-up showing in the 4 x 100-meter relay (43.06) at the 2018 NCAA championships.
After admitting on Instagram that she had been through numerous life struggles, she transferred to Texas Tech for her final year. She didn't have the same kind of success she had at Oregon and at the 2019 U.S. championships, she ran a disappointing 13.77 and didn't advance out of her preliminary heat to the finals.
After two lackluster years, she came back strong in 2022. At the U.S. Indoor Track & Field Championships in Spokane, Washington, she wound up second (7.91) to Gabi Cunningham (7.82). That earned her the opportunity to compete for the U.S. in a global championship for the first time at the World Indoor Championships in Belgrade, where she reached the semi-finals.
She continued to run well outdoors in the 100-meter hurdles, blowing away her previous personal best set in 2017 with a 12.40 effort at the USATF NYC Grand Prix Meet on June 12. That set her up well for her amazing effort in Eugene less than two weeks later.
Without an agent or a sponsor, running in top-tier Diamond League meets in Europe has been out of the question. Johnson did it the hard way, running in every domestic meet she could get into, but she reached her goal of making it to the World Championships. 
"This is the hardest thing I have ever had to do," she says. "I am so grateful to have the support that I have in my family and in from coaches. I've just been running where I am welcome and putting on a show for everybody. I just want to keep showing people I can run in big meets with the best of the best."
Age: 25
100m hurdle PR: 12.35 (2022)
---
Alia Armstrong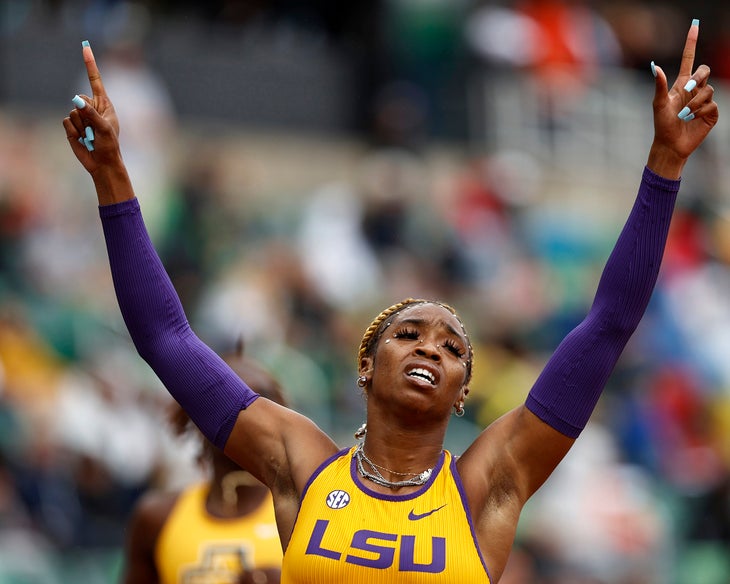 Over the past two seasons at Louisiana State University under assistant coach Tamara Ards, Alia Armstrong has made huge progress in the 100-meter hurdles. That evolution culminated in a series of breakthrough performances in June and a berth in the World Athletics Championships. She's one of the emerging talents in what is the deepest and fastest era of women's hurdling in American history. If she keeps running as well as she has this summer, Armstrong has a good chance to make it out of the semifinals and earn a spot in the finals on July 24 in Eugene.
A former Junior Olympic champion and record-holder, the 21-year-old from New Orleans has been one of the country's top collegiate hurdlers the past two seasons at LSU. She made amends for a false start DQ in the 60 meter hurdles at the NCAA Indoor Track & Field Championships in March by winning the 100 meter hurdles at the NCAA outdoor meet on June 11 in Eugene with a clean 12.57 effort. She continued her strong running at the U.S. championships and was one of only two collegiate runners to make it into the finals. Running in one of the fastest American hurdles races ever, Armstrong finished third in a new personal best time of 12.47. That ranks her as No. 9 on the world list heading into the World Athletics Championships, even though she's only the fourth-ranked competitor on the U.S. team.
Age: 21
100m hurdle PR: 12.47
---
400 Meter Hurdlers
Called "historically regarded as one of track and field's most demanding events" by World Athletics, what may be one of the best chances for an American podium sweep lies with the 400 meter hurdles. Heats start at noon on Sunday, July 17, with the final taking place in the evening of Friday, July 22.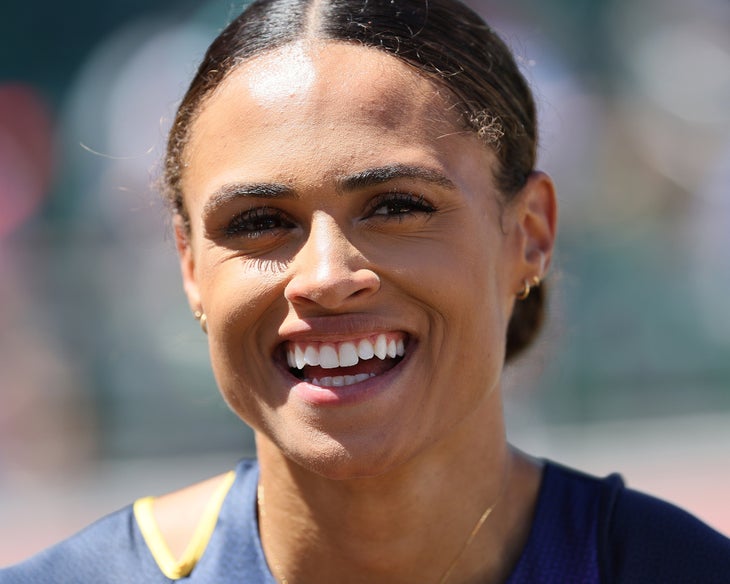 When we spoke with Sydney McLaughlin as part of our 2022 Power Women series, the Olympic champion was mum on the details of her goals for the year. But it wasn't beyond belief that she'd continue to push the boundaries of her ability.
"This year I just want to continue to grow into all God calls me to be on and off the track," she said.
In the matter of a year, McLaughlin has set and re-set the 400 meter hurdles world record three times: at the U.S. Olympic Track and Field Team Trials (51.90), at the Tokyo Olympic Games in her gold medal feat (51.46), and just recently at the U.S. Outdoor Championships in Eugene, Oregon (51.41).
That performance in Eugene this past June secured her a national championship and a spot on Team USA for the world championships.
"We're going to represent the U.S. well," said McLaughlin in her post-race interview, referencing her newly-minted teammates Britton Wilson and Shamier Little. "We're going to try and get all three on the podium and bring home those medals."
It is rumored that McLaughlin, at the advice of her coach Bobby Kersee, will make a go at the 400 meter record after the world championships, where she expected to win gold.
Age: 22
400m hurdles PR: 51.41
---
Britton Wilson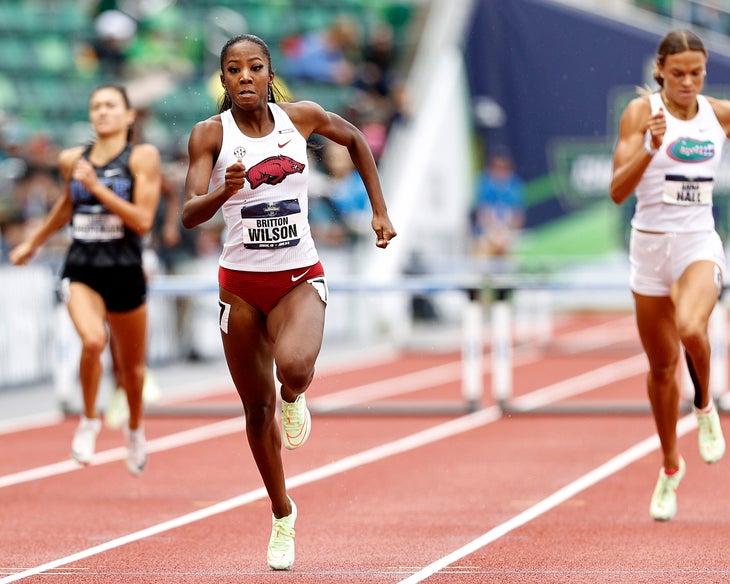 Britton Wilson is a student at the University of Arkansas with some serious wins under her belt this season, including both the 400 meters and 400 meters hurdles at SEC outdoor champs and the NCAA title, not to mention making her first worlds team. "They definitely are three different, special accomplishments. But I think Worlds is the most special out of all of them because it's just been the biggest goal I had from the beginning," she says.
Wilson trains with Shamier Little, who is a volunteer assistant for Arkansas and no new kid on the block, having made multiple global competitions at the age of 27. "We've been being very meticulous with practice, and very intentional with everything, a lot of speed work, and a lot of technique work," says Wilson. "So I think it's definitely what I needed going into it and just a lot of repetition to kind of work on muscle memory and make sure I'm prepared to do three rounds again."
Best part of training: "Just being with Shamier and the environment that it is right now. It's just us three. My coach has me just focusing on the hurdles, and it's a lot less crowded at the track. So I kind of like that. It's kind of just like us focusing on what we focus on, and we just get in and out and have the rest of the day to ourselves."
Worst part of training: "The heat. I think that getting used to the heat is going to be necessary because it'll probably be hot in Oregon, but I am not a big fan of it."
Best advice received: "I think the best advice I received would be from my coach and is honestly just to remain focused and remain intentional about everything. Because I think it's easy to get distracted or to just think like, OK well, I made the team. That was my goal. But, you know, we still got three more rounds."
Pre-race superstitions: "Whatever I have done before, when I ran well, I do the same thing at the next week. So if I was wearing a pair of earrings where I PR'd, I'll wear the same ones at my next meet."
Go-to summer jam: "'Just Like Magic' by Ariana Grande is good vibes and hypes me up."
Age: 21
400m hurdles PR: 53.08
---
Shamier Little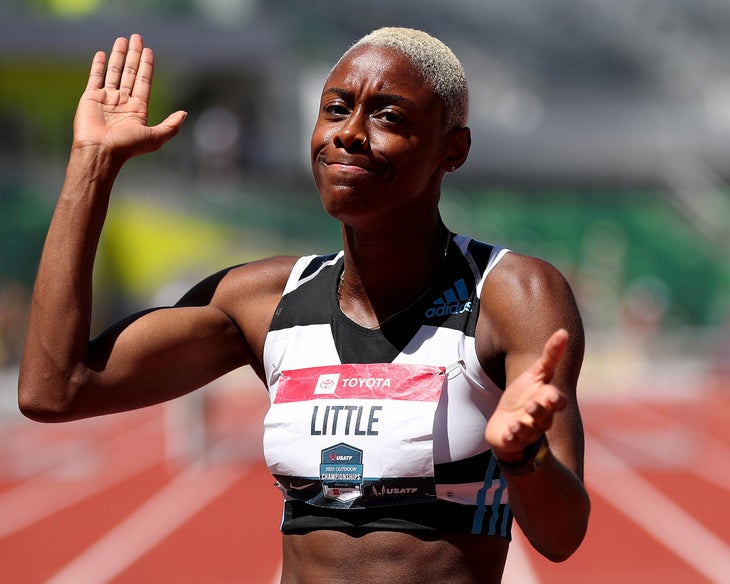 Shamier Little's third-place finish at nationals meant she made her third world team, and first since 2015: "It's obviously been a long time since I made a team. Honestly, I kind of forgot what that felt like," she says. "I'm so proud of myself for pulling that off and I always knew what I was capable of doing. And it was just a matter of just like, just having a good day and having faith in myself."
Little has been dealing with tightness in her hips, but believes the biggest thing holding her back until now has been her mentality, and credits her coach, Chris Johnson, with helping her put her work into perspective. "Don't underestimate yourself, most importantly, and just have fun with it and do what you do what you always do."
Best part of training: "The best part of training is having a training partner, [Britton Wilson]. I always tell her, thank you for keeping me on my toes…I love being pushed, and pulled and pushing somebody…. I'm kinda like a little coach, in a way, but I'm still a student of the sport. But I'm also helping her, which is helping me."
Worst part of training: "I think the worst part of training is just kind of kind of dealing with like a little nagging injury. You already have to get outside of your comfort zone in training as is, but then to do that, when you're kind of feeling your body and trying to get a feel for your body and you don't know how far you can push it."
Best advice received: "Compete to the best of your ability and let the rest handle itself. That's from coach Johnson."
Pre-race superstitions: "No superstitions, but I will eat the same thing every single day."
Go-to summer jam: "Everything and anything Kaytranada has been my summer jam. And 'Two Words' by Kanye West."
Age: 27
400m hurdles PR: 52.39
---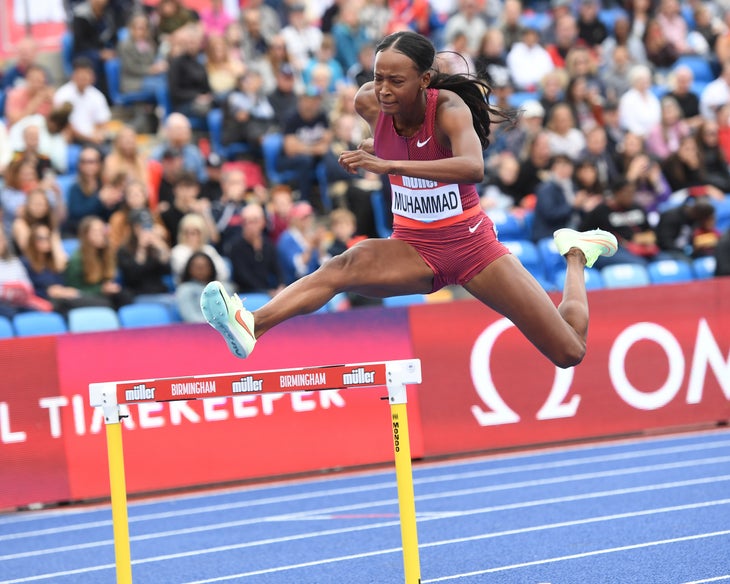 There was some uncertainty around returning champ's Dalilah Muhammad's likelihood of a worlds showing, due to a hamstring injury that took her out of the national championships. But thanks to a bye—and healing up well—she was officially announced on the roster of the 400 meter hurdles team.
The Nike athlete has medals in multiple Olympics and world championships, including four gold. She was one of the 2021 Women's Running Power Women thanks to her strong showing on the track and her leadership abilities off of it. "I no longer put my own needs over those of the generation that comes behind," she said at the time. "I'm thinking about all those things that come with wanting to push the sport forward."
Everyone's ready to watch Muhammad toe the line, thanks to her strong rivalry with McLaughlin, and also because she hasn't competed since a Diamond League win in May. But she told Reuters that she's feeling really strong. "I'm capable of running fast… I'm capable of running a PR," she said. A PR for her could very well mean a new world record.
Age: 32
400m hurdles PR: 51.58