Meet The Runner Who Raised $1 Million For Cancer Research
The "Golden Marathon Goddess" Julie Weiss eclipses $1 million in fundraising for pancreatic cancer research.
Photo: ANGELA DAVES-HALEY
Heading out the door? Read this article on the new Outside+ app available now on iOS devices for members! Download the app.
For all she has done as a marathon runner and a fundraiser, Julie Weiss deserves a gold star.
And that's exactly what she'll be receiving from the Los Angeles Marathon on March 17 as she's honored as a key contributor to the race. Weiss will receive a Golden Star—a concept modeled after the Hollywood Walk of Fame and a precursor to the race's future hall of fame—for serving as an ambassador to the race for many years and recently eclipsing $1 million in fundraising for pancreatic cancer research over the past 12 years.
"This race is just so special to me," says Weiss, 52, who grew up in Santa Monica. "When you are out there running for a charity or doing something for someone else, and it's so much bigger than yourself and it adds so much more meaning to it, you know, it makes it even that much more special."
The Golden Stars program began in 2022 with the inaugural class of 17 honorees. At the head of the initial class of Golden Stars honorees was Bill Burke and Marie Patrick, the husband-and-wife team that founded the Los Angeles Marathon in 1986 and served as its top executives until 2004. Also honored this year will be Basil Honikman, a longtime race official who served the American running community in numerous ways over the past four decades.
But few, if any, have done as much for the Los Angeles Marathon and the local running community as Weiss, says Murphy Reinschreiber, the marathon's chief operating officer.  
Following the death of her father, Maurice Weiss, to stage four pancreatic cancer in 2010, she was determined to make a difference, and running gave her a purpose. Then a single, working mother of two, she took on the massive challenge to run 52 marathons in 52 weeks to raise money for research and awareness about the disease through her Marathon Goddess website.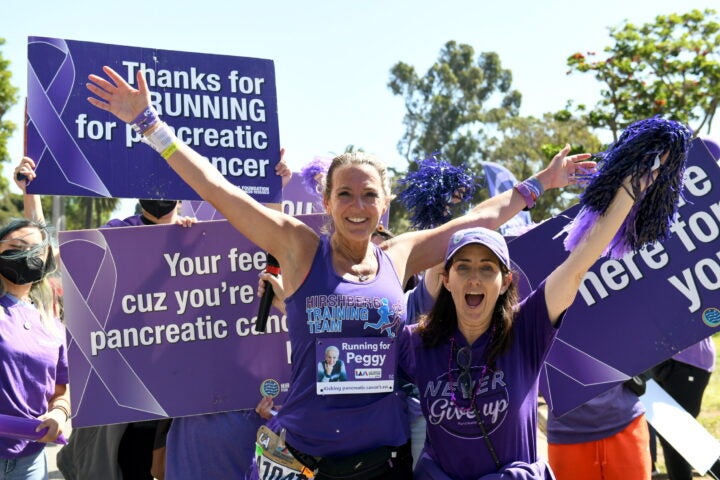 Weiss completed her 52-week marathon quest 10 years ago when she finished the 2013 Los Angeles Marathon. She wrote a book about her experience called "52 Marathons: The Miles and Trials of a Marathon Goddess" and was featured in "The Spirit of the Marathon II" documentary film.
Now a grandmother of two (and married to LA Road Runners head coach David Levine), Weiss is running this weekend's Los Angeles Marathon once again—her 14th time in the past 15 years— to mark the 10th anniversary of that quest in what will be her 116th marathon among approximately 1,000 races to date.
Throughout the years, Weiss has received support and donations from many corporate sponsors and running organizations, including Big 5 Sporting Goods, the Malibu Half Marathon, Kauai Marathon, Kona Marathon and Elite Robotic Surgical Consultants. But the vast majority of her fundraising has come from individuals and families that have been impacted by the disease and those she has inspired through her running.
Each year, Weiss trains and fundraises with the Hirshberg Training Team, a running program to train runners and walkers for the Los Angeles Marathon. 
"It's really cool because sometimes I would think, 'maybe it's never gonna happen, but just keep going and eventually it will,'" Weiss says. "I never gave up. So here we are, and I'm just going to keep raising money. Obviously, we want the survival rate to be higher. When my dad died, it was a 5 percent survival rate after five years. Now it is 12 percent, which is more than doubled. We still need a cure. I am super grateful for getting this far, but I'm not stopping now just because I got to the million."
Growing up in Santa Monica, Weiss experienced some wayward years as a teen. She drank a lot, dropped out of high school and wound up a mother in her teens. Years later, out of shape and depressed, she discovered running as her salvation. She says running gave her the answers she was seeking and helped her get on a better path in life. 
Her father had suggested she join the LA Road Runners to train for the Los Angeles Marathon in 2008—her third attempt at the 26.2-mile distance—and she eventually became a leader of one of the club's pace groups. When her father died suddenly two years later, she decided to turn her new pursuit into a purpose and, in his memory, embarked on her marathon challenge to raise money to find a cure for pancreatic cancer. 
"I know 100 percent he is still with me on this journey," Weiss says. "And in some ways, it's just better that it took 10 years because of all of the people and all of the relationships that I've created and the people I've met and ran for over the years. If I had raised the money all in the first year, it still would've been good, but this is just kind of a testament to never giving up no matter how long it takes." 
Pancreatic cancer is the third-leading cause of cancer-related deaths in the U.S., but the lowest funded for research. The American Cancer Society estimates that 64,000 people will be diagnosed with pancreatic cancer this year and 50,000 will die from the disease. 
Knowing a cure hasn't been found is all the motivation Weiss needs to keep running and raising money. Weiss is nearing completion of a new fundraising quest of finishing 12 races in 12 months. The LA Big 5K on March 18 will be her 11th race and the Los Angeles Marathon will be her 12th.
She will be celebrated along the marathon course by pancreatic cancer survivors and supporters, especially at the Hirshberg Foundation's Purple People Party Cheer Station near Mile 21.
"Julie set out to achieve a lofty goal, at the grassroots level, and never wavered in her commitment to see it through," said Lisa Manheim, executive director of the Hirshberg Foundation. "In addition to being our partner in helping spotlight pancreatic cancer, the awareness and money she raised has helped fund much-needed research bringing us one step closer to finding a cure."