Krissy Gear Jumps Into Her Rookie Year
In a huge upset, the Northern Arizona Elite steeplechaser won the 2023 U.S. national title. Up next? The World Championships.
Heading out the door? Read this article on the new Outside+ app available now on iOS devices for members! Download the app.
About five months ago, Krissy Gear had an idea she wanted to float to Jenna Wrieden, coach of her team, Northern Arizona Elite. She stopped by the office, tapped on the door, and simply asked, "What if I tried the steeplechase?"
Gear, 24, had been recruited to the team in the summer of 2022 from the University of Arkansas, where she was the 2021 Southeast Conference indoor mile champion and a member of the NCAA championship distance medley relay. She arrived in September at her new home in Flagstaff, Arizona, with a specific goal: to become one of the best 1500-meter runners in the country. 
And while that dream is still very much alive, as she settled into her post-collegiate career, Gear had a lingering curiosity about the 3,000-meter steeplechase—a grueling race with 28 fixed barriers and seven water jumps—and whether she could have an impact in the event she had seen some promise in during college. 
RELATED: 10 Stunning Performances from the U.S. Track and Field Championships
In 2018, Gear was a U.S. junior champion in the steeplechase and later finished 10th at the  World U-20 Championships in Finland. After winning  the 2021 Southeastern Conference title in the event in college, she finished eighth in her preliminary heat at the U.S. Olympic Trials.
"We were going to fully support her in the 1500, but in the back of my mind, I was kind of like, 'I hope one day she wants to do the steeple,'" Wrieden says. "It was on her own accord that she brought it up, and I thought it was really mature of her to see that and want to attack that event, even if it wasn't her favorite."
After winning the Boston Athletic Association Invitational Mile in April, Gear decided to race the steeple in May at the On Track Festival near Los Angeles, to test it out. She won in 9:23.55, employing the kick of a fine-tuned 1500-meter specialist to beat Courtney Wayment, who was runner-up in the event at the 2022 U.S. championships shortly after she had won the NCAA title in her final race for Brigham Young University.
"After that, we were like, 'OK, we're in. We're doing it,'" Wrieden says.
So when Gear raced the preliminary round of the 3,000-meter steeplechase in early July, at the USA Track & Field Outdoor Championships in Eugene, Oregon, it was only her second attempt at the event as a pro. She glided into the final by placing second in her heat. On July 8, she lined up without having achieved the World Championships qualifying time (9:23), though most assumed the race would be fast enough that the top three finishers would clear that standard to make Team USA, competing this month in Budapest. With Courtney Frerichs, the American record holder (8:57.77) and silver medalist at the Tokyo Olympics, out of the competition after falling in the prelim, those coveted podium positions seemed up for grabs.
Still, Gear was up against Wayment once again, as well as Emma Coburn, 2016 Olympic bronze medalist and 2017 world champion, who has dominated the U.S. steeplechase for a decade, and was looking for her 11th-straight national title. Going into the final lap, Coburn was in her usual position out front with Wayment giving chase. But with 200 meters to go, Gear passed Wayment, creeping up on Coburn's shoulder. Clearing the last barrier side-by-side, Gear found that ferocious kick once again, pulling away from Coburn in the homestretch and winning her first national title in 9:12.81.
"I don't know if I've fully wrapped my head around it," Gear says, almost a month after the race. "The little fangirl in you wants to see Emma win again. I can still be a fangirl, but also I'm a competitor now and I'm trying to balance both. Who doesn't want to see Emma win, though? She gives so many of us hope."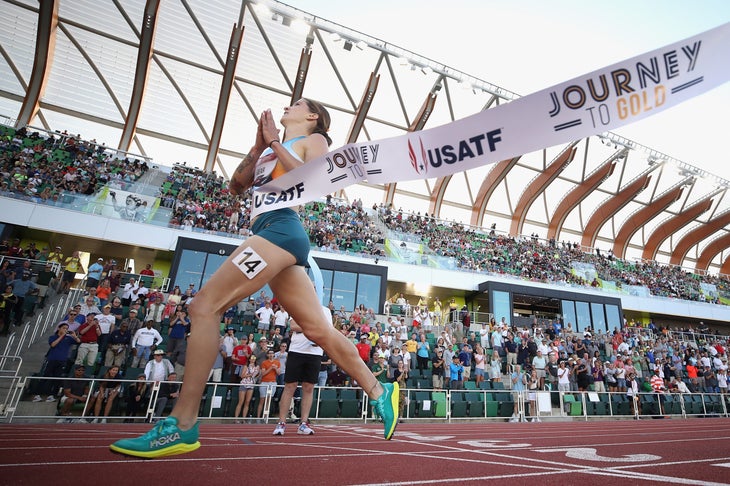 Gear has imagined what it might feel like to win a U.S. title, but she never envisioned it happening less than a year into her career, she says. To make her first World Championships team now means she will have to adjust her objectives going forward.
"I think I have to reframe what I think I'm capable of," she says. "I don't want to peak as a first year pro. I want my peak years to be like eight years down the road. I still feel very, very young mentally and physically."
RELATED: How to Watch the 2023 World Athletics Championships, Plus Meet Team USA
When Gear arrived in Flagstaff almost a year ago, she had just taken about 10 weeks off from training. She dove into a new program at 7,000 feet above sea level, among a group of athletes who are veterans of the sport, many with big accolades on their résumés. From the outside, though, Gear's transition to pro running has appeared flawless. She's run personal bests in the 800 meters (2:02.95), the mile (4:26.52), and, of course, the steeplechase, in which she's dropped 26 seconds from the 9:38.62 she ran in 2021. But Gear is quick to say that her rookie year hasn't been without some of the typical bumps.
"Everything was kind of big and daunting at first—I'm on the team with all these amazing individuals and I feel like the first instinct people might have is to panic and be like, I don't belong here," Gear says. "But I had a lot of really good advice on the team. You know, from the older ladies, who are very wise."
Those elders include Aliphine Tuliamuk, a 2021 Olympic marathoner; Stephanie Bruce, sixth at the 2020 U.S. Olympic Marathon Trials, who has placed in the top 10 at four World Marathon Majors; and Kellyn Taylor, a 2:24 marathoner who recently won the U.S. 7-mile road championships seven months after giving birth to her daughter Keagan. Gear has also relied on her training partners Abby Nichols and Katie Wasserman for a lot of encouragement this season, she says.
As her training has shifted to more emphasis on endurance and strength, she wasn't sure, at first, if she could handle what appeared on her schedule. Training at altitude means that athletes rely more on effort than specific paces, which doesn't always provide that immediate, tangible feedback they crave. While competing for Arkansas, Gear's weekly mileage hovered in the 50 to 55 range. Now she runs about 65 miles per week, with more threshold workouts than she's done in the past.
"Mentally, it's a little more challenging for me because it's not fast and fun and exciting," Gear says. "It's a different beast, you know?"
Aside from volume and intensity, her strength-training routine has also shifted. She enjoyed more dynamic power lifting work in Arkansas, but has switched to stability and core work this year, she says. Still, her hurdling ability has come naturally, her coach says. They haven't had to dwell too much on that aspect of preparation, which is a testament to Gear's athleticism. She also gives credit to Colleen Quigley, a 2016 Olympic steeplechaser who trains in Flagstaff and invited Gear to practice steeple jumps with her, giving tips and pointers along the way.
Where Gear really excels, Wrieden says, is her ability to communicate with her coaches. She isn't shy about telling Wrieden how she's feeling.
"Sometimes she'll say, 'Hey, I'm really frustrated right now,' and a lot of athletes won't do that. They'll keep it to themselves," Wrieden says. "I  just really respect her opinion on how her body and her mind are doing. I can take that input and adjust things on the fly. I think she's just beginning to trust me more as a coach and someone who can invest in her and in her training."
The sudden attention after the U.S. championships has been a lot for a self-described introvert to handle, Gear says. She's more comfortable playing cards with friends at a brewery, or walking her dog, or building things with Legos than appearing on podcasts or doing media interviews. Nonetheless, the performance has opened up opportunities, too, including the chance to compete in her first Diamond League meet on July 23 in London, which she was hesitant to do, she says. But her agent, Isaya Okwiya, and her coach encouraged her to race in order to gain more international experience against some of the women she'll face in Budapest. She ended up in sixth place (9:25.49) in an event that included world record holder Beatrice Chepkoech (8:44.32) and Jackline Chepkoech, the 2021 world U20 champion. Jackline won in 8:57.35 while Beatrice was second in 9:04.34. Wayment was fourth in 9:17.21.
"You don't turn down a Diamond League," Gear says. "I ended up racing a little more than I would've liked to between USAs and Budapest, but it's good to get that experience and practice in so Budapest isn't such a shock to the system."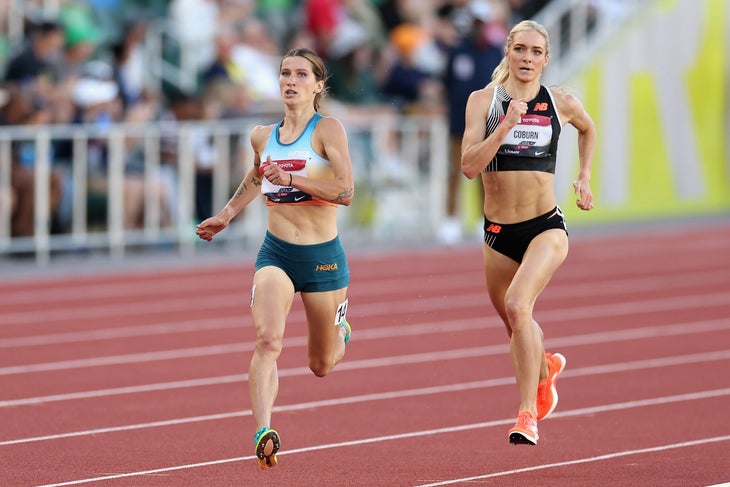 Outside of training and racing, Gear also enjoys volunteering. She's dedicated some of her time to helping at blood drives and she's also gone through training to work as a court-appointed special advocate. In that role she'll be assigned to cases in which she'll work with children in the foster care system, writing up court reports to advocate for what the kids need and want, whether it's reunifying with biological families or finding permanent placement in the adoption system. It's a role that is close to Gear's heart, she says. As a child she went through her parents' legal battle before her father was able to assume full custody.
"I wish that I had had someone to advocate for me or be a voice for me when I was little, so I'd love to give that to a kid," she says. "I hope I make a positive impact in someone's life."
As she made her way around Hayward Field during her U.S. championships victory lap, she stopped for every young person in the stands who wanted her autograph. Then she asked each one to sign her leg, so that they knew they were each special to her, too. That gesture is something that Wrieden says is so typical of Gear.
"Krissy is pretty special and that example is a testament to who she is," Wrieden says.
When she gets to Budapest, her first order of business is to advance to the final. Her preliminary round is 1:45 p.m.. Eastern time on August 23. Gear says she wants to put in a performance that honors all her fellow U.S. steeplechasers who could have qualified for the team, if not for injuries or other circumstances that befell them.
"I'm not going to just take this spot and say that just making this team is not enough for me—maybe in the past it would've been," she says. "It kind of makes me laugh, because I feel like I've been limiting myself so much. If you told me at the beginning of the year that I'd run 9:12? It's made me realize that I am capable of a lot more than I ever thought."