Coach Sarah Haveman Wants to Build Happy, Healthy Runners
The head coach of men's and women's cross-country teams at the University of Illinois encourages her athletes to strive for hard goals, regardless of the outcome.
Heading out the door? Read this article on the new Outside+ app available now on iOS devices for members! Download the app.
Sarah Haveman believes in big goals. As a student athlete at Purdue University, she reached the finals at the 2010 NCAA Division I Outdoor Track & Field Championships in the 3,000 meter steeplechase. As a coach at the University of Dayton and the University of Illinois, she's guided teams and individuals to plenty of podiums and victories.
But as she tells her athletes, having big dreams changes you whether or not you reach them—provided you put your energy and emotion into your efforts.
"We talk about being a process gladiator," she says. "Your self-worth and identity doesn't change whether you qualify for Boston, or beat your 5K time, or even run that 5K without stopping. It's who you're becoming as you pursue this new goal—you're elevating yourself."
An Early Calling
From a young age, Haveman seemed destined to become a leader and educator. As a kid in Orland Park, Illinois, she lined her stuffed animals up for classes. Running also came early, at field day in elementary school.
Cross-country was the "cool sport"—intense and competitive, but also fun—at Jerling Junior High School and Sanburg High School. So when Haveman (then Sarah Klaczynski) didn't make the dance team, she channeled her efforts there. She went on to run at Purdue.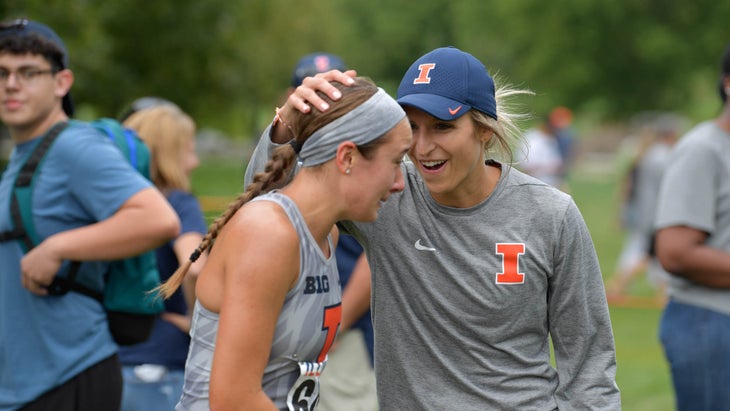 There, she majored in elementary education, and started teaching first grade after graduation. But soon, a conversation with her former coaches persuaded her to try guiding college athletes instead. She worked as an assistant coach at Purdue for two years, while her husband, Brandon, played professional baseball.
A change in program leadership had her pondering other options. She'd never heard of the University of Dayton, but trusted mentors in the field who convinced her to inquire there. "I went and interviewed and fell in love," she says. "The people there were just amazing; phenomenal leadership and great student athletes. It's such a connected university."
She stayed there five years, the last two as director of track & field and cross-country. She'd hired her dream staff and led the Flyers to podium finishes in both cross-country and track; she and Brandon, who'd finished his baseball career, bought a house and had a baby. In many ways, she was on track to become what she calls a Dayton lifer: "It's such a great place that you get there and you don't leave."
An Unexpected Move
Then—as often happens in collegiate coaching—she got an unexpected phone call. Mike Turk from the University of Illinois had been tracking her career since her Purdue days. The Illini were combining their men's and women's programs, and he wanted her to come coach women's distance running.
She was flattered, but unmoved. Besides her pride in what she'd built, after being the boss, she wasn't sure she wanted to work for someone else again. "I have so many non-negotiables on how I feel kids should be treated and how you need to build happy, healthy runners," she says.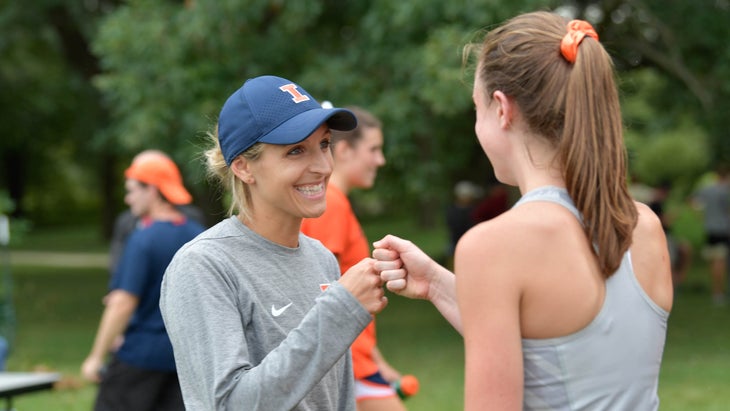 What tipped the balance was Turk's commitment to similar ideals, at a Division I school in the prestigious Big Ten Conference. "My biggest lure was that I want to be successful at the highest level of the sport doing things the right way," she says.
The chance to return to her home state—two hours from her parents—was a plus, too. So in 2016, she joined the Fighting Illini as an assistant coach. Two years later, in 2018, she was promoted to lead the men's and women's cross-country programs, a first for the university.
Winning in All Ways
The year before she arrived, the women's cross-country team placed 24th in the NCAA Midwest Regionals; Haveman guided them to a fourth-place finish her first season. This past year, they won the title and headed to the NCAA Championships. Four of her women, and one of the men, earned all-region honors.
Haveman relishes the victories, but also appreciates the camaraderie of the Big Ten. She has a group text with some of her fellow female coaches in the conference, and during the pandemic, they've held regular Zoom wine nights. "Don't get me wrong—we're all intensely competitive," she says. "We're all trying to beat each other, but there's enough success for everybody."
But what she treasures most about her role is the success of her former athletes. "Being 10 years into it, I now have large groups of people that are in their professional careers and are moms and just crushing it," she says. "I'll still get a random text—'I got a raise today because I did this, just like you talked about.' My biggest rewards come years after their graduation, seeing how much they've grown."
---
This story is part of a series on women in coaching, where we highlight female running coaches and their individual paths to success. Find more here, and discover tips from these women to improve your own running here. Feeling inspired? Check out our in-depth look at how to become a college running coach with advice from the coaches featured in this series.