NC State's Laurie Henes is a Talented Runner Turned Talented Coach
The women's track and field head coach at North Carolina State has built a thriving, supportive community.
Heading out the door? Read this article on the new Outside+ app available now on iOS devices for members! Download the app.
When it came time for Laurie Henes—a six-time state track and cross-country champion at Boardman High School in Youngstown, Ohio—to pick a college, it's safe to say she had options.
One thing she sought was a stable situation, with less risk of a coaching change. Coach Rollie Geiger at NC State had been there since 1979, and didn't seem like he was going anywhere. On her recruiting visit, she was won over by the family-type atmosphere.
Not only did Geiger guide Henes all four years of her collegiate career, he's still there as the director of track and field and head men's coach more than three decades later. And Henes hasn't moved a mile either—she stayed on as a graduate assistant coach, then rose through the ranks to her current position as women's track and field head coach.
Henes guided multiple teams to athletic accomplishments and helped build a tight-knit network of Wolfpack alumni who cheer each other on and are always willing to come back and lend a hand to a current athlete.
"The thing I'm the most proud of is the way that this team takes care of each other really well … but it's not just who's here at the current time," she says. When Henes turned 50 during quarantine, for instance, team members from as far back as 2001 held a parade outside her house in Raleigh. "They're all still really connected."
Right Place, Right Time
Like many other talented runners, Henes grew up a multisport athlete. At Boardman, coach Denise Gorski guided her to state records, prestigious events like the Millrose Games, and even a weeklong camp at the Olympic Training Center in Colorado Springs.
The two become close—later on, Gorski would be the matron of honor at Henes' wedding. Still, Henes didn't necessarily see coaching in her future; she thought she'd go to law school after college.
At NC State, Henes was an eight-time All-American; her senior year, she won the Atlantic Coast Conference cross country title, placed fourth at the NCAA Cross Country Championships, and competed in the NCAA Outdoor Track Championships in the 5,000 meters.
After graduation, Henes took courses for a master's degree in sports administration while running for Adidas. She competed at the World Championships in Sweden; placed fifth at the 1996 U.S. Olympic Trials in the 10,000 meters; and clocked personal-bests of 15:31.4 in the 5,000 meters and 32:05.20 in the 10,000 meters.
At the same time, she was working as a graduate assistant coach, handling duties like driving vans and booking hotel reservations. At first, she still didn't intend to make a career of it. But in the early 1990s, NC State was beginning Title IX-related expansions of its women's sports program.
Just as she was done running professionally, more paid coaching slots were added to Geiger's staff, and she accepted one. "I was just kind of in the right place at the right time to do that," she says. Once she started to get more involved with planning workouts and guiding athletes, she was hooked. "I started to realize, you get more nervous watching other people than when you're racing your own race. And to get more involved in that—it was something I wanted to do."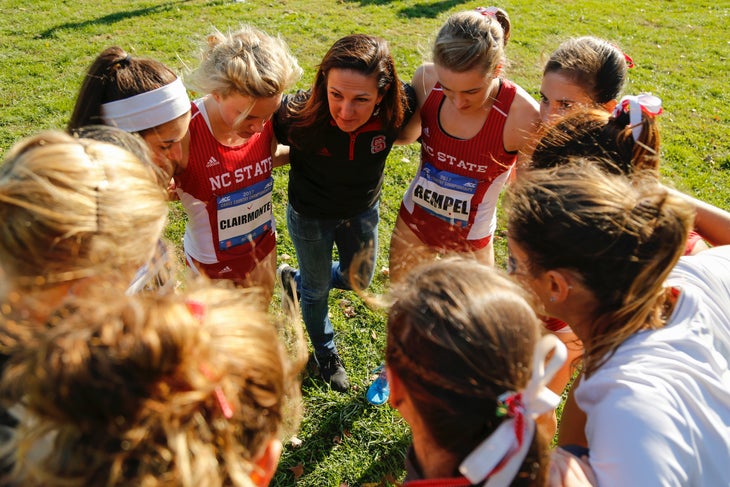 Family Matters
That she's been able to pursue her coaching ambitions at one school for so long isn't typical, especially at the top levels of the NCAA. Henes is grateful—she never had to uproot her family for a new job. Her husband Bob, who also ran for NC State, understands the travel, long hours, and mindset necessary to pursue excellence in the sport.
Not that it's always been easy. There were years she missed her kids' birthdays while traveling to meets, or when calls from daycare disrupted practice. At times, she doubted whether she could be both a coach and a mom, feeling she was struggling at both of them.
She got through it by asking for help when she needed it, and staying present and mindful, wherever she was. "When you're all in at NCAAs or ACCs, you've got to be all in at those places," she says. "And when you're at practice, try to really focus on the practice and not get distracted by outside things. Get it over with earlier, get home earlier, and then really present there."
In retrospect, she realizes the upsides. Her daughters have close relationships with both Bob and their grandparents, who would often attend meets to tend to them while Henes focused on coaching. "Their babysitters and the people that hung around with were these highly motivated female athletes," Henes says. "One of them loves running and one of them hates it, but the people, they like."
The running daughter, Elly, has a birthday the same weekend of the Nuttycombe Wisconsin Invitational meet in October. So her mom always missed it—until Elly joined the NC State team in 2016, and the two began traveling to Madison together. Running has brought them full circle in more ways than one; last year, Elly won the ACC Cross Country Championships, 28 years after her mom and coach did.
Enduring Connections
Of course, Elly isn't the only runner to see success under Henes' guidance. In her 28 years at NC State—including the last two as head coach of the women's program—she's guided runners to 37 All-America designations and 30 ACC titles on the track.
Her former athletes compete for a wide range of professional groups, including the HOKA New Jersey New York Track Club, the B.A.A. High Performance Team, the Bowerman Track Club, and ZAP Fitness.
While she's proud of their athletic successes, reflecting on her accomplishments brings her back to the strength of the community. "The idea that people feel that when they put the uniform on—sure, their individual goals are huge, but this means more, it's bigger than just me," she says. "That all of these people who have run for NC State for so long feel connected to the program is probably the thing I'm most proud of."
---
This story is part of a series on women in coaching, where we highlight female running coaches and their individual paths to success. Find more here, and discover tips from these women to improve your own running here. Feeling inspired? Check out our in-depth look at how to become a college running coach with advice from the coaches featured in this series.