Christina Haswood is Running for Health…and for Office
Running unopposed in November, Christina Haswood will become the third Native American to serve in the Kansas state House of Representatives.
Photo: Courtesy of Christina Haswood
Heading out the door? Read this article on the new Outside+ app available now on iOS devices for members! Download the app.
Christina Haswood took to running in search of better health after college and to ease her mind during stressful times. But these days, she's running to win her district seat in the Kansas state House of Representatives.
At 26, Haswood, a Democrat, is currently unopposed on the November ballot, expected to become one of the youngest lawmakers in the state legislature. As a member of the Navajo Nation, she will also become just the third Native American to serve there.
"I was always interested in politics, but I thought it would come later in life," said Haswood, a public health researcher with an interest in the high rate of COVID-19 and other health issues in Native communities. "I'm extremely honored that my community believes in me."
In August, Haswood, who grew up and lives in Lawrence, Kansas, defeated two other candidates in her district's Democratic primary, winning 70 percent of the vote. She remains in campaign mode while juggling a job in COVID-19 response at a local university.
Now in the public eye, she hopes to inspire other Native women and young people to embrace running, which has a rich history in Native cultures.
"You don't have to be a certain size to be a runner," she said. "We come in all shapes, sizes and colors."
'Running is our medicine'
Returning home to Kansas in 2018 after graduating from Arizona State University with a degree in public health, Haswood had gained weight and wasn't feeling good about herself.
"I wasn't confident with my body," said Haswood, who came home to get a master's degree in public health management at the University of Kansas Medical Center. "I had so many failed attempts with exercise. I wanted to make my health a priority."
So she turned to her greatest inspiration: her mother, Marietta Haswood, who raised two children while putting herself through college and took up running as an adult to stay fit.
"I come from a family of runners, and I've always told Christina our family running stories and encouraged her to run—any distance," Marietta Haswood said. "Running is our medicine and keeps us close as a family."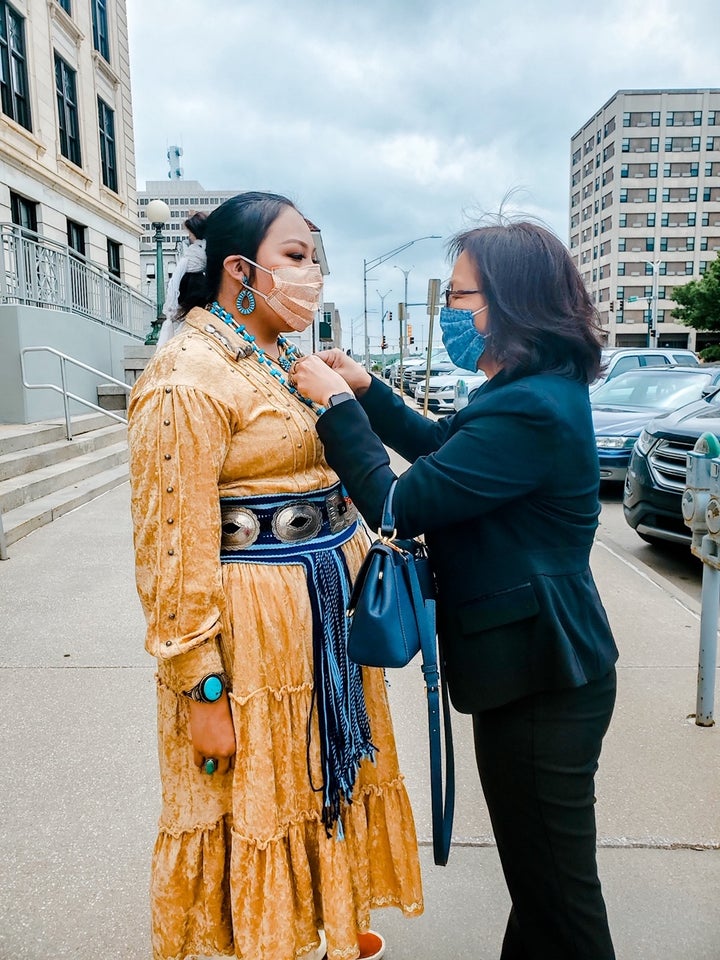 In the Navajo culture, running east as the sun rises is a way to pray and give thanks to the Creator.
"When sun peeks out on the horizon and meets the land, that's a very special moment," Christina said.
With her mother at her side, Christina began running again. Sometimes they would work out at a local track, where Marietta would urge her daughter to keep her walking breaks brief. As the pair grew stronger and faster, Marietta marveled at her daughter's transformation.
"I loved how she got to fully enjoy running," Marietta said. "Pretty soon she wanted to run further and further."
Last year, they decided to train for their first half marathon, a race Christina wouldn't have attempted without her mom.
"When we would go on long runs, she would encourage me, and I would encourage her," Christina said.
At the Kansas Half Marathon last November, Marietta pulled away around mile eight. Finishing a few minutes ahead of her daughter, Marietta welcomed Christina at the finish line.
"It's definitely a race I will never forget," Marietta said. "It was special because I did it with my baby girl. "
'Representation matters so much.'
Just as it took time to see herself as a distance runner, Christina didn't immediately believe in herself as a political leader.
She had volunteered at local Democratic events, but when party leaders approached her about running to replace Rep. Eileen Horn, who decided not to seek re-election, she had doubts.
"It was daunting," she said. "I will admit I had imposter syndrome — being young and not feeling qualified."
But she knew Native communities needed more representation in government. When she started attending public meetings as a graduate student, she was struck by the lack of diversity.
"I was normally the youngest person, the only person of color, the only Native American," she said.
Presented with an opportunity to run for office and with her family behind her, Haswood began to recognize her abilities.
"Representation matters so much," she said. "Native women in politics have inspired me to be on this journey."
Rep. Ponka-We Victors, currently the only Native American in the Kansas legislature, has been one of Christina's mentors. Christina is such a diligent worker, Victors said, that she has to remind her to slow down.
"I always tell her to remember to take care of herself and to take time out for her," she said. "Self-care is important when you are being pulled a thousand directions."
Just as Marietta Haswood supported her daughter in half marathon training, she has stepped up to help with her campaign by putting up yard signs and phone banking.
"She has taught me a great deal about patience and kindness that has followed me throughout my life," said Christina, adding that both her parents, who struggled financially when she was growing up, have taught her resiliency.
With that determination, she continues to build momentum for November's election—she stars in hugely popular TikTok videos to voice support for reproductive rights, police reform and Medicaid access—and squeezes in workouts when she can and when a nagging foot injury allows.
Those early-morning runs to greet the sun remain important to the candidate.
"I take in that moment and give gratitude," she said.