Aliphine Tuliamuk: What My Dreams Look Like Now
It's not just Olympic dreams that are being put on hold for the 2020 U.S. Olympic Marathon Trials winner. In this Women's Running exclusive, Tuliamuk opens up for the first time about the full impact this global pandemic has had on her life.
Heading out the door? Read this article on the new Outside+ app available now on iOS devices for members! Download the app.
It was just a few weeks ago that I made the U.S. Olympic team and my life changed forever. In the rolling hills of downtown Atlanta, I joined over 500 women who represented our nation's top marathoners to compete in the U.S. Olympic Marathon Trials. The top three finishers would automatically qualify for the 2020 Tokyo Olympics. Although very few people considered me a top contender, I won the race. It was a humbling moment because representing the United States at the Olympics is something I've worked hard to achieve these past four years, and something I've dreamed about for a lot longer.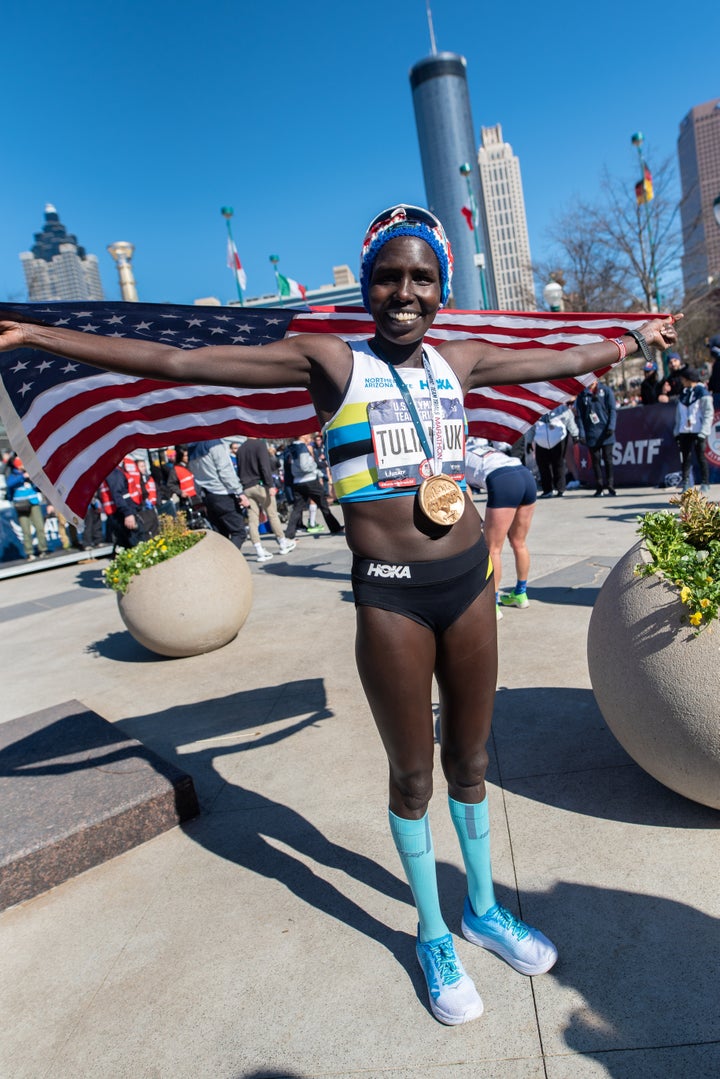 I was born in Posoy, a small rural village in the highlands of West Pokot County, Kenya; a beautiful evergreen place with rich culture, food, and the friendliest neighbors. My hometown faced a lot of economic challenges that limited access to opportunities. I wanted more for my life. Not only did I want to pursue my goals as a runner, but I wanted to pursue a college education. So, I came to the United States by myself over 10 years ago, and became a citizen in 2016.
Winning the Olympic Marathon Trials was the crowning moment of my journey so far. But so much has happened since then. When it was announced last week that the Olympics were officially postponed, so many people were sending me messages asking how I felt about it. The truth was, I needed some time to process everything; I needed some time to know how I felt.
The spread of COVID-19 has put a pause on the whole world. Hundreds of thousands of lives and families have been significantly impacted by the spread of this virus. And while I'm grateful that thus far, my immediate family, friends, and I are healthy and safe, the consequences of COVID-19 have definitely impacted my plans—both for my career and my life—and that has been difficult to come to terms with.
First there were the immediate things that I had been looking so forward to. My partner Tim Gannon and I were scheduled to visit to Kenya in April. It would have been my first time seeing my family in over three years, and Tim's first visit to Kenya. I know many around the world are beginning to feel isolated and far from their family and loved ones due to travel restrictions and social distancing orders to help contain the spread of the virus, but I can hardly describe how hard it is to be so far from home for so long. Not weeks or months, but years. Not getting this opportunity to see my family after my Olympic dream came true is crushing.
And then, there were the not-so-immediate plans that have been changed. Tim and I had planned to start a family at the end of this year. Now, with the Olympics rescheduled for July 2021, I have had to make a choice between having a child—and go into the Olympics in less than peak fitness—or wait another one and a half years, which feels like eternity. This is a very personal decision, but as a professional athlete it's one that also impacts a lot of people around me. I'm blessed to have a sponsor in Hoka One One who will stand by me no matter what; I know other athletes who are not as fortunate. But the chance to compete in the Olympics is rare, and I wouldn't want to go into it with any regrets. So Tim and I have made the difficult decision to put off starting a family—a dream of ours—for the time being, so that I can give the Olympics my best possible shot and compete for a medal for my country, and represent my sponsors, teammates, fans, and myself to the best of my ability.
I realize many people around the world are going through far more difficult decisions and circumstances. I think about all the women who were also thinking about starting a family but haven't yet qualified for the Olympics, or even the Olympic Trials. I'm sure many of them are also putting off starting a family for another year and a half—just for the hope of becoming an Olympian. I also think about the millions of women across the country and the world who face these difficult choices at critical moments in their careers.
And that's just the athletes. Tim works as a physician's assistant and although his clinic in Santa Fe has not yet seen any cases of COVID-19, as cases multiply I know he could be treating a COVID-19 patient any day now. Each day he comes home after work and I ask how his day was, I feel a big relief when he says he didn't treated a patient with the virus. My heart goes out to all the nurses and doctors on the front lines, because I know from living with Tim what their service mean. And of course it is the patients of COVID-19 and their families who are the true victims of this catastrophe.
I'm just like everyone else who is grappling with what this virus means in our changing world. It's scary not knowing what the future holds, and it can be hard to get excited or hopeful in these uncertain times. As an athlete, my goal next summer is to bring home a medal for our country. But I think what I really want is for the world to heal so that all of us can pursue, and hopefully achieve, any of our individual and collective goals in life. That hope, that new dream, is what will keep me running.