Addie Bracy's Journey To CCC
The American mountain runner returns to international racing with stoke and strategy to spare.
Heading out the door? Read this article on the new Outside+ app available now on iOS devices for members! Download the app.
Few races command the respect and admiration as the CCC (Courmayeur-Champex-Chamonix). This iconic event, a cornerstone of the prestigious Ultra-Trail du Mont-Blanc (UTMB) series, presents a formidable challenge that draws athletes from around the globe. Among those gearing up for the adventure is the top-ranked American and Nike Trail athlete Addie Bracy, a seasoned trail runner whose first appearance at CCC promises to be a significant milestone in her career.
The CCC has evolved from being UTMB's "little sister" to becoming a highly prestigious race globally. The starting point is Courmayeur, Italy, with the initial kilometers leading to a 2500m altitude climb, with views of Mont-Blanc and Grandes Jorasses. Runners move into Switzerland via La Fouly, Champex, and Trient. Runners continue into France, trekking through Vallorcine, Vallons des Cheserys, crescendoing in Chamonix. CCC essentially spans the final 60 miles of the UTMB course, offering runners a practical preview for those harboring UTMB aspirations. 
RELATED: Ruth Croft Opens Up on Her Build Towards UTMB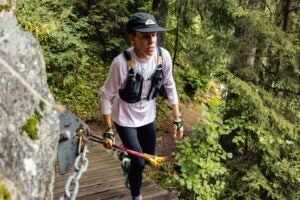 Addie Bracy's Return To International Racing
Bracy's journey to CCC is punctuated by dedication and a relentless pursuit of improvement. Her training leading up to the race reflects her commitment to tackling the unique demands of the course. 
"I've been doing more vert than I ever have, and it's feeling pretty good," said Bracy. "I'm looking forward to seeing how that translates."
This deliberate focus on elevation training showcases her determination to navigate the steep climbs and descents that define the CCC experience.
For Bracy, CCC marks a return to international racing after the Long Trail World Mountain and Trail Running Championships in Chiang Mai, Thailand, last year, and she's excited about the opportunity. 
"I haven't raced internationally a ton in the last few years. I used to more—like mountain running champs—but this will kind of be my first big ultra abroad," said Bracy.
Bracy explained the choice of CCC for her first European race. "I've always wanted to get out for it. But there are a couple of reasons. The 100k is probably my best distance. With CCC being the most competitive, probably, I just have been wanting to get out there. And then I would love to do UTMB at some point in my future, so I feel like this would be a natural step to get out and see things before I even think about that."
Bracy's strategic approach to her racing journey is evident, as she leverages CCC as a stepping stone toward her aspirations, including participating in the renowned UTMB.
As she prepares for the event, Bracy acknowledges the need for a thoughtful strategy, particularly given the depth of the competition. 
"I need to do a little more research as I get closer in terms of a specific kind of strategy. I've raced enough of the World Champs with a lot of deep fields to know you can't be too conservative at the beginning of these things because everything is just so deep," Bracy explained. "But I want to ride that line of being smart earlier. I used to just race really hard from the beginning. And when it went well, it went well. And when it didn't, it went terribly." 
Finding the balance between a cautious start and capitalizing on opportunities is a challenge experienced athletes like Bracy understand well.
"I'm trying to find a balance of being smart early but also knowing with these races, you can't sit back too much," said Bracy. "You kind of lose touch. So what that's going to look like specifically, I'm not too sure, but I'm excited to see." 
RELATED: Jeff Colt is Having Fun – And Running Fast
Bracy's approach to the CCC course is anchored in her strengths. "I love climbing. That's just what I feel like I'm best at and enjoy the most anyway," she shares. While she revels in the ascents, she also acknowledges the need for prudence on the descents, a common sentiment among trail runners. 
"What I've heard from talking to previous folks is being smarter on the downhills. You can blow your quads out, but from what I hear, it's relatively runnable downhill," said Bracy. "I think if anything, it's probably going to be about not destroying your legs early on some of the descents."
Ultimately, Bracy's debut at CCC is fueled by an eagerness to immerse herself in the event's unique atmosphere. 
"I'm just excited to get over there and experience the craziness and chaos. It seems like we have a pretty good U.S. contingent in all the races—so that'll be fun," she said. The appeal of CCC's global community, stunning views, and the difficulty of the course come together to make an exciting experience that Bracy and her fellow runners are really looking forward to.
The CCC kicks off September 1 at 9:00 A.M. local time. You can follow the event's live coverage here.