Patricia Fujii, Age 84, Is Your New Favorite Olympian
Kiss your excuses good-bye.
Heading out the door? Read this article on the new Outside+ app available now on iOS devices for members! Download the app.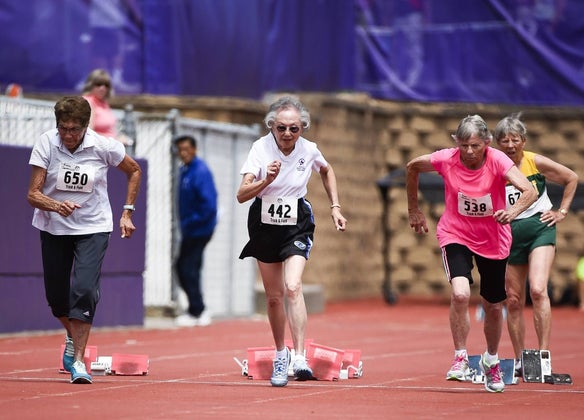 Starting Friday, all eyes will be on the athletes in Rio as the best in the world display incredible feats of speed and strength. Patricia Fujii may not be traveling to Brazil, but this 84-year-old hero (center) is an Olympian in her own right.
If you ever think it's too late to start running, allow Patricia Fujii to politely disagree. Born in Oregon to parents who immigrated from China, Fujii says that as a child she was dedicated to work and school. Excelling in her classes and working at the family restaurant in Portland, Ore., at night, there was simply no time for athletics.
But in 1998, thanks encouragement from her family to exercise, Fujii joined her local YMCA and started to jog around the indoor track. At the age of 66, Fujii found her calling. Running came naturally to her, and she kept with her program for nearly a decade before being sidelined by a diagnosis of breast cancer in 2008. Although the radiation treatment was exhausting, Fujii was determined to stay healthy to beat the disease–and she did, running throughout the entire treatment.
Every two years, (2016 is an off-year), the National Senior Games challenge the fittest athletes over the age of 50 to compete in a variety of sports. Despite having only competed in local races before entering the state championships (which server as qualifiers for the nationals), in 2010, Fujii signed up for the 50-meter, 100-meter and 200-meter dashes, as well as the long jump. She qualified for the National Games, and for the last three cycles has kept her streak. In 2015, she qualified for the Senior Olympics for the third time.
Today, Fujii continues to run and is looking forward to maintaining her record in 2017. Go, Patricia!