After Party: College Professor Wins Beer Mile Champs and Breaks Record
Kent State geology professor Elizabeth Herndon gets an A+ in running and chugging.
Heading out the door? Read this article on the new Outside+ app available now on iOS devices for members! Download the app.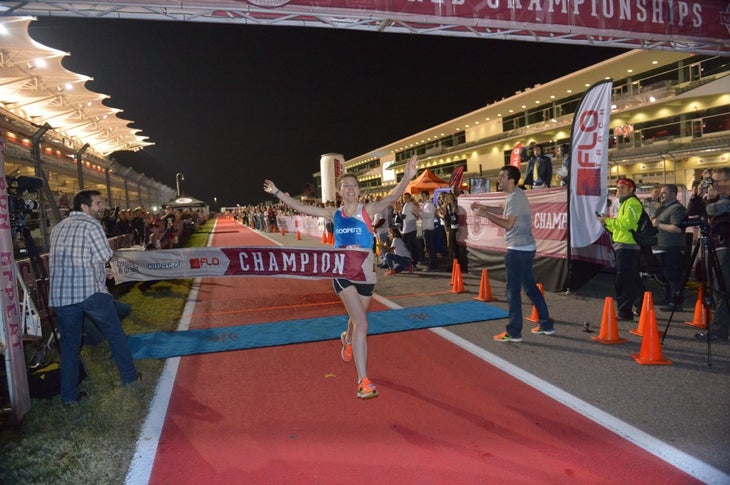 Kent State geology professor Elizabeth Herndon gets an A+ in running and chugging. The 29-year-old scientist took a break from her usual long-distance racing to crumple some cans and run some laps at the first official Beer Mile World Championships hosted by Flotrack in Austin on Dec 3. Not only did she win the event, but she also broke 44-year-old Chris Kimbrough's world record of 6:28.6, set less than a month prior to Herndon's 6:17 performance.
"I don't remember feeling that bad physically. I think I felt really fast because I was sprinting for all I was worth. I think I was a little nauseous, but not too bad," says Herndon, who holds a 5:03 mile PR sans brews.
This wasn't Herndon's first go at the popular four-lap, four-beer event. Prior to toeing the line in Austin, Herndon had completed a handful of other beer miles, starting with a championship among her grad school running club at Penn State. She finished in 7:24 and went on to do two more before the Flotrack event.
"I hosted my own beer mile the week after I defended my PhD as a celebration," says Herndon of her second beer mile. "I got together with five of my friends—the goal was to go for the world record, and I ended up going 6:48, which was six seconds short of it."
One more attempt came during her time living in Knoxville, Tenn., so she decided to go for the championships—and the record again—when she heard about event in Texas. Herndon says she hadn't focused much on speed prior to the event; she placed sixth at the Twin Cities Marathon in early October with a two-minute, sub-2:40 PR.
"When I finally decided I was going to do the championships, I also made the decision to not really train for it specifically," explains Herndon. "I didn't want to overthink it and ruin it for myself beforehand. I wanted to be a little ignorant about it going into it."
Herndon did some last-minute speed work leading up the championships in December. She also practiced some isolated chugging to "get re-aquainted with the feeling" and select a friendly brew that would work for the event. For world record-holder, it was New Belgium Fat Tire. Her no-run-and-chug-practice policy seemed to work—the speedster broke the tape and world record with her performance.
"The last laps are the hardest. You're trying to drink beer you don't want to drink, and you're trying to run, and your stomach is bursting with liquid and carbonation you're forcing into it," explains Herndon. "The chugging definitely separated people a bit more. I didn't do as well as I'd hoped on the chugging."
Unlike regular running races, beer—understandably so!—was not an appealing celebratory bevvie following the event. Herndon opted for a pizza following the race, which she was the "most delicious thing ever." The college professor says reactions about the campus from students and colleagues are all the same: "That's awesome!"
"I think my favorite part was the guys in banana suits! Everyone was just really into it during the race."