This Orange Is The New Black Star Is 'Voice of the Curves'
Danielle Brooks is hoping to help other plus-size women find peace with their bodies.
Heading out the door? Read this article on the new Outside+ app available now on iOS devices for members! Download the app.
"I never considered myself a runner," says Danielle Brooks, Tony-nominated actress of Broadway's The Color Purple, and the beloved Tasha "Taystee" Jefferson of the Netflix original series Orange is the New Black.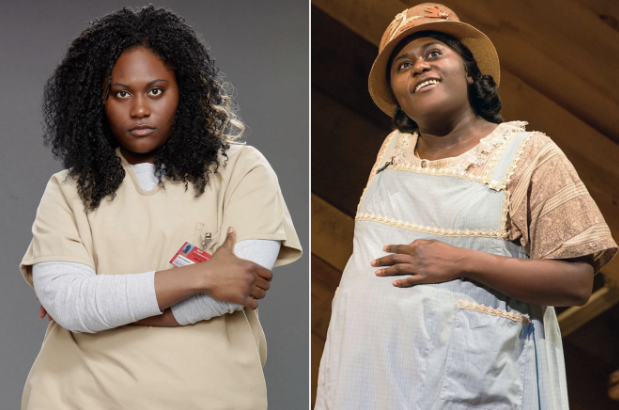 It wasn't until Danielle's collaboration with Shape Magazine and Lane Bryant this March, where she participated in the 2016 New York Road Runners MORE/SHAPE Women's Half-Marathon, that she laced up her running shoes on a regular basis.

Although new to running, Danielle has been active her whole life as a lover of activities like rock climbing, boxing, and spin classes at Soulcycle. She has also been known to scoot around the city, to and from the set of The Color Purple, an active mode of transportation.
"I mean, I'm very sporty," says Danielle, "I was empowered by the moment at the 'Women Run the World,' race, with so many different women running of all different shapes, ages and sizes. I was like, I can do this!" says Danielle. "I was so encouraged by that moment that I decided to run one mile every day for two weeks."

"I wanted to feel held accountable, so I posted to Instagram saying, 'Hey guys, hope someone will join me in this two week run; hope you guys will hold me accountable,' and so I began."
Her caption read, "Day 3 of #THICKGIRLSRUN This is becoming so successful!! Join me on Nike+ app (thickgirlsrun) 1 mile run for 2 weeks. Do more if you can but just do!"
"For myself and other women who have a hard time working out, I wanted them to know you're not alone; you can do it too," says Danielle.
When asked how she felt after completing the challenge, Danielle said, "I was happy to complete something. I want to encourage other women to love themselves in that way. Loving yourself is also physical—working out is loving yourself, not just buying yourself a pair of shoes, or going to Junior's for a cheesecake. Take care of this body that you have, this temple, that you're supposed to have for the rest of your life."
Danielle makes time in her schedule throughout the week to be active.
"I get up in the morning and go to the gym. I have a gym in the building, so there's no excuse to not stay active!" she says.
Danielle's typical workout includes:
Elliptical—15 min
Treadmill—15 min
Planks
Crunches
She performs this workout 3-4 times per week.
"I have to remind myself to stretch, that's very important! My role in The Color Purple is very physical, so it's like a double workout," laughs the star. "There's jumping up and down, swinging, lifting heavy chairs up—I have to continue to remind myself to roll out my arms and shoulder blades. I get a tennis ball and do that. I also use a foam roller, and make sure that I continuously stretch out my body."
Danielle is continuing to set goals for herself as a runner: "I'm working up to a 5K. I'm going to do it at my pace, not what anyone else thinks I should do," she says.
"I thank my work for helping me to understand the importance of eating for fuel, not just eating for comfort. If I don't eat right, my body doesn't work right, and I need my body for the full 24 hours I have in a day," says the busy actress.
Danielle's typical day of eating includes:
Breakfast: Juice, turkey bacon and egg whites.
Lunch: Salad topped with salmon.
Dinner: Chicken and vegetables.
"It's about making healthier choices to get me through each day. Resting is a big part of being able to do what I do, and do it well. I try to get seven hours, it doesn't always happen–but, a lot of the time!"
Danielle also makes it a point to take vitamins regularly. Danielle's daily vitamin regimen includes:
One-a-Day Women's
Vitamin C
Fish Oil
Biotin
Coming up in the entertainment industry as a plus-size woman, Danielle faced her share of rejection. But she stayed true to herself, and believed in herself, which has landed her in the stratosphere of success as an actress.
"I feel like [my role in Orange is the New Black] has really helped me to accept who I am. When I first came into this business, I had a hard time booking work and was trying to remember what people tell me, 'It's not about you, you might not be the right fit  for the project,' and things like that. But I can't help but think, Is it because of my weight? My hair? Me?" confesses Danielle. "Orange reminded me that I do have a place in this business."

The actress had some tips for women who are seeking to increase their confidence. "I have always been confident, but some days you have to trick your mind into it, saying, 'You're confident'," Danielle recommends, endorsing the "fake it 'til you make it" approach.
Danielle's transparency on social media has made her a role model to many women.
"I would post things on social media not thinking what people would say about [my] body. It's not something I thought about when I first joined Instagram. People started to comment, so many women saying that they felt represented, that they love my shape. They asked me about my workouts, which showed me that, 'Oh, I can be a voice of the curves,'" says Danielle. "I can help other women find their confidence with their bodies. That's one reason Christian [Siriano] thought that it would be a good fit for me to become his muse for his Lane Bryant collection."
"I'm someone that really tried to embrace every thing some would call a "flaw." Too much booty, too many stretch marks, having a stomach. I love myself, if you don't love it, I'm sorry."
Although many icons of plus size beauty, such as Sports Illustrated Swimsuit Edition cover model Ashley Graham, have come under attack for endorsing unhealthy lifestyle choices, Danielle is proud to say that she has a clean bill of health.
"I am a woman who takes health very seriously and [I am] trying to live the most beautiful life that I can," she says. "I just went to my doctor, and they said my blood pressure is great, and I'm very healthy. If at any moment that changes, I'll work on that."
What does Danielle hope to accomplish as the "Voice of the Curves?"
"Sometimes it does feel like, with magazines that are taking about [women's] health, we're being ignored. There are women that are 300, 400 and 500 pounds that don't feel like they can ever reach an ideal size. Hopefully, we can encourage women that want to become more healthy to look to women who are size 14, and work towards that," says the luscious size 14 actress, athlete and advocate.
Read More:
Orange Is The New Black Star Launched An Inspirational Website
What Made This Orange Is The New Black Star Run A Marathon?